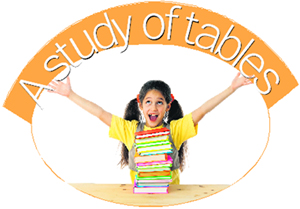 No longer a boring, functional buy, a study table must reflect your individual style and the kind of work you do
Sonali Seth
It's a piece of furniture that every student and working professional should own. A study table is not just a necessity but should ideally add to the decor of the house. Time was when it was need-based and the emphasis was on heavy, sturdy and durable tables that would last the children through their years in school and college.
However, like all things beautiful, the study table has now moved out of the realm of the mundane. No longer a boring, functional buy, it today makes a personality statement.
Style and ideas tend to reflect a person's myriad moods. There is no one individual trend. Many of today's study tables are a blend of artistic Indian and chic western, a mix of the modern and the traditional or simply a synthesis of the kitsch and elegance, all of which come together to create a work area that echoes the owner's persona.
Buying tips
Practicality and use are very important design principles as the right — or wrong — study table can make the difference between a productive day or a stressful and a disoriented one. Consider the following questions while buying a study table. Where does it go in the house? Should it be used strictly as a work desk or will it be both versatile in addition to being multifaceted? Should it enhance the decor of the room by doubling up as a piece of furniture, or should it have a stand-alone individuality?
It is very important to identify the study table that is right for your job. That's because when you love your study table, then you will enjoy being stuck behind it all day. Many interior decorators suggest that it should be among the most important furniture needed in the home. It should be cosy and relaxing so that those who spend time behind it for lengthy hours should feel no discomfort or distraction.
The market has on offer an amazing variety of study tables. There are the plain vanilla types that suit those who have a no-nonsense approach to studying or working. The plain ones usually comprise tables with two to three drawers and a matching chair. Depending on the kind of material used, these can cost anywhere between Rs 3,000 and Rs 8,000.
Storage space
Then, there are those workstations, which have much more storage space than the mandatory drawers. These will have a slider tray for a computer keyboard, a built-in book shelf, closed cabinets for keeping important documents and files, open racks for display as also storage space for paper, stationary and other knick knacks. These can cost between Rs 8,000 and Rs 15,000, or even higher depending on the kind of facilities.
Finely, there are the ornate study tables which are made from Burma teak or oak or any other fine wood and may have carving and grooving on them. Though they are great to work on, these are valued more for their workmanship and can liven up the interiors. Such lavish study tables can cost anywhere upwards of Rs 50,000.
However, before venturing out to buy a study table, you must be clear in your mind about your specific needs. Consider the following: If you are a professional, do you need it for a home or office? Or, if you are a student do you need it for studying long hours? You will have to determine the kind of work you are going to do on the study table.
Computer workstation
If your work generally revolves around a computer, then you will need a special workstation meant for using a PC. Besides having a slider tray for the keyboard, it should also have a compartment for a CPU under the table and preferably a wiring hole in which the computer cables can neatly pass through without getting entangled with each other.
If your work also involves use of a lot of paperwork, then you should go in for a study table that has plenty of space to put those papers in. You can think of buying one that has an overhead shelve and small cabinets for files and other paraphernalia.
According to experts, it will be best to go in for a study table that has provisions both for a computer as well as desk space. This can be an L-shaped or U-shaped table or, if you like to keep things simple, go in for one that is big enough to fulfil both the requirements.
Individual style
When buying a study table, it is important to focus on your individual style and the kind of work you do. If you like a quiet, uncluttered work area, then you will not be comfortable working on a small table that is crowded, tangled and jumbled up.
Remember, it is imperative that you don't go for a table that looks good as a showpiece in a showroom. You must consider your needs and requirements before purchasing one. And once you have determined what you want, only then should you think about trends and styles.
However, one should keep in mind that trendy does not mean study tables that are not durable. Buy a work desk that is both hardy and elegant and which will keep looking good even when styles change. Functionality, looks and exclusivity are the buzzwords when it comes to going out and buying a study table for yourself.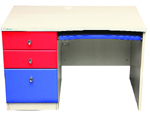 ROUNDED EDGES
Made in sturdy wood, the attractive Dimpy study table from online store www.purehomedecor.com is just the right size for kids between the ages of four and eight years. The mini-sized study table has rounded edges and minimalistic design that ensure the kid does not get hurt from its corners.
Price: Rs 14,000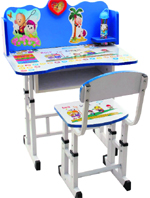 FOR KIDS WHO GROW UP FAST
An attractive study table from www.firstcry.com it has a painting of a train on it and comes with a smart chair. The height of the table and chair is adjustable making the set ideal for kids who grow up fast. With a foot rest and an open drawer the table will provide hours of fun time and studying for children.
Price:Rs 3,685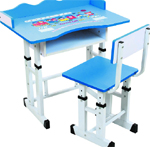 FUN TIME
A perfect companion for your child's school years, this study table from www.firstcry.com has a comfortable seat and is ideal for use from pre-primary years. The height of the desk and chair is adjustable and it has a foot rest and storage space to hold stationery or other accessories and also a pencil holder.
Price: Rs 3,690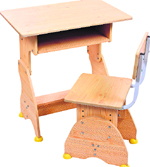 FAB & FUNKY
A great addition to your kids' room! This attractive study table with footrest and chair from www.firstcry.com allows a child to sit comfortably and study. This table and chair is perfectly sized for the kids and the height of the desk and chair is adjustable. The kids will love having a place that is perfectly sized for them.
Price: Rs 7,000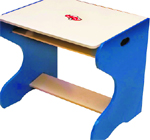 CAR STUDY
The Woody Wood furniture company has launched this study table for little children designed like a car. The blue and off-white table available at www.babyoye.com has the insignia of a car on the top and is coated with a non-toxic paint. Children between two and 12 years age will love this table.
Price: Rs 4,850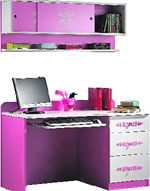 'MISS' STUDY TABLE
This is a very attractive study table for teenage girls. The 'Miss' study table from Dogtas Furniture, London, appropriately in a pink and white colour combination has a keyboard slider and an overhead bookshelf mounted on the wall. It has three drawers enhanced with pink wood carving on white.
Price: Rs 29,500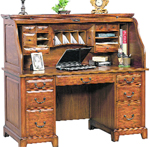 ROLL TOP
This stunning Roll Top study desk by California-based furniture company Winners Only is made of solid oak and oak veneer. It has two letter-sized file cabinets and four utility drawers with a secretary pull out on each side when more table space is needed. It also has a stylish keyboard tray.
Price: Rs 99,000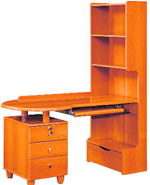 STYLISH YET PLAYFUL
The Emily study table by Global Furniture is perfect for your child. The modern design and glossy wood finish is stylish yet playful. It has a slider tray for a keyboard and a tabletop that is rounded off. It has plenty of storage space that includes drawers, a display bookshelf and a bottom drawer for knickknacks.
Price: Rs 30,000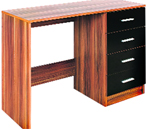 WORK FROM HOME
The Kudos study table study table-cum-computer desk from London-based Gordon's Furniture is great for working from home or as a place for study for teenagers and students. The good-sized drawers can take in a lot of stuff like stationary and pens and pencils. It is ideal for use as a writing desk or for a laptop or desktop.
Price: Rs 20,000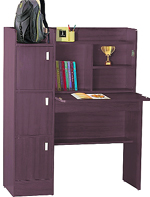 WINNING STRATEGY
This study table by Neelkamal is called 'Winner' and, according to the company, it is meant for students, who always want to lead in the class. Besides being attractive, it is sturdy and high in endurance. Made of 15mm thick pre-laminated particle board, the work surface can be folded upwards when not in use.
Price: Rs 7000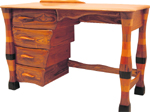 ART NOUVEAU
The Flintstone study table from Zaarga, the online retail destination, revives the Art Nouveau style with its free flowing forms and curves which have been very finely carved and smoothened. This table is made from a combination of exotic woods like Ebony, Mahogany, Cedar and Indian Oak.
Price: Rs 43,550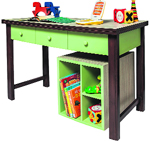 PEPPERMINT PUPIL
Laminated with mint green drawers and edged with dark chocolate brown frame, the Peppermint Pupil study table from www.lakdikikathi.com looks as eye-catching as it is functional. It has both ample shelf space and drawers for stationary. There is also a box for books and other small objects.
Price: Rs 13,500