The global brandwagon
After signing on the dotted line to become the global brand ambassador of American fashion label Guess, Priyanka Chopra joins the league of actors like Shah Rukh Khan and Aishwarya Rai Bachchan, who represent Tag Heuer and L'Oreal, in a similar capacity
Nutan Sehgal
Fairytale beginnings, drug store discoveries and six-figure deals lure thousands of young people into the arclights of the modelling world. And from there to films is just a step away for the lucky ones. But when stars start applying the reverse gear to their careers and begin making forays into the world of modelling, then it is time to think: Why have a number of the current actors and actresses begun going back to the plank which they so successfully used to launch themselves into films?
The simple answer is that with big campaigns and bigger bucks, modelling has come in for dramatic changes luring film and sports stars by the droves. So, if Viraat Kohli, Mahendra Dhoni and Sachin Tendulkar are known on the field for their walloping boundaries and crackling fielding, off the field they also don't miss the good catches which come their way in the form of megabuck advertising deals.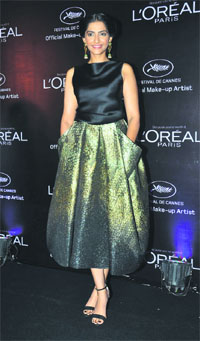 Sonam Kapoor: Representing L'Oreal in India.
Star promotion
The same goes for filmstars. Big corporate houses and advertising agencies have been turning to the glamworld signing stars to promote their products and the success has been amazing. The difference between a model and a filmstar has been eliminated. Rarely does one come across that proverbial 'find of the year' in the modelling world even as Bollywood and sports celebrities make frequent forays into the ad world. The fad for 'model' stars got a major boost in the 1990s with the no-holds-barred battle for supremacy between Pepsi and Coke. It saw celebrities like Aamir Khan, Rahul Dravid, Saurav Ganguly, Sushmita Sen and others enter the boardrooms. Thus was born the concept of brand ambassadors. There are many examples led by Hrithik Roshan for Rado watches, John Abraham for Reebok shoes, Amitabh Bachchan for Parle's Gold Star, Bipasha Basu for Boro Plus, Saif Ali Khan for Siyaram Mills and a lot more who identify with the product.
The idea behind brand ambassadors was to have a total identification with the product they were endorsing. This went beyond modelling and, in some cases, the star was contractually bound not to model for other products. The trend was not entirely new. Back in the 1950s, singer-actor Kishore Kumar was identified with Brylcream, which was then a leading hair product. Lux has traditionally roped in reigning queens of Bollywood like Leela Chitnis, Madhubala, Nargis, Meena Kumari to the present-day Kareena Kapoor and others to promote its soaps. Kapil Dev — and his toothy grin —is still identified with Palmolive-da- Jawab-Nahin campaign. And tabla maestro Zakir Hussain, immortalised Wah Taj around the country as the identity for the Taj Mahal tea brand.
International icons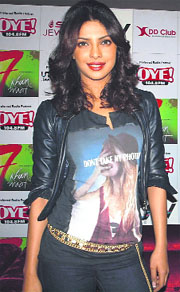 Priyanka Chopra strikes a pose for Guess
However, today's advertising world is going a step ahead. It has advanced from just a brand ambassador to a Global Brand Ambassador. When Priyanka Chopra recently signed the dotted line to become the global brand ambassador of American fashion label Guess, she became the third person in the country — after Shah Rukh Khan and Aishwarya Rai Bachchan who are global Brand Ambassadors for Tag Heuer and L'Oreal, respectively, — to be bestowed the international honour.
Joining the league of Paris Hilton, Drew Barrymore and Claudia Schiffer as the global icons of Guess, Priyanka is part of the brand's new holiday campaign and will be seen in top fashion magazines of the world promoting Guess line of luxury clothing in the coming months.
Paul Marciano, creative director of Guess, says Priyanka is the ideal choice for the brand and her confidence, strength and sensuality reflect the qualities that he has always looked for in a model. He says she reminds him of Sophia Loren, the top Hollywood actress of the 1950s and adds, "With the Indian movie industry exploding on a global stage and Guess having a brand presence in 87 countries, we could not have found a better global brand ambassador. Choosing Priyanka reinforces our celebration of multi-talented, dynamic and accomplished women."
A global brand ambassador as opposed to a brand ambassador has a bit to do with the megabucks but a lot more to do with the prestige of being the "Chosen One" from around the world. Some of the recent names include George Clooney and Nicole Kidman for Omega, Kate Winslet for Longines, John Travolta for Breitling and Leonardo di Caprio for Tag Heuer.
Big deal
Though no official figures have been given out, guessestimates say that Priyanka could have got anything between Rs 5 crore and Rs 10 crore for the global deal. Though not a princessly sum by her standards, a global brand ambassador benefits in a number of other ways. Former Guess global ambassadors like Kate Upton and the late Anna Nicole Smith both saw an exponential boost in their international careers after starring in the brand's campaigns.
Earlier, Priyanka is said to have been charging over Rs 1 crore a day for ad-based photoshoots. After this deal, her brand value can to go up anywhere upto 25 per cent. Shah Rukh Khan, who has been the global brand ambassador for Tag Hueur watches for over a decade, is rumoured to have charged Rs 20 crore for the deal. The Swiss watch company recently unveiled the Shah Rukh Khan Monaco Sixty Nine limited edition limited range of 150 watches — each costing Rs 3.05 lakhs — carrying Shah Rukh Khan's signature on the digital side of the dial. He is the only TAG Heuer global brand ambassador who has been honoured with the signature series this year.
Aishwarya Rai Bachchan too has been the global face of French cosmetic giant L'Oreal for over a decade. She has also represented L'Oreal Paris, along with her counterparts, one of them being Bollywood actor Sonam Kapoor — from across the world as global brand ambassador at the Cannes Film Festival on one of the most glamorous red carpets in the world.
Stardom beckons
Many experts say that the L'Oreal ambassadorship was her first step to international stardom glory and resulted in Hollywood offers like The Last Legion with Sir Ben Kingsley and Colin Firth and The Pink Panther 2 and some other movies. That none of them did well at the box office is quite another matter. However, her long association with L'Oreal has been incredibly successful.
Admen say that the most important thing to be kept in mind while identifying celebrities as brand ambassadors is their relevance to the brand. Choosing a star like Aishwarya Rai to endorse say, a washing detergent, would be incongruous because she may have never washed clothes in her life and the end user would not be able to make a connection with her.
Shah Rukh Khan endorsing Tag Heuer watches is a good example. Both represent high style and are portrayed as legends. They both have long-term value, so they make a very good pair. Global companies like Revlon, Omega and others choose global brand ambassadors very carefully. Only those people who look credible enough to use their products in real life are selected.
Expenses involved
The expenses involved in building a brand ambassador are tremendous. Inside details of financial settlements are never revealed but a celebrity may charge between Rs 5 crore and Rs 20 crore. The flip side is that big companies shy away from making mega-celebrities into global brand ambassadors if they are endorsing a number of brands. The recall value of the big brand then gets diluted and may not register in the minds of the target audience. In such cases, people tend to remember the celebrities rather than the brand. For a global brand ambassador exclusivity is very important. How does one ascertain whether a brand ambassador is really clicking? The answer, say experts, is simple. The success of the brand is directly related to the popularity of the celebrity endorsing it.
SELLING DREAMS as a global brand ambassador
Though India has only three global brand ambassadors, international giants dealing in luxury goods are looking for more Indian icons to become their global face. Names of Deepika Padukone, Kareena Kapoor, Katrina Kaif and Hrithik Roshan have been doing the rounds.
Companies choose brand ambassadors very carefully. Only those people who look credible enough to use their products in real life are selected. The public image and lifestyle needs to be consistent with the core values of the brand. One of the perquisites is that the celebrity has to be totally committed to the brand. If it is a watch, then the star should be seen wearing it on all important occasions. If it's a car, then the star should be driving it or be driven in it at all red-carpet events.
Admen say this cements the bond between a celebrity and the brand in viewers' minds. When someone like George Clooney is the brand ambassador of Omega, you are sure he has the personality, and the money, to possess it. The awareness of the brand becomes all the more potent with such an association. Global advertising companies spend millions in building a brand ambassador. Some celebrities even demand and get perks that could include a lifetime's supply of the brand, first-class holiday packages and free location travel for family members. Advertisers say these are expenses that companies don't think about as long as the celebrity is doing a good job.