In harmony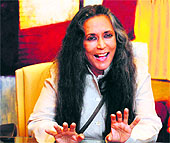 Forget controversies, the fire that her films inadvertently generate, Deepa Mehta in Chandigarh for the Chandigarh Literary Festival looks more than happy, self-assured and confident in her space. Unlike most Indians living in foreign lands, the acclaimed Oscar- nominated Indo-Canadian filmmaker doesn't suffer from any identity crisis either. Rather she has beautifully amalgamated the best of both worlds and credits India for her passion and Canada for the freedom to do what she wants.
perfect balance: Deepa Mehta. Photo: Parvesh Chauhan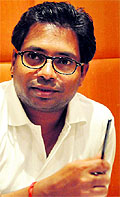 Out of straightjacket
A critically acclaimed debut paves way for the best streets of B-town. If the feat is followed up with a star-studded thriller like No One Killed Jessica, that's enough to be brandished as the box-office darling and motivation enough to not step out of the comfort zone. Perhaps, now there will be a conscious endeavour to continue with offbeat movies or experimental cinema as they like to call it. "I don't consider my films offbeat. In fact, any movie that does well is commercial enough. As a film maker, I try to be a little original and choose good subjects," says Indian filmmaker and scriptwriter Raj Kumar Gupta.

Raj Kumar Gupta. Photo: Pradeep Tewari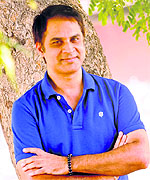 Glorious start
For those who claim, this is the golden period of Punjabi film industry, take out a minute and speak to filmmaker Navtej Sandhu. The honest movie maker from Amritsar is happy to see the footfall for the screening of his 30-minute film Nooran, based on Balwant Gargi's story Rabbo Marasan in Chandigarh. However, he totally denies that Punjabi cinema is witnessing a golden period. "It is actually the downfall of Punjabi cinema.


arty take: Navtej Sandhu
TRENDSETTER
Street smart
Sahil Jindal, a student of fashion merchandising at SIFT, is in love with his own style and that's what we believe is true fashion sense - the one that makes one feel at ease in one's own skin.
Fun with fiction


Fiction writer, translator, faculty member and editor; Prabhat Ranjan's introduction runs all things academic and literary. There is no regret of being associated with a language that does not rake in millions but only slight concern. "I would really like to translate Gabriel García Márquez's Love In The Times of Cholera but none of our publishers is rich enough to buy its rights and have it translated into Hindi," he shares while in conversation over two of his translations into Hindi; Vikram A Chandra's novel Srinagar Conspiracy and Anne Frank's Diary.
Issue driven: Prabhat Ranjan. Photo: Pradeep Tewari
Weight watch
Chew on sadness
Depression is characterised by feelings of worthlessness or guilt, poor concentration, loss of energy, fatigue, thoughts of suicide or preoccupation with death, loss or increase of appetite and weight, a disturbed sleep pattern, slowing down (both physically and mentally), agitation (restlessness or anxiety).
star track
A classic revisited
Renowned Bollywood screenwriters Salim Khan and Javed Akhtar who wrote 1975 blockbuster Sholay and came together after a long time for the trailer launch of its 3D version, said that every character in the movie is "immortal".
Back in business
Alisha Chinai was out of the loop for a while but is back now with the song Dil tu hi from Krrish 3. She talks about the song and the music industry and more.
chatter box
Candid confessions
Sana Sheikh, who plays the role of young Lajjo in the show Gustakh Dil that is telecast on Life Ok, is thrilled with the response that the show received. She talks about her film offers and how her role in the show is different from her previous role in the show, Pratigya.