Tourism potential of Pong Dam lake remains unexploited
Dharamsala, November 12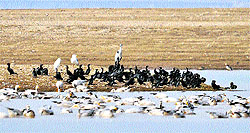 The Pong Dam lake, an internationally recognised wetland, receives the maximum number of migratory birds in North India.


Migratory birds gather at the banks of the Pong Dam lake. A Tribune photograph

Lack of distribution network ails power sector
Mandi, November 12
The distribution of surplus power has become a cause of concern for the independent power producers (IPPs) who are executing 8,000-MW power projects in the state.
Ex-servicemen seek 25% raise in benefits
Mandi, November 12
Ex-servicemen of the state have demanded a 25 per cent lump sum hike in monthly allowances and other monetary benefits for state gallantry award winners on the pattern received by their counterparts in Punjab. They said this hike would encourage in-service soldiers, ex-soldiers and their families to serve the nation with more zeal.