M A I N N E W S
Immediate FIR a must for cognisable offences, rules SC
Legal Correspondent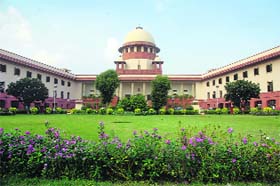 New Delhi, November 12
In a landmark judgment, a five-judge Constitution Bench of the Supreme Court today ruled that immediate registration of a first information report (FIR) by the police "is mandatory" in cases involving cognisable offences. "No preliminary enquiry (PE) is permissible" in such cases.
However, the registration of FIR under Section 154 of the CrPC and the arrest of the accused person "are two entirely different things. It is not correct to say that just because FIR is registered, the accused person can be arrested immediately," the Bench headed by Chief Justice P Sathasivam said in a 91-page verdict.
The other members of the Bench are Justices BS Chauhan, Ranjana Desai, Ranjan Gogoi and SA Bobde.
"It is the imaginary fear that merely because an FIR has been registered, it would require arrest of the accused and thereby leading to loss of his reputation," the apex court observed. The arrest of a person and registration of FIR "are not directly and/or irreversibly linked and they are entirely different concepts operating under entirely different parameters," the Bench explained.
The SC, however, made it clear that PE "may be made" in cases relating to offences such as corruption, medical negligence,matrimonial/family and business disputes to ascertain the need for FIR. In all, the apex court has issued eight directives while disposing of a bunch of PILs, including a minor Lalita Kumari, and appeals on the issue.
If the information on any crime "does not disclose a cognizable offence but indicates the necessity for an inquiry, a PE may be conducted only to ascertain whether cognisable offence is disclosed or not," the Bench clarified.
"The police officer cannot avoid his duty of registering offence if cognizable offence is disclosed. Action must be taken against erring officers who do not register the FIR if information received by them discloses a cognisable offence," the SC ruled.
No PE should go beyond seven days. "The underpinnings of compulsory registration of FIR is not only to ensure transparency in the criminal justice delivery system but also to ensure judicial oversight," it said, pointing out that according to the National Crime Records Bureau about 60 lakh cognisable offences were registered in the country during 2012 but an equal number of such offences were not registered.
This is a clear violation of the rights of the victims of such a large number of crimes," said the SC.
promPt arrest not necessary
The registration of FIR under Section 154 of the CrPC and the arrest of the accused person are two entirely different things...It is not correct to say that just because FIR is registered, the accused person can be arrested immediately. — SC Bench
What court said
The police officer cannot avoid his duty of registering offence if cognisable offence is disclosed
Action must be taken against erring officers who do not register the FIR if information received by them discloses a cognisable offence