J-K firing range row: Army open to alternative site
Majid Jahangir/TNS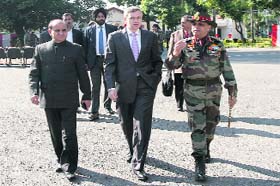 J&K Chief Minister Omar Abdullah and Northern Command chief Lt Gen Sanjiv Chachra (right) at a civil-military conference at Nagrota near Jammu on Tuesday. Tribune photo
Srinagar, November 12
While controversy rages over the proposed extension of lease of the Tosamaidan Field Firing Range in Kashmir, the Army today agreed to consider alternative sites if offered by the state government.
The Army has already applied for the re-notification of over 11,000 kanals in Tosamaidan (king of meadows) in central Kashmir's Budgam district on lease for its firing range and the state government has sought a "no objection certificate" from various departments before forwarding the case to the state Home Department.
Local residents have resented the move to extend the lease of the firing range by 20 years. Residents of 16 villages surrounding Tosamaidan have formed a committee - Tosamaidan Bachao Front - to oppose the grant of extension and press for the shifting of the firing range to another place.
"Most field firing ranges, required for operational capability building of troops, are due for notification. While we have shifted our firing points to meet the needs of the local population, we are willing to look at alternative sites if these are offered to us," said General Officer Commanding-in-Chief, Northern Command, General Sanjiv Chachra during a Civil-Military Liaison Conference held at Nagrota, Jammu.
The conference was chaired by Chief Minister Omar Abdullah and attended by Deputy Chief Minister Tara Chand besides senior Army and civil officials.
The Army and the state government (the Northern Army Commander and the Chief Minister) agreed to set up a joint panel to be headed by the state Chief Secretary to explore the possibilities and come up with certain recommendations, he said.
The Chief Minister later constituted a committee headed by the Chief Secretary to look into various land-related cases. "In case of the Tosamaidan range, it was decided that a committee chaired by the Chief Secretary will look into all aspects and suggest various viable options," said an official spokesperson.
Local residents claim Tosamaidan has proved to be a death trap for them ever since its establishment in 1965. "In spite of its scenic landscape, Tosamaidan has proved to be a death trap for many people due to the firing range. We do not want the government to extend its lease to the Army," said Bashir Ahmed, a member of the Tosamaidan Bachao Front.
"We will do everything to prevent the government from extending the lease, which ends in April," he said.