Vintage Sachin shows his class, set for grand exit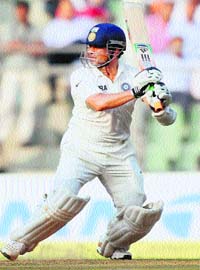 Mumbai, November 14
Thirty-three minutes past three this afternoon, the man at the centre of the cricket universe was summoned to the middle for probably the one last time. A stone's throw away, the Arabian Sea licking the shores of Mumbai became still; the dipping sun was arrested in its path; the air became dense with emotion; hearts throbbed, minds wavered.
Sachin Tendulkar plays a shot on Day 1 of the 2nd Test against Windies in Mumbai on Thursday. — PTI

Bhola's cartel: 2 businessmen held with drugs worth Rs 3.25 cr
Patiala, November 14
Days after it smashed a drug racket involving Arjuna awardee Jagdish Singh, alias Bhola, the Punjab Police has seized drugs worth around Rs 3.25 crore from two businessmen in the state.
Twice abandoned, J-K girl finds a saviour in Army
Rajouri, November 14
The Army has came to the rescue of an 11-year-old girl whose childhood has been scarred by double tragedy and extreme poverty. The Army has adopted the girl and decided to provide her books and uniforms besides and small daily expenditure.
HPSC member goes after conviction, but minister refuses to quit
Chandigarh, November 14
The recently-appointed Haryana Public Service Commission (HPSC) member Dr Harinder Pal Singh -- convicted and sentenced to seven years imprisonment in an attempt-to-murder case by a Palwal court yesterday — sent his resignation to the Haryana Government here today.