Time to brace up for winter
Scarves, hats and beanies can brighten up and add a splash of colour to the dull winter attire
Sonali Seth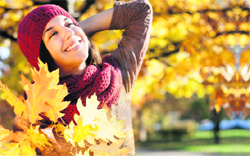 FOR many fashion-conscious Indians, wearing designer clothes is not where it all ends. The hip crowd wants to further spruce up its image with fine fashion accessories that complement their clothes. And helping these avant-garde men and women in their endeavour are designers who are offering them an array of fashion adornments to complement their attire. With winters arriving, a number of leading designers are offering stylish ways of bracing up against gusts of cold wind. Many are recommending that you pull your cap low, wear your scarf tight around the ears and bury the rest of yourself in a jacket.
Must-have accessories
Over the years, the versatility of the scarf and the cap have made them must-have accessories that never go out of style. It doesn't matter what age you are or what size you wear, these two, which for some are becoming wardrobe essentials, can pull any look together.
Women, in particular, can make a hip statement with an iconic Givenchy Rottweiler silk scarf or Burberry cashmere check, or even an Alexander McQueen Iris silk scarf. For casual chic, nothing beats a sporty grey scarf a la Armani Jeans or a Yves Saint Laurent's leopard print silk muffler. Any of these when wrapped around the neck can give instant attitude to even the most laidback outfits. At present, the scarf in India has become a widely accepted accessory. An array of designs, colours, sizes and prices are available in the domestic market. Most of the leading companies and designers come out with their exclusive collections from time to time. While in the international market, there's a great demand for silk scarves, in India, it is divided equally between silk and polyester.
Impulse buying
Scarves were not always a must-have accessory. Until recently, the market was characterised only by colour and design. According to leading designers, the scarf was basically impulse buying because the customer really didn't know what he or she was looking for. However, over the years, people have become more discerning in their choices and know what scarf to buy and for which occasion. Scarves are a versatile accessory and can be worn in a variety of ways. There's the classic bandana style, then the utility-based head style, the long style as also the shawl style. A scarf can be worn as a belt, neck tie, blouse, halter top or a skirt. Just use your imagination! It is a wonderful gift to give and receive and can come in a variety of fabrics. So much so that a smart scarf can completely change your personality.
The same goes for caps, hats and beanies. Though these are not yet very popular in India, these can do wonders for your attire. A beanie, for example, can make your night time outfit look pulled-together. You can pair a woven hat with good worn-in jean-and-white-cardigan combo for that perfect winter daytime outfit. Women can also add a final accent to a menswear-inspired look by donning a smart beret.
'Heady' look
The good news is that some fashionable men have started experimenting with the 'heady' look. One can see an occasional fedora, bowler or a slouchy beret at a hip 'do'. This may have something to do with Bollywood where most of the leading men have been seen sporting headgear in movies. Starting with Dev Anand in the 1970s, a number of current stars like Amitabh Bachchan, Hrithik Roshan, Shah Rukh Khan, Ranbir Kapoor, Salman Khan, and Aamir Khan have all worn caps, hats, beanies in a number of films. Not just Bollywood, over the years, hats have been the most enduring style statement for leading Hollywood stars. Clark Gable tweaked his dapper hat in Gone With the Wind. It was the hat that gave Humphrey Bogart that iconic look in Casablanca. Clint Eastwood curled up the brim of his Goucho hat in The Good, the Bad and the Ugly and Harrison Ford's adventures of Indiana Jones would never have been as exciting without his fedora.
Though in India, headgear like caps and hats may not be as popular as scarves and mufflers, these are gradually gaining acceptability in niche fashion circles. This is apparent from the fact that big online retail outlets like myntra, Indiamart, flipkart, rediff and many leading lifestyle outlets in big cities have them on their websites and store shelves. However, the most popular sales in India are still clocked by caps made by sports giants like Nike, Adidas, Puma and Reebok. But fashion experts say that time is not far when the party movers and shakers will take to the hats and caps seriously as these are the people who are most influenced by the western culture. And when that time comes, the hats and caps will truly have their fashion moment.
Etro hippy paisley scarf

The viscose and silk mix scarf from Italian fashion house Etro has been brightened up by the woven hippy paisley motif. In warm brown, orange and purple shades, it is simply perfect for a winter evening outdoor party. An elegant and versatile accessory, it will easily adapt to any shirt or blouse.
Price: Rs13,800
Gucci wool-knitted beanie
Face winter months in style with this khaki-green knitted wool beanie from Gucci. Made from soft wool yarn, this beanie hat is luxuriously snug. It has a ribbed turn-up edge and a logo-embossed leather tag. Pair it with a statement bomber jacket and selvedge jeans for that contemporary urban feel.
Price: Rs 9,200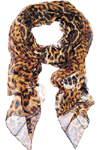 Yves Saint Laurent leopard print scarf
Add a feisty finish to your look with this leopard print scarf from Saint Laurent. Crafted in a soft and lightweight blend of cashmere and silk, it will provide unrivalled comfort as well as style. Drape non-chalantly around the neck, letting the anthracite grey colour perfectly enliven an all-black ensemble
Price: Rs 39,000

Guess unisex winter hat
Guess has come up with a range of luxurious knitted hats in its 2013 winter collection. These come in various styles, ranging from the traditional retro hats and lovely pom pom knitted hats to the grunge style. This unisex winter hat will add a certain casual romanticism and sensuality to your looks.
Price: Rs 1,800
Onosyo woollen hat

Bring warmth to your winter days and night with Chinese fashion label Onosyo's wool women's hat. It has a trendy shape and the wide brim on the hat adds to the woman's charm. Besides bringing a whiff of snugness against the cold weather, the hat will make you look trendy and stylish.
Price: Rs 3,300
Burberry cashmere check scarf

This Burberry scarf in luxurious cashmere will instantly upgrade any casual attire with its iconic check pattern. The scarf will keep you warm even on the most blustery of days. You'll also love the ample size of the scarf which gives you the opportunity to wear it in various styles-draped, wrapped or knotted.
Price: Rs 32,600
Marc by Marc Jacobs woollen hat

As part of an energetic urban look, this light grey and royal blue wool-blend beanie hat from Marc by Marc Jacobs will keep you stylishly warm. It is a sharp solution to the winter's chill as it is made of 80 per cent wool and 20 per cent nylon and has a ribbed edge and embroidered "MJ" emblem.
Price: Rs 3,000

Diane von Furstenberg popcorn hat
Keep cosy in style with this popcorn hat is from the celebrated Belgian-born American fashion designer Diane Von Furstenberg. Spun from a blend of wool and cashmere and finished with a fur pom-pom, this playful piece will not just make you look smart but also add an element of fun to the cold months.
Price: Rs 8,400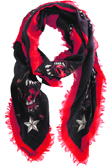 Givenchy Rottweiler print scarf
This featherweight wool scarf by French luxury fashion house Givenchy has the company's signature Rottweiler print in each corner. The wool and cashmere scarf is a 47 X 47 inches square. Made of silk and wool blend, the black and red scarf with frayed edges has 'Givenchy Paris' logo woven in the middle.
Price: Rs 25,200
Folk ruck panelled bobble hat

The light brown ribbed bobble hat from American fashion label Folk has stunning mottled brown panels at the top and front. The thickly knitted headgear made from 45 per cent acrylic, 40 per cent alpaca and 15 per cent wool is not just a cosy essential for cold winter days but will make you stand out in a crowd.
Price: Rs 8,400

Escada knit hat with cable pattern
Make an authentic statement while feeling luxuriously protected from the cold winter nights with this lightweight cable-knit hat from German fashion house Escada. Made from a soft alpaca blend, it has the rosé gold-coloured Escada sport logo patch above the knit cuff, which adds a shiny detail to the hat.
Price: Rs 11,900

Armani jeans' beanie
This snug looking Armani Jeans' thick ribbed beanie is made from 50 per cent wool and 50 per cent acrylic. It is constructed with a classic turn up design to the front and bold panelling to the peak. The beanie has a fully lined inner with a soft brushed, stretched finish with a knitted logo along the turn-up in light grey.
Price: Rs 7,500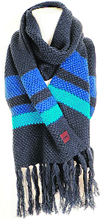 Diesel Kamala scarf
This chunky-knit Kamala Scarf from Diesel has long loose tassels attached to the ends. Striped in various widths in navy, blue and turquoise, it has the signature Diesel logo leather patch in brown on the bottom end of the scarf. Made of 100 per cent acrylic, it is part of the 2013 Diesel collection of accessories.
Price: Rs 5,400
Polo Ralph Lauren cuffed hat

This essential cuffed hat from Polo Ralph Lauren is crafted from a mix of ribbed merino wool and lambswool to keep you snug and warm. It is accented with the designer label's signature multi-coloured pony embroidery that accents the cuff and adds a touch of style to your personality.
Price: Rs 2,700

Dolce & Gabbana knit winter hat
This cool blend Dolce & Gabbana chunky knit hat has pattern detailing and a contrasting thick-ribbed fold. It features a central leather tab and a prominent Dolce & Gabbana logo. Made of 45 per cent wool, 30 per cent acrylic and 25 per cent alpaca, it will keep you warm and snug on the coldest winter evenings.
Price: Rs 17,500
Calvin Klein cable knit cabbie hat

Update your cool-weather accessories with this cable-knit cabbie hat from Calvin Klein. Featuring brand logo hardware and a braided detail at the brim, this cosy hat boasts of chic style. Made from a blend of polyester, acrylic and wool, it reinforces the fashion house's commitment to minimal design.
Price: Rs 2,700

Mulberry cashmere check scarf
For the ultimate winter style, opt for this merino and cashmere check scarf from the luxury British fashion house Mulberry. Made in Scotland and keeping true to tradition with its timeless check pattern, you will radiate elegance and charm when you partner this with your winter apparel, especially a dark jacket.
Price: Rs 16,500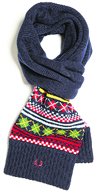 Fred Perry fair isle scarf
An original interpretation of time-honoured British styles, this Fair Isle scarf is a part of the 2013 winter collection from Fred Perry. Inspired by the homespun knits of the 1950s, it is a modern take on a traditional piece of cold weather attire constructed in a chunky knit with a laurel wreath sitting at the edge.
Price: Rs 6,600
Alexander McQueen iris silk scarf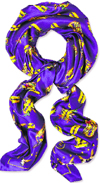 Drape this beautiful rich purple scarf around your neck and watch the compliments roll in. The Alexander McQueen Iris Scarf in sumptuous silk features razor blade prints all over it. It will greatly compliment a knit shirt or a blouse in plain white or any other subdued colour.
Price: Rs 25,500
Moncler fair isle chunky scarf

Keep warm in style this season with this fair isle chunky scarf from luxury sportswear brand Moncler. It has been handmade for maximum comfort and boasts a charismatic knitted print design exuding personality and a sense of fun. Made of 83 per cent wool and 17 per cent polyamide, it also has a Moncler logo.
Price: Rs 20,000

Isaia striped cashmere & silk scarf
Don't let the changing temperatures dampen your style this season by demonstrating your sartorial style with Italian label Isaia's exquisite cashmere and silk scarf. Boasting of classic stripes and an elegant frayed trim, this sumptuous piece will lend a luxurious finishing touch to every outfit.
Price: Rs 44,000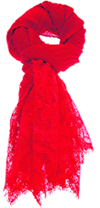 Valentino Garavani floral lace scarf
The stunning red wool blend scarf from Valentino Garavani featuring floral lace ends with raw tips is guaranteed to make you the centre of attraction at any party. Made from 45 per cent wool, 43 per cent cashmere and 12 per cent silk, it will keep you warm as well as make a strong style statement.
Price: Rs 61,800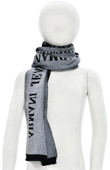 Sporty grey scarf from Armani jeans
The sporty-chic cotton scarf from Armani jeans is the perfect way to subtly add some colour and style to any outfit. The ultra-soft, luxurious scarf features a classic logo print, contrasting coloured edges and is designed with a subtle ombre effect that will add a modern touch to any attire.
Price: Rs 6,800