Multi-layered, sensitive, narrative
Reviewed by Vibha Sharma
Oleander Girl
by Chitra Banerjee Divakaruni
Penguin Books.
Pages 288. Rs 499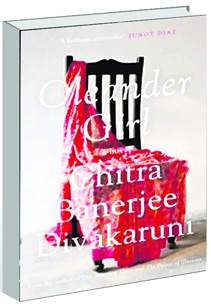 An author par excellence, a poetess, an activist and a professor of creative writing, all rolled into one, is Chitra Banerjee Divakaruni. Her writings project women characters abounding with passion. They draw upon boundless inner strength. Her themes are the Indian experience, contemporary America, history, myth and the challenges of living in a multicultural world. Her book, The Palace of Illusions gave voice to Draupadi, one of the most significant characters of the Mahabharata. It is among the first feminist interpretations of the epic.
Oleander Girl, the latest novel, is about the quest of a young girl for her roots and a journey to an unknown land. Korobi, (named after a beautiful but deadly flower), is brought up by her grandparents in Kolkata, after her parents expired in a car crash. A strict and righteous old man, her grandfather Bimal Roy showers love on Korobi. Grandmother Sarojini is warmth and wisdom personified. The story begins on the day when the Roy household is buzzing with joyous activities as Korobi is getting engaged to Rajat Bose, the only son of a high-profile business family of the city. On the engagement party night, Korobi's grandfather dies of a sudden heart attack. Sarojini understandably feels a big jolt. Readers are subtly introduced to the underlying liberating feeling that she experiences for the first time then. She clearly wants to atone for the sin that Bimal Roy had committed by the secrecy surrounding Korobi's birth. When Korobi comes to know about a part of the truth, she decides to find her true identity before building a new life with Rajat. She embarks on a journey out of her sheltered life of Kolkata, to the US, where her mother had spent some years as a student.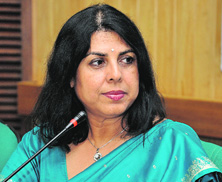 Chitra Banerjee Divakaruni: Into a woman's mind

Ticking away of the limited time lease, the threadbare budget and the desire to find her identity keep readers glued to the narrative. Korobi's sincerity, conscientiousness and experiences mature her.
She does not want to shy away from the truth. Sensitive handling makes it a great read. She portrays the poise, vulnerability and strength in a woman, be it in Korobi, Sarojini or Rajat's mother and painstakingly etches each character. The pleasure of reading a well thought out tale is manifold.
The story is narrated from the viewpoints of Korobi, her prospective mother-in-law, her grandmother, the Muslim driver and some others, bringing in many layers. Banerjee yet again enchants the readers into a story brimming with mystery, intrigue, heritage, romance, familial ties, and much more. Korobi's character rises above, triumphant over all obstacles.

"Women are strong in a quiet way"
What is secret behind strong female protagonists?
I have always been interested in female psychology and motivations. I feel that women are strong, often in a quiet way, that is overlooked. I attempt to bring them into the centre of my fictional universe, to show the quiet heroism in their lives.
Which of your books do you feel most proud of?
My two favorites are The Palace of Illusions and Oleander Girl. In the former, I took on the challenge of retelling the Mahabharata from Draupadi's point of view. I felt that Draupadi was such an important character in the drama of Mahabharata, yet we do not hear much of her point of view, opinions or feelings in much of the original story. I wanted to imagine her inner life. In Oleander Girl, I try to create a literary mystery. A young woman discovers a secret about her family and herself. She travels halfway across the world to discover herself.
From where do you derive the inspiration to write?
People, incidents around me and news items as well as books of fiction give me inspiration. But most important of all is the imagination. That is what allows me to come up with a story idea.
Which are your favourite authors?
I like writers of many backgrounds, Indian and foreign and like reading many kinds of books — serious literary books as well as fun and fantasy novels such as Harry Potter.
What do you desire to write as a masterpiece?
I am working on a novel about Sita. I hope it will turn out to be the best story that I have written so far.
What role do promotion and marketing play ?
There are so many presses and writers out there now. In some ways it is easier to get published, but also easier to get lost. To bring the book to the attention of the reader is more important than ever. Marketing and promotion of book have become very important. Internet publicity has become really huge now.