Chefs' new recipe for success
Pushpesh Pant
Cooking has emerged from the shadows of the kitchen and invaded our living rooms through the small screen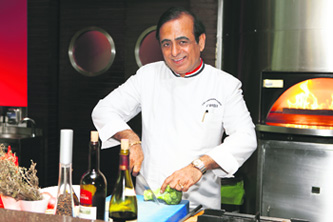 There was a time, how very long ago it seems, when those who could afford two square meals in this country considered themselves blessed. This was before the dawn of the age of plenty post-Green Revolution and much, much before the advent of glitzy recipe shows hosted by celebrity chefs who behave like prima donnas of a ballet troupe at the Bolshoi.
Devender Kumar of Le Meridien who writes simple do-it-yourself cookbooks

---
Music
Tune in to mariachi
Neha Saini
Flor de Toloache, the first and only women mariachi band from the US, is doing much more than holding nationwide concerts in India. It is also an expression of women's empowerment and cross-cultural collaboration
---
Fitness
Good health
Ticker-friendly tips
Dr Anjali Mukerjee
WHEN people develop heart disease they stop eating eggs, give up butter and switch to margarine. The so-called-healthy margarine is nutritionally worse than butter as it contains hydrogenated fats or trans fatty acids. (These are unnatural fats which raise total cholesterol, reduce good cholesterol and make the blood sticky). Little do they realise that it's not just the butter and eggs which are the culprits. All through their lives they've been eating out in restaurants, consuming huge amounts of high-fat milk, maida, sugar, chocolates, processed foods, farsan etc.
Health Capsules
Kids who sleep more have less weight
Washington: A new study has found that kids who tend to sleep more, may actually be eating less. The study by Chantelle Hart, associate professor of public health at Temple's Center for Obesity Research and Education (CORE), is the first known study to examine the impact of sleep on children's eating behaviours by manipulating the amount of sleep that study participants were able to get. The study involved 37 children, ages 8 to 11; 27 per cent of whom were overweight or obese.
---
Society
Lesser-known power of moonlight
Deepak Rikhye
Observations have revealed that some plant growth is influenced by the light of the moon. Some plants have adaptive mechanisms that prevent this light from interfering with photoperiodism

For an out-of-the-box lunchbox
Harshika Arora
From the day a child is born, the mother holds herself responsible for the health, hygiene and other factors that affect her baby's growth. Be it nutrition or education, it's the mom who is supposed to handle it. Doctors advise more protein intake, grannys come up with their own daadi ma ke nuskhe, friends always end up suggesting the junk food. It is finally left to the discretion of the mother as to decide what may be good.
Soul Talk
Spouses make life with cancer better
According to a study authored by Dr Ayal Aizer in the Journal of Clinical Oncology, marriage appears to provide an edge to cancer patients. The study points out that married people are 17 per cent more likely to be diagnosed in the initial phase of the cancer, before it has spread. Not just that the trifold advantage marriage offers also mean that they are 53 per cent more likely to get apt treatment and go through with it.
---
Travel
City of winds
The windy city of Azerbaijan, Baku, located 28 metres below sea level, is known for its medieval attractions
Mohan K. Tikku
Baku, the capital of Azerbaijan, has its equivalent of Delhi's Walled City. It is called Ichari Sheher, the Inner City. Many of the landmarks that dot its lanes, by lanes and handkerchief-sized courtyards hark back to the medieval ages when the place used to be a bustling trading centre on the Silk Route. But the most prominent of the city's landmarks is the Maiden Tower. It is a huge pillar built with stone and mortar. It is also a Unesco Heritage site.
Globetrotting: Camel safari
---
Entertainment
Flavour of Indian cinema catches on
Saibal Chatterjee
Films with India and Indians as the theme have had a great run at the global boxoffice lately. In fact, these are increasingly breaking boundaries and making connections through faith, food and families
The good guy
Swati Rai
It is difficult to imagine Gulshan Grover, the B-town baddie of the 1990s,essaying the role of a Harvard University Professor settled in Mandawa, Rajasthan, but that's exactly what this multi-talented star did recently in the Kitu Ghosh's Sooper se Upar! According to Grover, this was the beginning of author-backed roles ahead!