PUNJAB

HARYANA

JAMMU & KASHMIR

HIMACHAL

REGIONAL BRIEFS

NATION

OPINIONS

LETTERS

BUSINESS

SPORTS

WORLD


M A I N N E W S
Govt all set to scrap VVIP copter deal with Agusta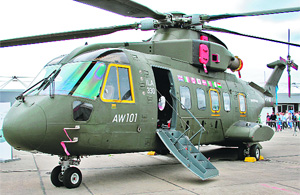 The choppy deal
The government had entered into a $757.40 million (around Rs 3,600 crore) deal with AgustaWestland, a division of Italian defence group Finmeccanica, for purchase of 12 helicopters to fly top politicians

What went awry

The deal went off track in February after the then-chief executive of Finmeccanica was arrested by the Italian police for allegedly paying bribes to secure the deal, prompting India to freeze payments to the company


Under India's defence procurement rules, the integrity pact prohibits paying or accepting bribes


The government can cancel a contract if the pact is violated. Last month, AgustaWestland called for arbitration in the dispute, but Defence Ministry sources say there is no case for this because the firm breached the integrity pact


The government last month issued a final "show-cause" notice to the firm seeking to end the contract
New Delhi, November 19
The government has decided to cancel a scandal-tainted chopper deal with Anglo-Italian firm AgustaWestland, prejudging the outcome of a meeting on Wednesday between company executives and Defence Ministry officials to discuss the contract, three sources said.
The decision could re-open the contract to rivals, including United Technologies Corp's Sikorsky Aircraft, EADS' Eurocopter and Lockheed Martin.
Scrapping the 560 million euro ($757.40 million) deal to buy 12 helicopters for top politicians will not necessarily lead to New Delhi blacklisting the firm, sources said. It, however, closes a chapter of the struggle by AgustaWestland, a division of Italian defence group Finmeccanica, to keep the contract alive.
A senior Defence Ministry official said there was no hope that AgustaWestland officials could salvage the deal in the meeting scheduled for Wednesday. "This is just a face-saving exercise by Agusta. But the government has already decided to cancel the deal because they have violated the integrity pact," said a source in the ministry, who declined to identified.
A spokesman for Finmeccanica declined to comment. Under India's defence procurement rules, the integrity pact prohibits paying or accepting bribes. The government can cancel a contract if the pact is violated, and the seller has to forfeit any security money it deposited as a bidder. Last month, AgustaWestland called for arbitration in the dispute, but Defence Ministry sources say there is no case for this because the firm breached the integrity pact.
However, under the rules, it could still take the case to an Indian court. The deal for the AW101 helicopters went off track in February after the then-chief executive of Finmeccanica was arrested by Italian police for allegedly paying bribes to secure the deal, prompting India to freeze payments to the company. AgustaWestland said last month that suspension of payment was not provided for under the terms of the contract and that Indian authorities had not responded to its requests for bilateral discussions since April.
Italy and India are separately investigating the allegations. AgustaWestland denies any wrongdoing.
India's federal auditor said in August the Defence Ministry had initially stipulated that the helicopters should be able to fly to an altitude of 6,000 metres (19,685 feet), which meant that AgustaWestland could not compete since the AW101 was certified to fly only to 4,572 metres (15,000 feet). Later, the minimum altitude requirement was lowered to 4,500 metres (14,763 feet), even though the helicopters were expected to be used in mountainous northern and northeastern parts of the country where altitudes are higher, it said.
India took delivery of three helicopters before the deal stalled. Three more have been ready for delivery to India. — Reuters