M A I N N E W S
Diesel shocker: Prices to be deregulated in 6 months


Moily rules out one-time steep hike


Small monthly price rise to continue
Tribune News Service & PTI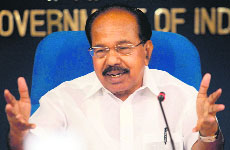 "The country cannot afford to survive with an import bill of around $160 billion for petroleum and natural gas alone. Nearly 80% demand of crude oil will have to be met through imports by the end of the 12th Plan period.

— Veerappa Moily,
petroleum minister

New Delhi, November 20
Petroleum Minister Veerappa Moily today said that diesel prices will be deregulated in six months with gradual price increases. He said the small monthly increases in rates will continue as planned and there was no plan for a one-time steep hike of Rs 3 or 4 per litre to bridge the gap. "In six months, the diesel sector will be deregulated," he said at the KPMG Energy Conclave.
The government had in January allowed oil companies to increase the price of diesel by up to 50 paisa a litre every month to gradually eliminate subsidies on the fuel. State-owned fuel retailers, who control 95 per cent of the petrol pump sales, sell diesel at government-fixed rates, which are way lower than the cost of production.
"Under-recoveries had come down to Rs 2.50 because of monthly increases, but they soared to Rs 14 as the rupee depreciated sharply. Currently, under-recoveries on diesel are at about Rs 9.28 per litre," Moily said.
At current rates, it will take 19 months to wipe off all the losses on diesel sales, but the Petroleum Minister is pinning hopes on the rupee appreciating and international oil prices cooling down for reducing this time window to six months. Wiping out the under-recoveries would help in the deregulation of diesel.
"We are already going in the direction of deregulating diesel prices. If the rupee appreciates against the dollar and international oil prices drop, we will be in a position to completely deregulate," he said. Speaking at the conference earlier, Moily said India was the fourth largest consumer of energy in the world after China, US and Russia and is expected to become the third largest by 2025. India consumed 157.057 million tonnes of petroleum products in 2012-13.
Ever-widening gap
Under-recoveries (loss on diesel sales) currently stand at a massive Rs 9.28 a litre
This figure had come down to Rs 2.50 because of monthly increases, but it soared to Rs 14 as the rupee depreciated sharply
It will take 19 months at current rates to wipe off all the losses on diesel sales
The government had in June 2010 freed both petrol and diesel prices from its control