Ringing back memories
In the age of mobile phones, the telephone may be gradually disappearing from homes and offices but it has earned its rightful place in the annals of nostalgia
Shobita Shivshankar
A few months ago when the curtains came down on the telegram service in India, a crucial part of the communication mode of the 19th and 20th century was consigned to history. It was double deja vu for old-timers who had earlier witnessed a similar death of the classic telephone at the hands of the mobile phone.
Today, in the wireless world of smartphones, tablets, Twitter and Facebook, the iconic black telephone may be gradually disappearing from homes and offices in big cities but it has earned its rightful place in the annals of nostalgia. It is even attracting investor interest because it has a cult classic status owing to its period looks.
Sought-after antiques
As in the case of stamps and coins, a passionate fan following is emerging for antique phones as well. There is a great demand for the black bakelite phones from the 1940s and 1950s that represented a golden era in telephone design. However, even relatively newer phones from the 1960s and the 1970s are now becoming sought-after antiques and commanding premium prices.
Hardcore aficionados know the true value of old phones which they cherish for a lifetime and pass on to future generations. Perhaps, this is what makes these such coveted items of memorabilia. For collectors, it can be a pursuit that can take years of painstaking patience, time, and sometimes money, yet the value and pleasure remain forever.
Such is the following for vintage phones that there is an Antique Telephone Collectors Association in America with thousands of followers from all parts of the world. There is also a Telephone Collectors International, which is an international organisation of hobbyists and historians. They are helping to preserve the history of the telecommunications industry through the collection of telephones and telephone-related material. England's Telecommunications Heritage Group, too, is involved in similar activities. In these associations, members exchange information about old phones, which are also traded and exchanged.
Restoring old phones
In countries like America and England, there are numerous outlets devoted to restoring and selling antique, vintage and classic telephones that have been completely restored and are ready to work on modern phone lines. In cases where some internet-based VOIP providers do not support rotary dialling, they even sell rotary-to-tone converters that will allow a vintage phone to operate on modern phone lines.
Interestingly, even as the demand for genuine antique phones is on the rise in various countries, it has also spawned an industry of replicas. The reason for this is the collectors' desire to have old style working models of antique phones. Since many are beyond restoration because of the non-availability of spare parts, the replica market is booming.
Leading websites like www.ebay.com and www.amazon.com and dedicated sites like www.oldphoneworks.com, www.customphones.com and many others have large varieties of vintage phone replicas. Some of these reproductions are of phones that were in use over a century ago.
You can get lookalikes of early 20th century phones like the 1907 wooden wall phone, the 1921 candlestick phone, or even the 1928 Antique Rotary Western Electric Telephone. There is also great demand for phones of the 1950s and 1960s decades led by the black bakelite classic phone, Ericofone, Trimline phone, Retro Princess phone and the cordless phones of the 1970s.
Websites sell replicas ranging in price of around Rs 3,000 for a desk phone circa 1937 to Rs 4,500 for an ornate Paramount vintage style phone by Ericsson dating back to 1892 and made of brass, iron and ebony. There are also buyers for the 1950s coin-operated public telephones which are used for ornamental purposes in drawing rooms.
Decorative appeal
Though all these phones work on modern telephone lines but they are used more for their decorative appeal than for any communicative needs. Replicas of vintage phones are reproduced in mint condition and usually become the centrepiece of a living room and usually are great conversation starters.
However, if there is a thriving replica market there is also a burgeoning demand for genuine antique phones. A number of companies and online retail stores sell real vintage phones many of which can be bought between Rs 8,000 and Rs 2 lakh depending upon the date of manufacturing and also the condition of the telephone. Obviously those in mint and workable conditions will fetch a far bigger price than those that are bought just for their vintage appeal.
Not many know that a number of the early-day mobile phones too fetch a decent price in auctions. Reproductions of the vintage Motorola Brick Cell and flip-open mobiles of the late 1980s sell like hotcakes on all major online retail stores at prices ranging between $25 and $100 (between Rs 1,500 and Rs 6,000) a piece. Even though they do not have much of a utility in today's digital world they form a part of a serious collector's portfolio and come up in important auctions.
If you too have the flair for the dramatic bring home a replica of the classic Wood Cradle Phone with clock available on many online stores for around Rs. 3,300. It is worth its weight in gold because of its fine craftsmanship. It will add class to your decor and make it your pride and the neighbour's envy!
EIFFEL TOWER SKELETON DESK TELEPHONE
This intricate beauty was personally designed by one of the world's leading pioneers in telephones, Lars Magnus Ericsson in the early 1900s. The telephone has two black-lacquered inductor magnets ingeniously curved and twisted into a stand. The crank mechanism still rings a loud bell.
Price: Rs 90,000
TRIMLINE ROTARY PHONE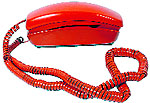 Most of us have seen this 1970s phone called TRIM (Tone Ringer Illuminated Model). The phone from Western Electric was the first to use a modern electronic warbler in place of traditional bell mechanism. This orange replica has the style and features of the original but with modern push button dialling.
Price: Rs 4,000
SOUTHERN BELL CIRCULAR PHONE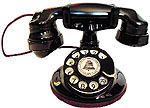 The model 202 telephone was a desktop telephone produced by American company Southern Bell from 1930 through 1936 with refurbished units appearing into the 1950s. The phone consisted of a circular desk top set with a dial and handset on a cradle with integrated receiver and transmitter.
Price: Rs 17,400
VINTAGE ERICOPHONE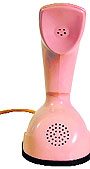 Though the Ericofone with the dial pad at the bottom was first introduced in 1955, it was popular till the turn of the century and is considered an important industrial design of the 20th century. Created by the Ericsson Company of Sweden, it was the first phone to incorporate dial and handset into a single unit.
Price: Rs 13,500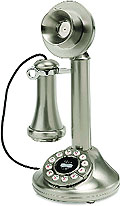 CROSLEY COUNTRY KITCHEN WALL PHONE
While this beautiful recreation of the 1920's Crosley Country kitchen wall phone has the charm of the classic original, it is also a perfectly workable phone. It features a crank handle that actually turns. It even includes a compartment, volume controls for ringer and hold-and-speaker phone features.
Price: Rs 5,400


PARAMOUNT VINTAGE STYLE TELEPHONE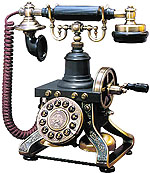 The deluxe classic die cast Paramount phone with realistic magneto generator is an exact replica of the 1892 Ericsson telephone. The timeless beauty has modern features with a dark charcoal bakelite body, brass die cast finishing, rotary-look dial with push button dialling convenience and a redial facility.
Price: Rs 4,500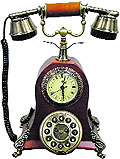 CLASSIC WOOD CRADLE PHONE WITH CLOCK
This nostalgic style table phone is a charming reproduction of a mantel clock and phone with modern features. The mahogany colour wooden base has a touch tone dial. It also has a redial facility, flash button and a ringer volume switch. Its wood base is complemented by the antique brass receiver.
Price: Rs 3,300
RETRO CARRINGTON PUSH BUTTON PHONE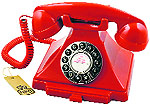 The Retro Carrington Red Telephone is based on the vintage bakelite telephones of the early 20th century and feature push button dialling, pull-out notepad tray, authentic bell ringing and a solid, weighty construction. It's a British design classic, yet brought up to date with modern technology.
Price: Rs 3,500
LOBBY DESK TELEPHONE CHROME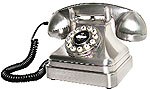 This replica of the original lobby phone by British telephone company Wild & Wolf captures the essence of 1930s European style telephones. The phone was seen on big hotel lobby desks in most European cities. The silver stunner features swooping edges and a chunky base and receiver linked by a black cord.
Price: Rs 6,000
ANTIQUE ROTARY WESTERN ELECTRIC TELEPHONE

This telephone introduced in 1928 by the US company Western Electric was the first widely distributed phone which adopted the use of a single handset rather than a separate speaker and ear set. This particular model was available till the 1930s and is characterised by a round base and raised dial.
Price: 22,500
BLACK BAKELITE DIAL TELEPHONE

The classic black bakelite phone that most of us are familiar with was first introduced in 1930 and became a communication benchmark well into the 1960s. It has twin gong bells the likes of which were heard in so many old films. It also has a writing pad tray to store your important phone numbers.
Price: Rs 12,000
TRIM PHONE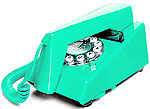 Designed in the 1960s in England, the Trim phone was positioned as a more fashionable alternative to the standard GPO telephone models. It had illuminated push-button dial. It went on to become one of England's most popular phones with more than 1.5 million pieces in use by 1980.

Price: Rs 1,800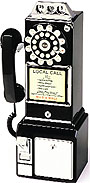 WILD & WOLF BLACK DINER PHONE
This black American diner style telephone from the Wild and Wolf classic collection can be mounted on the wall to add a 1950s feel to the home. The phone was first introduced in the 1950s and remained virtually unchanged until 1965. It features pushbutton technology with authentic rotary look.
Price: Rs 6,000
BLACK GPO SERIES WALL TELEPHONE
This is a wonderful example of England's GPO (General Post Office) series wall mounted telephone. Back in the 1930s, it was nicknamed the rams head due to its appearance. Many of these genuine antique phones have been stripped down and rebuilt. These still have the full-bodied double gong ring.
Price: Rs 27,000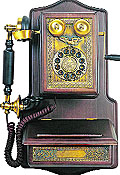 1907 WOODEN WALL TELEPHONE
This reproduction of the Paramount wooden wall telephone of 1907 vintage can be a great addition to any room. Available on www.ebay.com, it is made to exact specifications. It has hinged compartment for pens and notepads, a classic felted handset cord, push button dialling in a rotary fashion and volume control.

Price: Rs 11,100