protagonist Pablo's cousin Anil-da stumbles upon an interesting piece of gossip which could leave a marked impact on his sister's wedding. Well, 22 pages after I still hold my breath for that piece of news, but it does not come.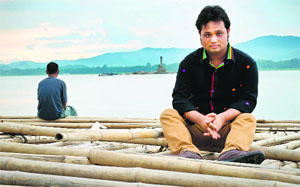 "I am waiting for Anil-da to break the news which he brought in from the village market along with the coloured papers," I shoot a mail to Aruni Kashyap, the author of The House with a Thousand Stories. "For that you will have to read the book till the end," comes his reply from Minnesota, USA, where Aruni is doing his masters degree and also teaching writing. Not that it needs much coaxing to read his book. The narration, on its own is gripping enough to capture one's attention. But my curiosity to know this 28-year-old poet, writer and translator from Assam makes me shoot a few mails to him. Excerpts from an interview:
Your debut novel has been compared with Arundhati Roy's God of Small Things. How does it feel?
It feels great to be compared to writers I admire but I resist it mildly because it negates the strong oral and political context that informs my work. For example, my book is non-linear not because I wanted to flaunt that I can write a non-linear book but because I wanted the book to be a textual equivalent of the atmosphere of fear and suppression in Assam. The one way I could reproduce that atmosphere was by breaking down the sequence. The central story of the novel is hence very buried within many other stories because the novel emerges from a political context where stories are suppressed, where people know what is the truth and yet doesn't know if it is really the truth.
The protagonist Pablo, is he a reflection of you?
If you mean to ask if the novel is autobiographical, then my answer is no. I have a very boring life of waking up in the morning and writing on my desk and so I think no one would have published the book if I had written an autobiographical novel.
You once commented that Indira Goswami has reshaped the thinking and writing style of many Assamese writers. How much influence she has on your writing?
Absolutely. If you look closely at works of established writers such as Manikuntala Bhattacharya and Arup Kumar Nath, the influence is unmistakable. Her work is so powerful that it would continue to cast a strong shadow in the works of many Assamese writers for the next few decades.
Among many things, Mamoni baideo (Indira Goswami)taught me about the importance of endings in fiction and it has left such an impact that I never start writing a poem, a story, an essay and of course not a novella or novel without "seeing" the closing scene.
How and why did you pick up The Bronze Sword of Thengphakhri Tehsilder to translate? What do you think are the parameters that one should observe while translating?
One evening I was having Earl Grey tea with baideo and she asked me if I would like to translate it. I didn't think twice before agreeing. Parameters? Just be as loyal to the original as possible.
You are a social activist too. What are the issues that are closer to your heart?
No way! I don't think I am a social activist. But yes, I do think I am a political writer. I am interested in the many ways in which human rights intersect with literature and storytelling. My fiction is shaped by Assamese politics, aesthetics and literary traditions — both oral and textual. I use these to write about fundamental aspects of contemporary Indian reality that has been ignored by Indian English fiction for a long time.
Tell us about your background? What are you doing at present?
I grew up in Guwahati. My mother, Dipti Dutta Das is a novelist and my father Surjya Das has written many books on Assam's history, culture and politics.
I owe my writing life to them. My mparents have been a source of inspiration for me and motivated me as has baideo. I am completing my masters degree from Minnesota State University, where I also teach writing.
What can be called the signature style of your writing?
I don't know. That is for readers to decide but I do try and make an effort to be able to tell a good story.
Apart from Indira Goswami who are the writers you look up to?
Toni Morrison, William Faulkner, Nadine Gordimer, Amitav Ghosh and many others.
What's next?
A novel set in Assam is keeping me busy!