For hearth's sake
Modern fireplaces do not use wood but are gas-fired or electricity-driven. These come with sophisticated thermostats and many of these are remote-controlled
Sonali Seth
Fireplaces have been the inspiration for great novels. Romances have blossomed around these. In winters, these glow and spread warmth. These can be the gathering place for the entire family even as these add comfort and beauty to the home.
There is a certain charm woven around traditional fireplaces, which may not be in use today but there is a certain nostalgia attached to them. In their modern avatar, these have become more environment-friendly by replacing logs of wood, which created great carbon footprints with new technologies that provide clean heat without having to fell trees.
Modern fireplaces are gas-fired or electricity-driven. Unlike the tiny heaters of old, these new powerhouses have big blowers and can emit high amounts of heat. These come with sophisticated thermostats to keep a steady level of warmth in a room. Many of these can be remote-controlled from the comfort of the sofa or a bed.
Overwhelming options
A variety of fireplaces are available in the market. Some can be fitted into a cabinet or a recess in a wall while others come as freestanding stoves, or even as masonry heaters that add energy efficiency to the romantic tradition of the fireplace.
With the exception of old havelis and heritage homes, a majority of the wood-fired hearths are now a thing of the past. Apart from electricity, these days fireplaces provide warmth by using different kinds of non-polluting fuels like flammable gels, natural gas, biomass and propane fuel. Many of these fuels do not require chimneys, are cost-effective, convenient, safer and far more environment friendly.
Very popular these days are fireplace-style electric heaters with artificial flames flickering. These give the impression of burning logs of wood. Many of these come as inserts which can be fitted into the wall. Constructing such a faux fireplace can be a great way to add design interest, warmth and character to the living room or bedroom.
Trendy fireplaces
Electric fireplaces are the most popular choice. These are modern and trendy alternative to the bulky traditional fireplace. Some can be as thin as an LCD television and boast a screen, which shows flickering flames to create the effect of a real fire. One big advantage is that these are portable and can be placed anywhere in the home with no need for a chimney or any elaborate ventilation.
The electric fireplaces are suitable for practically any location in the house — bedroom, kitchen or living room. These can enhance the ambience with their warmth and stylish looks.
Whether these are electric or gas-fired, or use any other fuel, the faux fireplaces create the same atmosphere as the real ones with the added advantage of being practically maintenance-free. The real fireplaces may be very romantic but these are cumbersome to operate. You will first have to arrange for the wood, and once these are lit, there will be the issue of soot, ash and noxious gases for which a chimney is required. Modern fireplaces do away with this elaborate and time-consuming process.
The other big advantage of faux fireplaces is that these can be moved from one room to another. When you choose an attractively designed one, it will add to the decoration of the room. If it is an insert, then you can get a special cabinet made for it and place the heater in the centre.
The top of the cabinet can be accessorised with a few decorative pieces. Candles or framed family photos, a couple of knickknacks or a flower pot or plant can provide the right touch. To add sparkle and beauty, you can put a mirror over the mantel or add a bit of colour and visual interest by hanging a framed painting over the fireplace cabinet.
Fireplaces in India
Interestingly India has had a long tradition of fireplaces and that, despite the fact, that in most parts of the country, it does not get cold enough to use one. However, the British were very fond of using these. The relics can still be found in the sprawling ministerial bungalows of Lutyen's Delhi and in other cities like Kolkata, Mumbai and Bengaluru, where the British lived. Old fireplaces can also be found in a number of heritage homes and old hotels in practically every hill resort.
In most places in India, the use of fireplaces was discontinued after Independence and these gave way to electric heaters, blowers and other new-age appliances. Today these have more of a vintage appeal and are a throwback to the days of kings, queens, royalty and the Raj era.
Modern-day fireplaces are designed both for functionality and enhancing the appeal of a room. Though these might not create the same ambience as a retro fireplace, but these do their job efficiently and spread warmth and also give the room an anchor with their artistic look.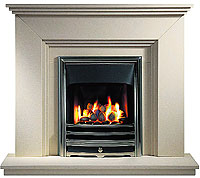 LEND A GLOW TO THE LIVING ROOM
The Durrington Jura Stone (natural product made of marble) fireplace comprises a 42-inch frame, back panel, hearth and optional gas fire. It is an ultra-modern fireplace, which can be installed either with or without the shelf. It is both scratch and stain-resistant and lends a new glow to the living room.
Price: Rs 30,000 (£300)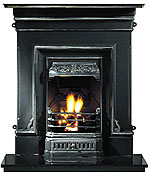 ADD CHARACTER WITH GEOMETRIC STYLE
The Edinburgh cast iron fireplace by UK-based Gallery Fireplaces consists of a cast iron combination fireplace and hearth with a choice of gas-fired, electric-fired or fuel-kit for a real fire. Inspired by the English Edwardian fireplace designs, its geometric style will add character to the living room.
Price: Rs 40,000 (£400)

FLORAL DISPLAY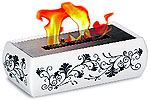 Add warmth, charm and ambience with this tabletop ethanol fireplace with ceramic casing by New York-based indoor fireplace brand Moda Flame. It uses ethanol bio-fuel and has ceramic casing with contemporary curved edge design with floral patterns to compliment any room setting.
Price: Rs 6,600 ($110)
ENVIRONMENT FRIENDLY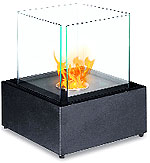 The Sevilla ethanol contemporary tabletop personal fireplace by American label creates an extraordinary ambience in any setting with its steel square shape and set of four tempered glass panes. Ideal for all tabletops and outdoor settings, it is non-toxic, smokeless, odourless and environment-friendly fuel.

Price: Rs 12,600 ($210)
WALL-MOUNTED DESIGN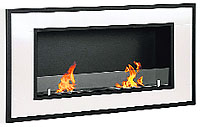 The Lugo wall-mounted fireplace is an ideal way to lend an air of design and warmth to any household. It has a steel outer frame and two dual-layer burners. Measuring four feet by two feet, it has a depth of 7.5 inches and a capacity to spread instant non-toxic warmth to a cold room.
Price: Rs 40,800 ($680)
FIRED WITH WARMTH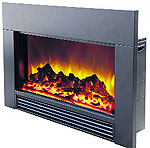 This fireplace can be fitted into a cabinet, a mantel or recess in a wall. The 'flames' emitted by the electric heater look like real fire and spread similar warmth. Since there is no fuel or wood consumption, there is no mess, and no smoke or soot. The fireplace can be controlled by a hand-held remote.
Price: Rs 45,000 ($750)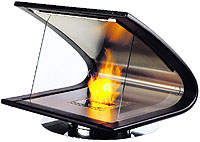 A PIECE OF ART
Stylish and striking, the Zeta fireplace is truly a piece of art. Created by Australian designer John Dimopoulos, the eco-smart fireplace is so-named because of its elliptical shape and pays homage to its Greek 'origins'. It requires no ventilation, is portable and uses a natural, renewable resource for fuel.
Price: Rs 6.54 lakh ($10,900)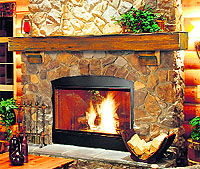 rustic atmosphere
The charming design of the Pearl Mantels Fireplace will create a rustic atmosphere in any room. Hand-hewn edges and splits enhance the natural beauty of the wood grain. Mantel shelf can be hung with or without corbels, which are packed separately. It is available in a variety of different finishes.
Price: Rs 33,000 ($550)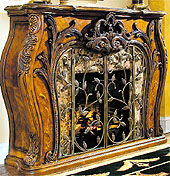 A taste of grandeur
Made of marble and wood, the Palais Royale Fireplace by US-based Amini Innovation Corporation exudes grandeur and savoir-faire. The detailing demonstrates classic French Rococo styling with its intricate leaf motif on metal and exuberant veneers.

Price: Rs 1.38 lakh ($2,300)
DECORATIVE APPEAL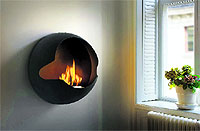 The stunning Cupola bio-ethanol ventless fireplace by American company Vauni Edge not only spreads warmth but also is a great decorative as well. The flat design makes it look as if it is built into the wall but it is actually wall-mounted. It looks so classy that it will become the centrepiece of a room.
Price: Rs 1.64 lakh ($2,325)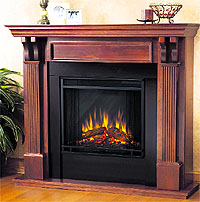 UNDERSTATED ELEGANCE
The Ashley Electric Fireplace in mahogany by American company Real Flame is both a decorative and functional. It features pillars with curved supports which create an understated elegance. All you've got to do is to plug it into any standard outlet, keep the remote close by and sit back and enjoy the warmth.

Price: Rs 36,000 ($600)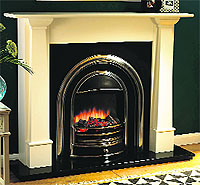 TAKE YOUR PICK
This electric suite by British company Flamerite Brontë is sure to captivate with its exquisite limestone surround and its bold cast iron electric fire that comes with a choice of coal or pebble fuel-look electric heating. With a multi-function remote control, this free-standing electric fire will add warmth to any room.
Price: Rs 90,000 (£900)