Ad(d) value
Aradhika Sharma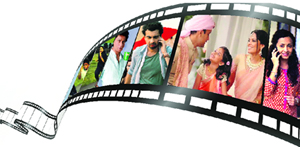 While most television commercials (TVCs) are time and space fillers, trying to sell impossible dreams of a fair skin, multiple body-hungry female admirers, impossible good looks, and gizmos that will grant nirvana if you possess them, there are advertisements — few and far between — that actually communicate ideas. These ads are bold and creatively link the product to the idea of social change.
---
Arts
The epicurean delight
Swati Rai
Regular art installations are passé; imagine a picture-perfect landscape made of edible, scrumptious ingredients. Here's a look at the trend of food art installations that is new to Europe and even newer to India
Art installations ranging from copper sculptures, to mixed medium pièce de résistance at many an art do have been seen and heard of. Food art installation is the next big thing in the art circles with Michelin-starred chefs using their tools to sculpt edible food art installations. The CSSG 2013 Summit - Food & Art Edition, New Delhi, saw the coming together of food, art and social cause in a perfect blend.
Selling an idea
D. S. Kapoor
Advertising: Is it an art or science? Is it a business or profession? It is all this and probably more. It is an art because of the creativity of talented advertising men. It is a science because of scientific marketing research. Advertising serves primarily as a tool of marketing and its purpose is not to entertain but create sales. The word "advertising" is derived from Latin word "advert", which means to turn toward. Advertising helps turn one's mind or attention towards a product. For creating an advertisement, a vast amount of groundwork needs to be done, the creative side being only one aspect, though admittedly, a vital one, of a large and complex plan.
---
FITNESS
Finally, a remedy for killer virus
Dr Arvind Sahni
After years of hard work and painstaking research, it is now possible to eradicate Hepatitis C virus (HCV) in almost 100 per cent of patients with advent of new drugs, called Directly Acting Antivirals or DAAs. For the very first time, an all-oral regime of DAAs' minus an Interferon injection can successfully eradicate HCV.
---
SOCIETY
Friends for every season
Aditi Garg
Friends are cushions in life's journey. Here's a look at the different types of friends you can turn to, in need and deed!
They are the family that you choose. Among the different friends you have will be those who become inseparable and you retain for their endearing qualities.
The Counsellor: Wondering how to deal with a philandering boyfriend or tackling a clingy girlfriend? This friend will calmly guide you through the most difficult situations and make it seem like a cakewalk. Without sounding preachy, they are a shoulder you can cry on and end a conversation with a better sense of direction.
Soul Talk
Women for men with low-pitched voices
A recent study by McMaster University's Dr. Jullian O'Connor has found that women prefer men with low-pitched voices like that of actor Jon Hamm from Mad Men. But sexual bliss could elude you if your voice is squeaky like David Beckham's. It has been widely believed that men with deep voices attracted women more but it has been found that women also associate these voices with those of men who are more likely to cheat and are unfit for marriage.
---
Travel
A village of artists
Hugh & Colleen Gantzer
In heart of rural Odisha, the entire village of Ragurajpur is dedicated to depictions of the activities and manifestations of the Lord Jagannath, his brother Balabhadra, and their sister Subhadra
---
Entertainment
From Chhote Nawab to Raja
Seema Sachdeva
Saif Ali Khan is setting the theatres on fire with his fiery performance in Tigmanshu Dhulia's masala flick Bullett Raja
Saif Ali Khan needs no introduction. This heir to the Pataudi lineage is a class apart. The superstar, who is back with a bang with his latest release Bullett Raja, is quite gung ho about this action entertainer presented by Fox Star Studios. In the film, he plays the role of Raja Mishra, a common man who turns into a gangster after he revolts against the corrupt system. According to Saif, the script by the director Tigmanshu Dhulia is very good.
Rollicking romedy
Shoma A. Chatterji
Imran Khan and Kareena Kapoor have come together once again in Punit Malhotra's Gori Tere Pyaar Mein
Gori Tere Pyaar Mein pairs Imran Khan and Kareena Kapoor for the second time after Ek Main Aur Ekk Tu last year which did not do too well. Let us see what Gori Tere Pyaar Mein is all about. It's a romcom, which narrates a lovely love story filled with fun lyrics and melodious, foot-tapping song-dance numbers. Some of the songs, composed by Vishal-Shekhar such as "Chinggum chabake", "Dhat teri ke" and "Tooh" are already top-of-the-charts numbers for phone ringtones and caller tunes, not to talk of free downloads from music sites.