The epicurean delight
Swati Rai
Regular art installations are passé; imagine a picture-perfect landscape made of edible, scrumptious ingredients. Here's a look at the trend of food art installations that is new to Europe and even newer to India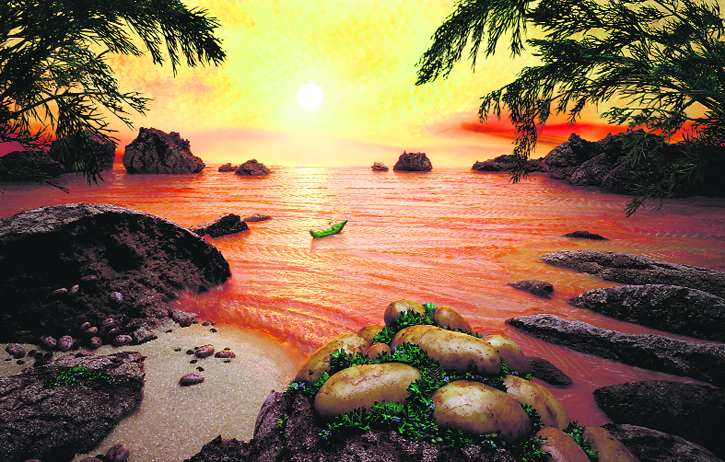 The Salmon Sea landscape by Carl Warner

Art installations ranging from copper sculptures, to mixed medium pièce de résistance at many an art do have been seen and heard of. Food art installation is the next big thing in the art circles with Michelin-starred chefs using their tools to sculpt edible food art installations. The CSSG 2013 Summit - Food & Art Edition, New Delhi, saw the coming together of food, art and social cause in a perfect blend.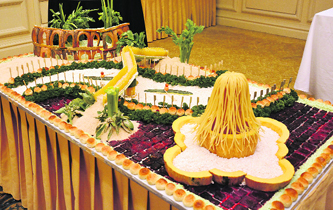 Chef Jiten Rozario in his food art showcase titled Serendipity takes the audience on zucchini gondola ride to a spaghetti Trevi Fountain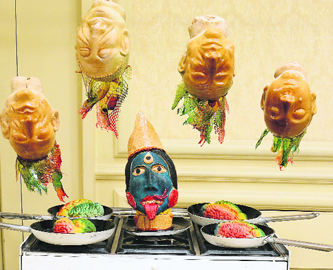 Chef Saby expresses his concern for increasing brain drain in India by way of his food art installation titled Bheja Fry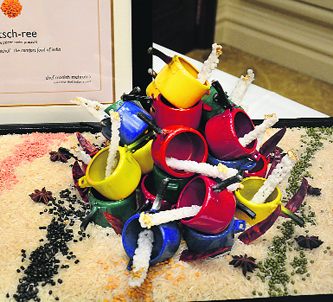 Kitsch-Ree chef Manish Mehrotra showcases the essence of India's favourite comfort food kichree in a kitschy way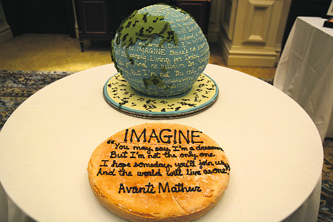 Amalgamating food and music to spread harmony is Avanti Mathur's finely etched chocolate icing food art installation

British-born and educated, guest chef at the Australian MasterChef season 2, Ian Curly elaborates, "Art to me is something that is visually appealing and if it is good to taste the better it is! All said and done if food art installations also help, like any other art work, to raise awareness bring focus on to the issues and use these creative arts as a means of societal change, then why not?"
Food art — Brasstacks
Like any other form of art, food art installations also have visual appeal as the primary focus. The raw material in this case being not the inedible artificial colouring but the palatable essential greens to poultry and carbohydrates, all coming together in an arts or art's sake picture! Two out of the many food art installations by the artist Carl Warner are the Salmon Sea landscape and the Stilton Cottage. True to its name, the sea made of salmon filletsmakes the audience see this anadromous fish in a new artistic light and the Stilton Cottage mesmerises the viewer with its giant broccoli trees and pathway to the cottage laden with ground almond and couscous!
Chef Rosario's food art installation titled Serendipity recreates the quintessential Italian theme of a Gondola ride and presents his version of the finest example of baroque architecture of the Fonatana di Trevi.
Concept-based food art
Food art installation is not limited to landscapes created out of food articles but is also presented as an artistic concept such as in Floating Buffet. The Floating Buffet is a modular installation that turns buffet into a place for discovery, meeting and tasting. The creative thought of La cellule Becquemin & Sagot, born in the meeting of the two artists, Emmanuelle and Stéphanie, explores the porosities and resistance of the relationship between various acts of contemporary creation. In the floating buffet, the guest discovers a dense and compact collection of helium balloons suspended at the eye level, seemingly floating in a space. The balloons support choicest entrées.
The artist elaborates, "The guest is invited to taste the same which lightens the load of the balloons and gradually sets them free. The balloons, thus, become a pretext to discover a multi-sensory space in which sound and projected image play an important role!"
Kitsch-ree, the title of Manish Mehrotra's installation, is a quirky wordplay and concept representation of India's comfort food, Kichree. It showcases a pile of funky coloured miniature pressure cookers piled up in an organised mess, that are spread out on a rubble of the main ingredients of this family staple.
Art with a heart
Food art installations can also have a larger meaning and purpose wherein the artist's beliefs and observation can be paramount. Sabyasachi Gorai Saby, chef and director at AI, Olive Beach & Olive Qutub, believes that food art is an extension of art per se. Having been trained in painting, sculpture and most certainly culinary skills, his food art installation is a combination of cooking methods such as sugar craft and baking and is titled Bheja Fry. "Food and art both provide pleasure, so this is a good way to bring together the concept, gourmet expertise and visual appeal all rolled into one!"
Avanti Mathur of Sweet Nothings creates a visually sumptuous and conceptually rich installation using Belgian chocolate cake, decorated with fondant with the lyrics of Lenon's song "Imagine" piped on to it! "The concept for my food-art installation is Jugalbandi, which means a duet, normally between two musical instruments. It is a take on the two passions of my life — food and music. The piece was a tribute to all those who spread cheer through the incredible power of food or music."
Mathur adds, "Top culinary schools actually have university-level art classes for students as part of their curriculum. Top restaurants feature edible food art pieces, which are painstakingly designed. I am sure even though in a nascent stage in India, it will definitely catch up."