From Chhote Nawab to Raja
Seema Sachdeva
Saif Ali Khan is setting the theatres on fire with his fiery performance in Tigmanshu Dhulia's masala flick Bullett Raja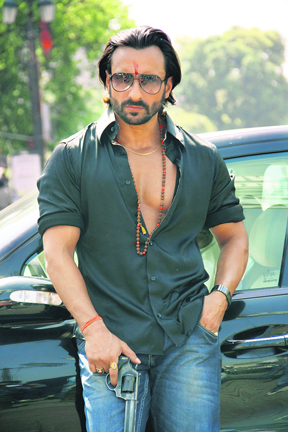 Saif Ali Khan needs no introduction. This heir to the Pataudi lineage is a class apart. The superstar, who is back with a bang with his latest release Bullett Raja, is quite gung ho about this action entertainer presented by Fox Star Studios. In the film, he plays the role of Raja Mishra, a common man who turns into a gangster after he revolts against the corrupt system. According to Saif, the script by the director Tigmanshu Dhulia is very good. "Bullett Raja is the story of an ordinary man Raja Mishra, who has no choice but to wield the gun. The movie is also a social comment on Uttar Pradesh. The theme of nexus between the politicians, industrialists and the police has been well handled in an entertaining way. The movie has an undercurrent of politics and corruption but it has been presented in a fun way."
About the preparation for the role, Saif says that, "My role had to do more with getting the look right. It was a lot about flashy dressing up. I had to work hard on getting the accent and diction right, besides working on my body language. It was a bit of a process initially but it became fine after a while. For this, I totally relied on Tigmanshu's guidance".
When asked if the film, which has been shot at real locations, including the historic Hazratganj in Lucknow, was in some way a throwback to the Angry Young Man of the 1970s, he replies, "Not really. It is actually the story of a charming young man. Also when we talk of the Angry Young Man, we are reminded of Mr Bachchan's movies, besides those of Sunny Deol. However, the character here has a very modern personality and violence in the film is more like a scene from a Tom and Jerry cartoon." About his experience of working with the talented director, Saif says Tigmanshu is really good. "It is interesting to see how he presents a character. For instance, his presentation of Ravi Kishan as a woman is very unusual."
The actor, who made a foray into Hindi films with Yash Chopra's Parampara, had to face a string of failures before he could make a mark for himself in Bollywood.
About this journey in which he literally rose from the ashes like a phoenix, the actor admits that he was lucky that he has come out of that phase in his life and has become better at his work. He says, "I'm glad it got sorted out. It took me a while to gain focus. It is good to be busy. I love my work so much now." The actor, when asked to describe himself in one word, says it would be "developing". For the range of movies he's done over the past few years, which include Dil Chahta Hai, Omkara, Being Cyrus, Love Aaj Kal, Agent Vinod, Race, and now Bullett Raja, he says that he hardly watches any Hindi films. According to Saif, "I do not deliberately make an attempt to do experimental films. It is just that I have been lucky to have got an opportunity to do a variety of films."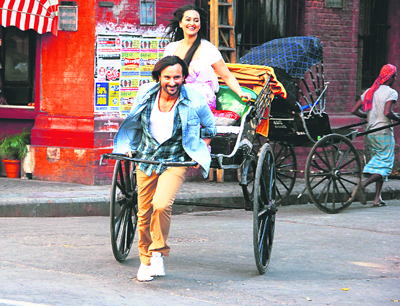 Saif Ali Khan and Sonakshi Sinha in Bullett Raja

From those of the plotting Langda Tyagi in Omkara, for which he received much critical acclaim, to that of a suave businessman in Race and now a colourful gangster in Bullett Raja, he has been doing varied roles. He disagrees when asked if he's consciously breaking stereotypes associated with a Hindi film hero. Saif says, "I'm just sitting at home, and if someone offers me an interesting role, I go for it. It is a quick reaction."
When asked if being a star kid with enviable lineage had been an advantage or disadvantage to him, he says, "I have nothing to compare it to. There's a certain attraction in Bollywood to want to cast a star kid rather than a newcomer. However, being a star kid may help you initially in opening the doors of Bollywood and giving you one chance but eventually you need to prove yourself." The actor, who loves reading, says he's presently reading a translation of Don Quixote. When asked if his superstar wife Kareena shares his interest in reading, he says, she is more into reading magazines. She likes to read house and garden magazines, he says adding that she often asks him to recommend her books to read.
When asked how the successful and busy celebrity couple, who recently celebrated their first anniversary together, managed to spend time with each other in their hectic schedule, he says, "Touch wood. Kareena and I have been very lucky that we try and plan it like that. Balance is the key in life. I try my best my best to spend as much time as possible with my family, including my son." About Kareena's comment recently during a candid interview that Saif often corrects her spellings, he says, she takes it very sportingly. He says, "Kareena has her own definition of some words she's used to. Also I feel, it should be me rather than someone else correcting her. My father too used to do that to my mom."
The actor, who believes in getting the look right for the characters he is playing on screen, left no stone unturned to suit his on-screen persona and hit the gym with vengeance. Saif, who would often be seen pumping iron on the sets of the film, says keeping fit should be a way of life. A tip he gives to youngsters on fitness is "avoid smoking and drinking, go for balanced diet and exercise". No wonder, a survey has found this Nawab of Pataudi among the top 20 sexiest men in Asia.