M A I N N E W S
Pak can't win war against India: PM
Counters Sharif's remark that Kashmir is a flashpoint between the two countries
Tribune News Service
New Delhi, December 4
Kashmir and its entrenched history of dispute today led to yet another war of words between New Delhi and Islamabad with Prime Minister Manmohan Singh saying there was no scope of Pakistan winning a war against India in his lifetime.
Manmohan Singh was reacting to a statement of his Pakistani counterpart Nawaz Sharif who was quoted by Pakistani newspaper, The Dawn, as saying: "Kashmir is a flash point and it can trigger a fourth war with India."
According to the paper, Sharif made these remarks during a trip to Pakistan-occupied Kashmir where he addressed the budget session of the council.
"There is no scope of Pakistan winning any such war in my lifetime," the Prime Minister said during a brief interaction with reporters at a Navy Day function in
New Delhi.
Sharif's office was quick to rubbish the report in The Dawn as "baseless and incorrect." "He (Sharif) never uttered these words in his address to the Pak-occupied Kashmir Council," it said in a statement, adding that Sharif was of the opinion that any issue of conflict between Pakistan and India has to be resolved through peaceful means.
The statement had, however, quoted Sharif as saying that the Kashmir issue should be settled according to the aspirations of the people and the UN resolutions as peace in the region was not possible without it. "The Prime Minister said he had a dream of seeing held-Kashmir free from the Indian occupation and desired that this dream could turn into reality during his lifetime," the statement said. Sharif, however, expressed his satisfaction over the improvement of situation on the Line of Control (LoC).
In New Delhi, the PM's words come just a day before the winter session of Parliament. The principle Opposition party, the BJP, has been blaming the Congress-led UPA government for going soft on Pakistan.
Manmohan Singh and Sharif had met on the sidelines of the UN General Assembly in New York in September.
They had agreed to a series of initiatives, including talks between the Director Generals of Military Operations (DGMOs), between the two sides to defuse LoC tension.
(With inputs from agencies)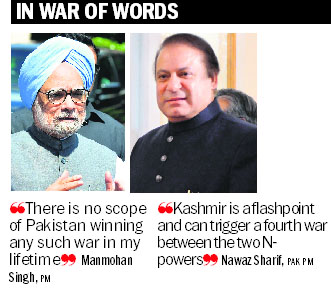 No possibility of war with Pak: Farooq
Union Minister Farooq Abdullah on Wednesday dismissed Pakistan Prime Minister Nawaz Sharif's remark that the Kashmir issue could trigger a fourth war between the two countries. "He (Sharif) has to manage his government. He has to talk in this way to keep his people with him. I think there is no possibility of a fourth war," said Abdullah.
Withdraw troops from Siachen: Pak to India
Pakistan on Wednesday asked India to withdraw its troops from Siachen, claiming their presence was damaging the environment and polluting one of the country's main sources of water supplies."Pakistan is facing a water shortage and Indian troops are damaging the virgin snow of Siachen," said Sartaj Aziz, Adviser to the Prime Minister.

Shed old baggage: Khars
We, both India and Pakistan, have done a fantastic job of infesting the young minds with hatred for each other. Let us not fall prey to historical mistakes...do not judge with historical baggage...patience and perseverance is needed (to take India and Pakistan ties forward)
Hina Rabbani Khar, pak ex-foreign minister

Omar: Move to abrogate Art 370 will reopen accession issue
New Delhi/Srinagar, Dec 4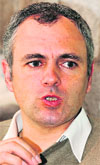 Jammu and Kashmir Chief Minister Omar Abdullah today warned that any move to abrogate Article 370 will reopen the issue of the state's accession to India.
At an event in Delhi, Omar minced no words in saying that Article 370 was acting as a "bridge" between J &K and rest of the country and attempts to weaken it would only weaken this relationship. Omar regretted that Article 370 was being presented as if it was distancing the state from the rest of the country. "I can't understand why the Article 370 is being projected as a provision which is creating a distance between Kashmir and Delhi," he said. "The only way to abrogate it is by recalling the Constituent Jammu and Kashmir Assembly where the question of state's accession with India can again be reopened," he said.