M A I N N E W S
Cabinet nod to Telangana with 10 dists
Tribune News Service
New Delhi, December 5
The Union Cabinet on Thursday cleared a parliamentary Bill for creation of Telangana state comprising 10 districts. The country's 29th state would be carved out of Andhra Pradesh.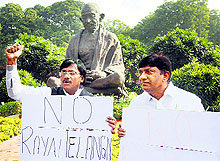 TRS MPs protest against Rayal Telangana at Parliament House in Delhi on Thursday. PTI

Scotching speculation of a change in the contours of the new state by including two additional districts of Rayalaseema region in it, the Cabinet went by the recommendation of the Group of Ministers set up on October 3 under Union Home Minister Sushil Kumar Shinde.
Announcing the decision after a three-hour meeting, Shinde said the Bill will be sent to the President either tomorrow or the day after with a request that it be sent to determine the view of the Andhra Pradesh Assembly.
The Congress top leadership decided to stick to the 10-district Telangana plan that was approved by the Congress Working Committee earlier this year.
Sources privy to discussions in the Cabinet said a minister from Andhra said two districts of Rayalaseema could be added to Telengana region but teh proposal was shot down on the grounds that there was no recommendation by the GoM. There were reports that of the four districts of Rayalaseema region, two — Kurnool and Anantapur — could be added to Telangana (to make it Rayala-Telangana). The other two, Kadapa and Chitoor, would remain with residual Andhra.
Shinde said once the Assembly takes a view, a Bill will be drafted and cleared by the Cabinet for the consideration and passage by Parliament. He hoped the government will be able to do so in the current winter session which started today. The GoM in its 25-page report had recommended that Hyderabad will be the joint capital for a period of 10 years. Shinde said the Centre will also provide financial and other support for the building of a new capital for the successor state.
As for Article 371D that provides for special reservation in jobs and educational institutions, Shinde said it will continue to apply to both states. The Article was inserted through 32nd amendment in 1973, empowering the President to issue orders from time to time providing for equitable opportunities for people belonging to different parts of the state.