The fine art of figurines
Nutan Sehgal
Though there are affordable porcelain figurines now available in souvenir shops, expensive idols have remained a symbol of luxury and the preserve of the wealthy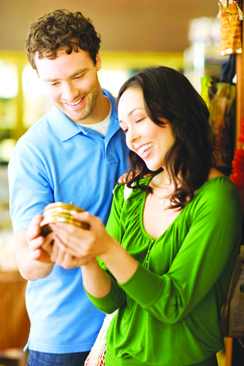 Recently during the festivals of Diwali and Ganesha Chaturthi figurines of Goddess Laxmi and Lord Ganesha were in great demand. Markets were flooded not just with their idols in various shapes and sizes but also with the paraphernalia associated with the two deities.
However, two figurines stood out from the crowd of idols. The Spanish luxury house Lladro had on display a porcelain icon of Goddess Lakshmi with a staggering price tag of more than Rs 5.25 lakh. Rivalling that was the Ganesha idol priced at around Rs 1.20 lakh.
That both the limited idols were sold out within no time speaks about the popularity of porcelain figurines. It appeared that what was a western fetish has now arrived in India as well. Thanks to companies like Lladro, Royal Crown Derby, Rosenthal, Herend, Meissen, Limoges and a host of others, porcelain has captured the fascination of uber-rich Indians. These delicate and beautifully crafted figurines that Indians earlier brought from high-end shops in western countries are up for grabs in India as many of these leading brands have set up shop in India.
Ancient craft
The love for porcelain figurines is nothing new. It is an ancient art and dates back to the seventh century China where it flourished during the Tang dynasty. The making of the delicate idols and porcelain vases was a closely guarded state secret and only members of the royal families were allowed to possess these.
When Marco Polo brought back porcelain figurines to Europe at the end of the 12th century, it was love at first sight. Trade routes were established between China and European countries and the business of porcelain flourished like never before. Such was the craze for these figurines that Europe too started experimenting with the art of replicating these. In 1730, German chemist Johann Joachim Kandler finally cracked the secret and came up with the right formula to create small figurines. And ever since then, there's been no looking back.
Delicate works
Today, apart from China and Japan, these delicate works of art are being created by a vast number of companies in England, Spain, Italy, Germany, France, Denmark and most other European countries. These are also being extensively manufactured in America and Canada and many other parts of the world.
Cities like Sèvres and Limoges in France, Dresden in Germany have come to be associated with high-quality porcelain figurines. Apart from Lladro, companies like Wedgwood, Royal Doulton, Royal Worcester, Royal Crown Derby and many others are synonymous with high quality artistic figurines.
Though there is a plethora of affordable figurines now available throughout the world, expensive porcelain idols have remained a symbol of luxury and the preserve of the wealthy.
These have been treated as pieces of art to be cherished for a lifetime and passed on to the future generations. Perhaps, this is what makes these such coveted items. Figurines could be of historical figures, men and women in dancing poses, characters from fairy tales, shepherds with animals, horsemen, merry old men drinking beer, women in ancient attires, family scenes and virtually any depiction by the artists who create these miniature masterpieces.
Decorative art
The market today offers both very expensive pieces and also those that are mass produced and are available in department stores, gift shops and souvenir stands from where these are bought to be displayed in homes as decorative art. But the business was not what it is today. Towards the middle of the last century, interest in porcelain began to wane because of a lack of innovations and dearth of new designs. A number of units closed or began manufacturing tableware and sales of porcelain figurines plummeted.
With the dawn of the new millennium, there was a sudden resurgence of interest. With the rise in demand, the value of the old collectibles has begun spurting. Such is the revival of interest that today leading auction houses like Sotheby's and Christie's hold auctions of rare pieces of porcelain that go to the highest bidder. Several museums have sprung up around the world displaying the fine porcelain art.
There are collectors around the world who are ready to pay enormous sums for old and rare pieces. A number of wealthy people guard these jealously as if these were family jewels. In a way, they are the true custodians of this timeless art of porcelain figurines.
Spirit of India

This beautiful hand-crafted and hand-painted Indian dancer's figurine from Lladro is truly a work of art. A part of the Spirit of India collection by the famous Spanish porcelain figurine maker, it was first conceived in 2005 and still continues to be a bestselling giftable from the company. Price: Rs 72,000

---

CORONATION TRAIN

Since 1751 when it was set up, the Royal Crown Derby has been creating some of England's most popular porcelain collectibles. The Coronation Train commemorating the crowning of Queen Elizabeth in 1953 is decorated in shades of teal green, earthy brown and resplendent gold. Price: Rs 21,000 ($350)

---

The water carriers

An antique pair of Royal Worcester porcelain figures of water carriers circa 1900 shows the lady holding an amphora on her left shoulder and the man holding the amphora at waist level. The two figurines are standing on rustic shaped circular bases, in blush ivory highlighted in gilt. Price: Between Rs 30,000 and Rs 50,000 (£300-£500)

---

REARING HORSE

Rosenthal porcelain has been made since 1880 at the factory established in Selb, Bavaria. The factory is still making fine-quality tableware and porcelain figurines. This beautiful antique-rearing horse is a case in point. It has such amazing detailing that even the vein lines on the legs are visible. Price: Rs 27,000 ($270)

---

THE LITTLE MERMAID

Copenhagen's major tourist attraction is the sculpture of The Little Mermaid at the city's waterfront. The Danish porcelain factory Royal Copenhagen pays tribute to the mermaid with this figurine, which has been inspired by famous author Hans Christian Anderson's fairytale. Price: Rs 5,700 ($95)

---

LORD GANESHA

This Veena Ganesha from Lladro's series of Ganesha porcelain figurines is extremely striking. It features many other attributes from Ganesha's iconography such as the gada (mace), paasha (noose or rope) and the broken tusk. All of them have their symbolism in Hindu mythology. Price: Rs 1.20 lakh ($2,000)

Women power

The antique porcelain figurine depicting three females — one holding a fish in the hand and the other holding a baton — dates back to the 19th century and has been crafted by Meissen Porcelain, which was the first European porcelain factory that was set up in 1708. Price: Estimated to be between Rs 36,000 and Rs 48,000

---

Indian idol

Spanish luxury brand Lladro has shown its fascination for Indian idols time and again. In this porcelain sculpture, it pays a special tribute to Goddess Lakshmi, who is beautifully represented in this figurine. She is dressed in fine garments, wearing gold embroidered red clothes.
Price: Rs 5.25 lakh ($8,750)

---

Duck & duckling

This hand-made, hand-painted porcelain figurine of a duck and its baby is from the Limoges factory in France. It has decorative brass fittings with the lakeshore scene painted on the surface. The factory has been known for its porcelain trinket and powder boxes as also for its animal figurines. Price: Rs 16,500 ($275)

---

Christmas day 2002

This beautiful highly collectible Royal Doulton porcelain figurine is from the famed collection titled "Christmas Day 2002". The limited edition figurine standing nine inches tall and around five inches wide is highly prized because of its fine craftsmanship and meticulous detailing. Price: Rs 19,500 ($325)

---

FROG PRINCE

The fabulous hand-painted porcelain green frog inspired by the fairytale Frog Prince is from the Hungarian porcelain company Herend. With its golden crown, it makes a great decorative piece. Herend has been known for exquisite hand-painted porcelain since 1826. Price: Rs 21,000 ($350)

---

DANCER WITH a VEIL

Made in Valencia, Spain, the exquisite Nao porcelain figurines are expertly hand-crafted by a team of sculptors, who capture treasured moments in time. The craftsmen specialise in depicting art forms and the company has established a name for itself in dance figurines. Price: Rs 21,000 ($350)