A fatherís legacy
Reviewed by Balwinder Kaur
A Few More Patriots
by G.S. Aujla
Himalayan Books.
Pages 224. Price unstated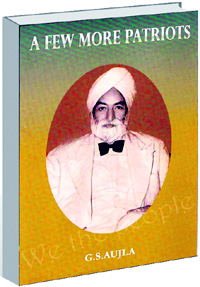 the privilege and honour of being one of the 284 patriots to sign the Constitution of India on January 24, 1950, is a singular achievement worthy of respect and pride. Sardar Sochet Singh Aujla has to his credit this testimony of his dedication, determination and triumph over lifeís daunting challenges. Proud son G.S. Aujla pays tribute to his father and recounts his incredible journey to becoming one of the founding fathers of the Indian Constitution and beyond in A Few More Patriots.
Sochet Singh was born into a wealthy, well-respected family of landlords in Aujla village in a time when Maharajas still ruled Kapurthala and independent India was a distant dream. His orthodox upbringing was tempered by the liberal outlook of his uncle who was heavily influenced by his close proximity to the westernised royals he served. Early education at Kapurthala was followed by a Masterís degree in English at Government College, Lahore, which exposed him to a cosmopolitan lifestyle. Academic excellence, declamations, theatrical participation and a philosophical viewpoint won him admiration, popularity and even the heart of a young lady from a certain well-known family. But distant shores beckoned and a young Sochet Singh left for England to join East London College for doctoral research hoping to join the Indian Civil Service.
Destiny, however, decreed otherwise and soon he was back in Kapurthala serving the state in various capacities as secretary to Prince Jit Singh, Deputy Superintendant of Police, Inspector General of Police; all the while discharging other responsibilities. And here Sochet Singh stayed for over a decade till disillusionment with the mercurial monarchs drove him to resign. His remarkable ability to walk among kings without losing the common touch soon propelled him to the centre stage of national politics, with his entry into the Indian National Congress. His astute understanding of sensitive issues, inclination to champion worthy causes and eloquent articulation made him an ideal candidate to represent PEPSU (The Patiala and East Punjab States Union) in the Constituent Assembly. Soon afterwards, his promising political career took an unexpected and unforeseen turn and yet again the course of his life changed.
A bygone era comes alive as the author skilfully recreates the life and times of S. Sochet Singh, compiling photographs, letters and documents of both historic and personal significance; substantiating and enhancing the account. The writing and editorial choices result in a smooth and easy transition between the authorís narrative and the excerpts included. Also abundantly clear is the abiding love, respect and admiration this son has for his father. But acknowledging his shortcomings and human failings as evidenced by the inclusion of certain ill-advised choices, actions and consequences; results in a heartfelt yet sincere book.