Racy drama in the hills
Reviewed by Vikrant Parmar
The Ghost Hunters of Kurseong
by Shweta Taneja
Hachette India
Pages 220, Rs 295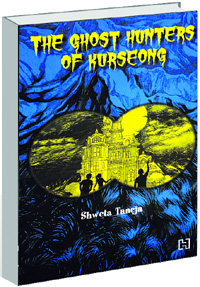 famous Five, Secret Seven, Adventurous Four…do they ring a bell? Perusing through Shweta Taneja's debut children's novel, The Ghost Hunters of Kurseong, one is often reminded of the great Enid Blyton and her group of children out on adventurous trips, sometimes bordering on the dangerous.
In Taneja's case, the setting is, of course, Indian and the plot, as is evident from the title, related to ghosts. It goes without saying that the hills have an intriguing connect with our nether-world friends. So, Kurseong in the Darjeeling hills is where all the action takes place. The slanting tin-roof houses with the sun's rays shining on them to create a heavenly glare, wind subsumed in the aroma of tea leaves and the overarching aura of deodars trees — everything is perfect for a spicy tale that Taneja weaves. A reluctant Kartik Godse aka Kay, age thirteen, moves to Kurseong with his mother Sheila Godse and settles in a quaint, 'windowed' cottage in Wicker Lane. His disenchantment with the town is short-lived, as he soon hears about the haunted Bungalow' from one Pinky Aunty, mother of Opashona Behl aka Opas, who later becomes his partner in the racy adventure-thriller. The third musketeer is Tashi, a reticent boy, who is often goaded into action by Kay and Opas. Together they set out to unravel the mystery behind the 'Iyer Bungalow', which "looked like an ancient church, with tall towers untouched by time".
The children bunk school with abandon, they loiter around the bungalow in a bid to unearth the truth only to be one day accosted by Mrs D'Costa, the caretaker of the bungalow, who believes she is still serving the long-dead Miss Iyer and her niece Meera Iyer, the owners of the 'Iyer Bungalow'. One clue leads to another as the gritty children take on the likes of paranormal investigator Pradhan, the mysterious Bhushan, "tall and wiry" Mr W and Mr Saki. Inspector Bakhtaar, with "a huge belly and nose like a bulbous appendage on his moon face", is in the thick of things as well. What starts as a ghost tale soon turns into a mystery, which the trio solves, albeit not without a supernatural twist at the climax.
The ambience has been skilfully created by the author and the plot moves at break-neck speed. The flow is spontaneous and riveting. The author has also added a caveat at the end, where she advices children against embarking upon such adventures. Well done!