Of poetry, passion and politics
Reviewed by Nirupama Dutt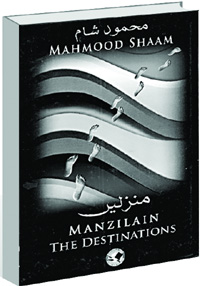 it was in an anthology of Urdu poetry from Paksitan, brought out in Devanagri script in the 1980s, that one chanced upon the verses of a poet called Mahmood Shaam. What caught the eye of the heart was the passion in the content as well the ease with which it was expressed in a conversational contemporary idiom: Likh apni diary mein kabhi mera naam bhi, Unn rang rang harfon mein ik saada naam bhi or Urhati hui hai dil ke farash pe beete dinon ki raakh, Main hoon, tera khayal hai aur cigaretton ki raakh. These verses, which he had written in his college days in the 1960s, went into the memory bank but it took nearly three decades to come face to face with the poet and that too courtesy the information highway. A passing reference to his poetry in an article in the Spectrum was spotted by a colleague of his monitoring newspapers during an India-Pakistan match at Mohali and contact was established.
By then, he was a very senior journalist of Urdu, had been an editor of the Jung group and had travelled all over the world in his capacity as a political analyst of international relations. But even though deep into politics, he had not lost his passion for poetry. "It is often said that poetry gets lost in the world of journalism but this is not so," he says in an interview, "the profession gives one the opportunity to visit so many places, experience different situations and meet all kinds of people. Thus poetry is enriched further." He adds that there was a time that writers were also journalists and this also led to enrichment of language in newspapers. He was a neighbourhood lad born in Rajpura and migrated to Jhang in Pakistan with his family when barely a five-year-old. "I was young but childhood memories are vivid. When I re-visited Rajpura, I was able to locate our house beyond the railway station along railway line and close to the old Pipal tree." However, it was in Jhang, the land of the Heer-Ranjha romance, that his talent for poetry blossomed. "Jhang situated on the banks of the Chenab river is scenically very beautiful with sand mounds, abundant green trees and naÔve girls unaware of their beauty. Any heart would burst into verse and so did mine!"



Mahmood Shaam writes in Punjabi as well
The only difference was that even the first of his ghazals were gladly published by well-known Urdu magazines and it was his finesse at the genre that got him a scholarship to join the Government College at Lahore for his Masters course because the principal and dean knew him through his poetry. His subjects for the graduation course were English literature, philosophy and Persian. He did his Masters is philosophy at Lahore and went on to become a political commentator to reckon with in Karachi where he moved early in his career.
Of his poetry, he says that the genre of the ghazal gave him the greatest satisfaction but he also wrote free verse later in life. He has published his free verse in a volume titled Manzilain: The Destinations. This anthology has his poems in Urdu, both in Persian and Roman script, as well as in English translation. Of this book he says, "I have friends scattered all over the globe and I wanted my poems to reach them. I included poems in the Roman script for the younger people who can speak but not read Urdu". Interestingly titled in the plural, the anthology through various poems delicately captures not just places ranging from Rajpura to Geneva but some tender moments and trends of time.
He has also published several travelogues, collection of his interviews with prominent political leaders, The Last Days of Bhutto, instantly Bhutto was his favourite leader who was the symbol of hope and change in Pakistan. Shaam had to serve two jail terms in the dictatorial regime of Zia-ul-Haq for writing resistance. His recent book Visiting Americaís Mind has evinced a lot of interest.
The last and inevitable question to Shaam is that did he ever write poetry in his mother tongue Punjabi? "Although Urdu remained my main language of expression but I did write some poetry in Punjabi," he says and then recites a short poem from his youth that is as Punjabi as it can be: "Akhan vich na akhan duban (When the eyes donít meet), Ohade naal na gallan hovan (When one does not exchange words) Ik do din bas aivein langan (A day or two pass sans meeting) Ai koi aidi gall vi nahi (It is not such a big deal) Par banda bore te hunda hai (But a guy certainly gets bored).