Food talk
Tasty lotus stems
Pushpesh Pant

Our friends from the Vale have left us in no doubt that they are more than partial to lotus stems and no less fond of the humble potato. Whenever they can spare a thought from meaty delights, they indulge in dum rendering of the twain. Alu dum Kashmiri is not the easiest delicacy to replicate it calls for exceptional patience and more than little skill in kitchen craft before it can come anywhere near the sublimity the average Kashmiri housewife effortlessly attains every time. You can imagine our delight when we discovered another much-easier-to-master dum recipe from their rich vegetarian repertoire that is yet to be fully explored. The potatoes in this dish are purely optional. More in the nature of a loving footnote to remind ourselves that we haven't betrayed the old favourite. We must acknowledge our debt to late KP Dar, the legendary lover of good food and writer of a delightful recipe book and almost-forgotten publisher of Jawaharlal Nehru's earlier books, for guiding us in this mouth-watering direction. His recipes retain the charm of ethnic/regional cuisine blending it harmoniously with influences from the place of domicile.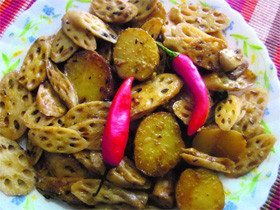 Ingredients
Lotus stems 250 g
Potatoes (optional) 150 g
Hing A pinch
Cloves Two
Jeera seeds 1 tsp
Whole red chilly (dried and shredded) One
Dhaniya powder 1 tsp
Saunth powder 1 tsp
Sugar 1 tsp
Lal mirch powder ½ tsp
Salt to taste
Mustard oil ½ cup
Method
Scrape the lotus stems and cut in thin diagonal slices. Wash the potatoes well and cut without peeling in thin roundels. Heat oil in a pan and when it reaches smoking point reduce the flame and put in the hing, jeera seeds, shredded chilly and the cloves. When the seeds begin to splutter and spices change colour then add the potatoes and lotus stem slices. Stir-fry on medium flame till well browned. Dissolve the powdered spices along with salt and sugar in a cup of water. Pour over the vegetables in the pan, cover and cook on low medium heat till done to taste. Serve with hot phulka or steamed rice.