No longer 'Funjabi' cinema
After an overdose of comedy in Punjabi films, writers and directors are now focusing more on realism. They are varying content and taking the serious route. On the anvil are films that are slowly and surely breaking the mould
Jasmine Singh
Laughter is the best medicine they say. What if someone gives you an overdose of this tonic? Ideally, an excess of anything, howsoever good, might lead to no results because your body has stopped responding to it. Something similar is happening to the unending dose of comedy films. From the sweet taste that they would leave in the mouth, now they not only taste bad they smell awful to.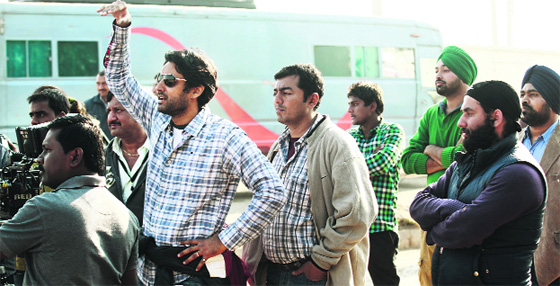 Director's cut:

Anurag Singh (second from left with sunglasses) on the sets of his film. He is willing to step out of the groove and follow his conviction
---
'ART & SOUL
Yoga, then and now
B.N.Goswamy
Things had been building up towards this for sometime but I was not quite prepared for what I saw as I entered the yoga exhibition at the Sackler/Freer Gallery in Washington, just two short weeks ago. One descended to the exhibition galleries which are in the basement — 'descent' is not a good word here, for the only feeling in the show as one proceeded was that of an 'ascent'— and the very first thing that greeted the eyes made you stop: on the glistening parquet floor, projected from virtually invisible lamps above, were shining perfectly rounded circles of light, at the heart of each the diagrammatic image of a chakra.
---
FITNESS
Good health
Meals that work for women
Most working women neglect their basic nutritional needs. Ironically, the busier you are, the more crucial it is for you to eat healthy. Making healthy eating a part of your life can be tricky but it is essential
Dr. Anjali Mukerjee
From family to office, women today are masters at multi-tasking and juggling but when it comes to eating a balanced diet, many neglect their basic nutritional needs. Take the case of 29-year-old Ashwini. Happily married with a five-year-old son she came to me feeling edgy over her weight gain.
---
Society
Right on Mark
Nonika Singh
Exaggeration isn't his cup of tea. Frank and fearless, Sir Mark Tully always says things as these are, without sugar or spice. So Indians might go ga ga over this Indophile and his love for India, the former Bureau Chief of BBC, Delhi, clarifies, "Firstly I don't like the word Indophile and secondly love is too strong an emotion and I wouldn't use it to define my relationship with India."
---
Travel
Slice of South America
Machu Picchu in Peru and Cadiliacs and Castro in Cuba — there is much to explore for the intrepid traveller
Nirmal Sandhu
Latin American countries are not high on Indian tourists' agenda, though there is fascination for Cuba, Chile, Brazil, Peru, or maybe Argentina. Touring this part of the world requires grit, courage and a lot of cash and travel stamina. Flights are long and tiring — up to 22 hours nonstop from Delhi to Lima. However, breaking the journey with stopovers — possibly in Frankfurt or London — can be helpful.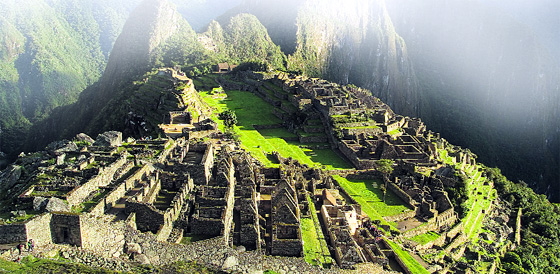 The historic sanctuary of Machu Picchu was probably the most amazing urban creation of the Inca Empire. The sanctuary, on the eastern slopes of the Andes, encompasses the upper Amazon basin with its rich diversity of flora and fauna
Globetrotting: Wild encounters
---
Entertainment
Love him, hate him, you just can't ignore him
Sunny Deol may not have touched the zenith of success, but he remains everybody's favourite. Over to the eternal good guy whose honest act in Singh Saab — The Great has audiences flocking to theatres
Nonika Singh
Don't expect him to sweep you off your feet or bowl you over with quotable quotes. However, Punjab da puttar Sunny Deol grows on you as he offers no homilies, no candid cuts, only strikes a conversation that is easy-going and undramatic. Quite unlike the melodrama in many of his films, especially with Anil Sharma, director of his latest film Singh Saab — The Great. Sunny quickly jumps to the defence of his director with whom he has acted in several superhit films like Gadar: Ek Prem Katha and says, "Give me one director who has got success in so many genres as Anil."
Hollywood says no to nudity
The world's greatest dream factory has once again decided to move away from skin show and exposure
Ranjan Dasgupta
When Meryl Streep stood stark naked in Still of the Night smiling at Roy Scheider, she appeared similar to a painting from the renaissance era. Never did she appear vulgar or titillating. It was one of the rare occasions when Meryl Streep exposed herself in front of a movie camera in soft blue light.