No longer 'Funjabi' cinema
After an overdose of comedy in Punjabi films, writers and directors are now focusing more on realism. They are varying content and taking the serious route. On the anvil are films that are slowly and surely breaking the mould
Jasmine Singh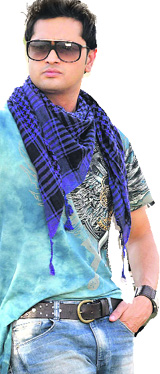 Laughter is the best medicine they say. What if someone gives you an overdose of this tonic? Ideally, an excess of anything, howsoever good, might lead to no results because your body has stopped responding to it. Something similar is happening to the unending dose of comedy films. From the sweet taste that they would leave in the mouth, now they not only taste bad they smell awful to. If you really swear by figures, nearly all comedy films released in 2012 have fallen flat at the boxoffice, with only a few managing to pull in crowds and drawing "some" money back home. As a result, filmmakers have now shifted their focus to topics that fall in the category of serious and substantial cinema.
From tickling the funny bone the films would now tease your grey cells. Upcoming and much-talked-about projects like director Anurag Singh's 1984, Baljit Singh Deo's Himmat Singh and Amrik Gill's Kirpaan boast of a strong content and have nothing to do with comedy (the popular fancy subject of the filmmakers in Punjab). In fact, there are many more films like Mandeep Benipal's Rangroot, Fateh, Apna Virsa — Dhi Punjab Di, Leather Life, 47-84 to name a few which will deal with sensitive issues. When some thoughtful filmmakers, who never believed in flowing with the popular tide spring up with newer subjects, one looks at an overkill of serious issues when it is still at its nascent stage. Or is it that the producers feel the word 'controversy', like what happened with the Punjabi film Sadda Haq can at least bring in more footfalls to the theatres. Perhaps with films like Nabar getting a National Award draws unusual attention to serious issues that are far removed fromcomedy. We discuss this emerging trend.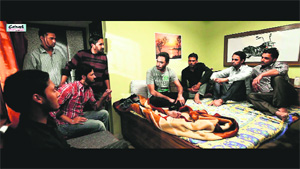 Substance over style:

The National Award-winning film Nabar recieved more critical acclaim than boxoffice returns
Lights, camera, action
Carry On Jatta, Jatt & Juliet — the two most successful comedy films paved way for laughter in the industry. The result was a look alike of these two films in a hundred different forms. Every second film that came was either a comedy or a romantic comedy, till just about each one of them fell flat at the box office. Realising that enough was enough, a handful of filmmakers have now decided to add "substance to spice," with subjects that are thought-provoking. Director Jatinder Mauhar, who made the critically acclaimed Mitti, kept away from the comedy. His film Sikander that ran into far too many controversies, was well made, dealt with the subject of student politics and how it changed the lives of those who were involved in it.
Baljit Singh Deo, who directed the technically sound and thoughtful film Mirza starring Gippy Grewal looks at the present scenario as a demand-and- supply situation. His upcoming film Himmat Singh, starring Arjun Bajwa and Yaad Grewal touches the life of sportsmen, their survival in society even after winning an Olympic medal. "I decided to make the film much before I saw that comedy phase was drawing towards an end. What I understand is that the filmmakers do not know where to stop. If comedy does well they go after it full throttle. Now, they feel controversy can fetch them attention so they are after such subjects. With Himmat Singh, I want to bring a general awareness with the audiences about the life of the sportsmen," he adds. Baljit Singh Deo who is known in the Punjabi film industry as one of the finest directors suggests, "If I want to dance, I would rather wear my own clothes and do the jig, why should I copy someone else's clothes and style?"
The river seems to be changing its course with Punjab filmmakers realising there is more to comedy. Whether or not the audience will accept a film that doesn't make them laugh, is a question that doesn't bother them much. Their calling lies in relevant cinema and why can't Punjab do that is their question. Anurag Singh who has give Jatt & Juliet, a romantic comedy, has approached a subject that is totally different from the earlier two films. 1984, starring Diljit Dosanjh, is Anurag's next project. "It is the story of a mother-son relationship when Punjab was going through the dark phase. And by making this film and choosing this topic, I making no deliberate attempt to be different. I am doing this film because I wanted to."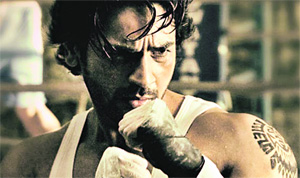 sports saga:

Arjun Bajwa in Himmat Singh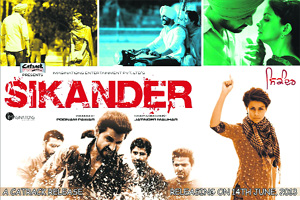 ROle call:

Sikander made a quiet impact
Anurag praises the fact that filmmakers are now picking 'serious' topics. At the same time, he believes this is not everybody's cup of tea. "Serious films, as you want to call them, require a different kind of a sensibility. This genre is a little difficult; with comedy the requirements are totally different, of course."
Will they, won't they?
There is a side-effect to a medicine that you take daily. It becomes a habit, it grows on you and you find it difficult to get over it. Comedy is the buzzword for Punjabi films. Viewers are not well acquainted with more serious cinema. In this acceptability in the market, making profit and bringing in a new order in Punjabi cinema could be core issues. However, Baljit Singh Deo calls for movie investors who should come forward for these kind of subjects. "By investors, I mean those who understand cinema. As far as acceptability goes, I also told my producers if they are convinced with the idea, only then they should invest. Punjab has umpteen subjects that can be explored. Nevertheless, we don't know how the market reacts to this." On the other hand, Anurag shares that 1984 will get an audience. "Maybe not the frivolous ones," he smiles. "I am not sure about the audience's reaction, at the end of the day a film definitely gets attention."
It is not the directors alone who feel the need to provide something different to cinema, the actors and character artistes too itch to do something beyond comedy. Actor Roshan Prince, after Naughty Jatts and Fer Maamla Gadbad Gadbad, decided to act in Kirpaan, a movie where he was required to completely change his look. "The film explores patriotism through the life of a youth," shares Roshan Prince a commercially successful actor. He wasn't sceptical about the new genre, as he shares, "I have done a lot of comedy and romantic movies, but for an actor it is important to explore new roles as well. Kirpaan has been directed by Amrik Gill who has gone into the detailing of the subject."
The buzz is already catching up, celebrated Punjabi actors understand that they should do more than comedy. Actor-singer Sippy Gill, who is presently busy with the upcoming film Rangroot, would rather give comedy a miss for the time being. "The first film that I did, Putt Jattan De wasn't a comedy and Rangroot is also a totally different film, a story about the fresh police recruits. Not a single comedy has recovered money or done great work at the box office, I would rather work in films that give me a space to act".


Need for more producers
Content and theme are drivers of a good film. The role of the producers cannot be ignored here. Director Mandeep Benipal of Sadda Haq fame would want to see more producers rather than investors. "A producer will go by the popular trend, but if we have a real producer and not an investor who only wants to make money here, then films other than comedy will also get a backing."
Laughter too matters a lot
If Punjabi filmmakers are moving towards serious topics, there are some who love the comedy genre and feel if justice is done to the subject matter, these can offer wholesome entertainment. But this is possible if fresh topics are explored and a variety of themers dealt with. Writers and directors have to move beyond the slapstick.
Adds director Amit Prasher, "Indeed, there has been an overkill of comedy, but I would make a comedy, which, by the way, is not an easy thing to make. It wouldn't be for the sheer heck of it. I love the romance, the manner in which comedy entertains and so does the audience. We probably need to get 'serious' with comedy." This needs to be thought over. Despite the hullabaloo over comedy films reaching the saturation point, most of the upcoming Punjabi films still fall in this genre!