Travel
Slice of South America
Machu Picchu in Peru and Cadiliacs and Castro in Cuba — there is much to explore for the intrepid traveller
Nirmal Sandhu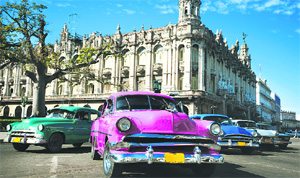 One can see many old Chevrolets, Fords and Cadillacs on the streets and roads of Havana
Latin American countries are not high on Indian tourists' agenda, though there is fascination for Cuba, Chile, Brazil, Peru, or maybe Argentina. Touring this part of the world requires grit, courage and a lot of cash and travel stamina. Flights are long and tiring — up to 22 hours nonstop from Delhi to Lima. However, breaking the journey with stopovers — possibly in Frankfurt or London — can be helpful.
Peru's capital city of Lima is home to more than a quarter of Peru's roughly 30 million people. The city is divided in districts instead of sectors or localities. Miraflores district offers a good view of beaches, lined with small rocks and excellent museums. Lima offers lessons in how to make a sea beach attractive for tourists: malls, coffee shops, restaurants, movie theatres and shopping complexes. There is something to cater to tourists of all age groups and tastes.
State buses are a cheap mode of travel both in Lima and Havana but beware of pickpockets. Since incomes do not match aspirations, petty crime is common. The income divide is sharp in Lima.
The sun temple at Pachacamac
There are a number of archaeological sites, including the ruins of a sun temple at Pachacamac, 40 km south of Lima. It is a rejuvenating walk through the ruins of the Inca empire on an unpaved sandy path if the weather is pleasant. Of particular interest is the Acllahuasi temple or the house of Mamaconas where women were kept before they were offered to the Sun god. Why women? "Because the Sun god was a male" explained the guide. The Incas (400-600 AD) appeased the Sun god by offering women who were intoxicated before being sacrificed.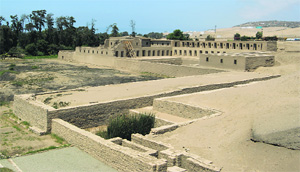 A view of the archaeological site at Pachacamac which is 40 km south of Lima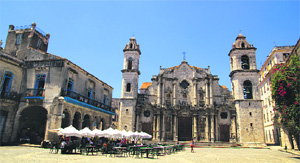 The Cathedral Square in Havana
There is a museum in Lima that contains some naughty pieces of pottery which is a tourist attraction. The Museo Larco contains a notable collection of pre-Columbian Moche erotic vessels. There is an entry fee but worth the price paid. Reproductions of these works can be seen at various places in Peru. There is a statue of a nude male at a sea beach in Lima and another one of a couple in a position of intimacy. They arouse the curiosity of a visitor but soon become part of the beautiful landscape.
Tourists visit Lima between June and August, partly because of the cooler dry season in the Andean highlands and partly because there is summer vacation in North America and Europe during this period. This is the best time to go trekking on the Inca Trail to Machu Picchu. Climbing, hiking and mountain biking are other activities available for tourists.
Land of Castro & Che
Havana is a slow city, combining tradition with modernity. Because of the distance, not many Indians visit the country despite much adulation for Che Guevara and Fidel Castro among the informed.
Among Havana's attractions is the Malecon, a seawall stretching six km. It is also called "the great sofa" and is a centre of all social activity. Having a stroll here is a great experience. Thousands gather here in the evening in particular to socialise, have fun and sip rum.
No visit to Havana is complete without a leisurely walk through Old Havana. The Cathedral Square, a Roman Catholic temple and Plaza de Armas, which has a market offering books, coins and Ernesto "Che" Guevara memorabilia, are places to see.
Havana 'hogs'
Havana is an ideal place for automobile enthusiasts. One can see the old Chevrolets, Fords and Cadillacs here. At one building the owners park their antique cars for tourists to get nostalgic. Havana's "hogs", members of a Harley-Davidson club, meet every Saturday afternoon to show off their vintage rides.
Art lovers can visit the Taller Experimental de Grafica located near the Cathedral Square in a former public bathhouse. Set up in 1962 on Che's recommendation, the shop hosts artists who readily give visitors demonstrations on how lithographs, etchings and woodcuts are made.
Cubans are crazy about baseball, their national game. The local Central Park has a corner which is a favourite place for Havana residents, mostly men, who passionately watch and discuss the game. Cuban government pays salaries to sports persons and pension after they retire from active sports to ensure them financial security.
Those intending to visit Peru and other South American countries must get a yellow fever vaccination well before departure – at least 10-15 days in advance. The yellow certificate issued on vaccination must be carried as also other medicines if one takes them regularly along with the doctors' prescription.
The local cuisine, especially sea food, is good but vegetarians may face problems. Language is another barrier. It is Spanish all over – roads signs to billboards. The number of people speaking English in Peru and Cuba is limited and young boys and girls work as translators. Without them moving around or shopping can be an ordeal. Currency exchange is a problem. Dollars are acceptable but since they charge a tax on dollars and the exchange rate is manipulated, especially in Havana.
Fact file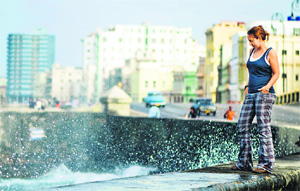 The Malecon, a seawall stretching 6 km, is the centre of all social activity in Havana
How to reach
The Delhi-Frankfurt flying time is 8.40 hours. Frankfurt local time is 3.30 hours behind the IST. The flying time between Frankfurt and Lima is 13 hours and 15 minutes. The Lima time lag is 10.30 hours behind the IST.
Where to stay
Hotels in both Lima and Havana are plenty and reasonable, catering to all pockets, compared to Frankfurt
What to see
Machu Picchu, the archaeological ruins at Pachacamac and the Museo Larco Museum of erotic pottery are worth seeing in Lima. In Havana one can visit the Malecon, Old Havana, the Cathedral Square and Plaza de Armas.
What to eat
Both Havana and Lima, being close to the sea, naturally have plenty of good seafood. Choices for vegetarians are limited. It is a region where numerous varieties of potatoes are available. Fruits are aplenty. Havana is known for its rum but the local hard drinks in Lima should not be tried unless one has tasted them before.



Globetrotting
Wild Encounters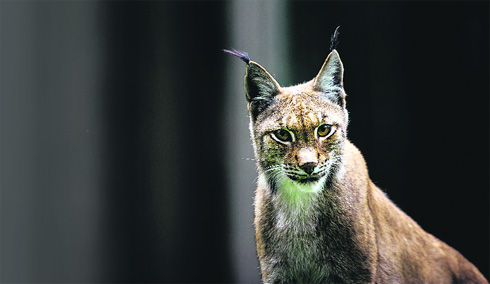 An Eurasian lynx is pictured in its enclosure at the Hundshaupten deer park in Hundshaupten, southern Germany. In the wild, the Eurasian lynx occurs in European and Siberian forests as well as in South and East Asia. Photo: AFP/ DPA / David Ebener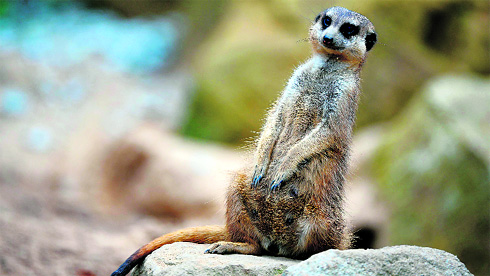 A meerkat sits in its enclosure in the zoo of Dresden, Germany. Photo: AFP/ DPA/ Bernd Von Jutrczenka /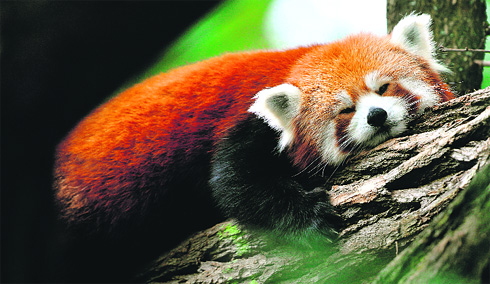 A red panda sleeps in its enclosure in the zoo of Dresden, Germany. Photo: AFP / DPA/ Bernd Von Jutrczenka /