Entertainment
Love him, hate him, you just canít ignore him
Sunny Deol may not have touched the zenith of success, but he remains everybodyís favourite. Over to the eternal good guy whose honest act in Singh Saab ó The Great has audiences flocking to theatres
Nonika Singh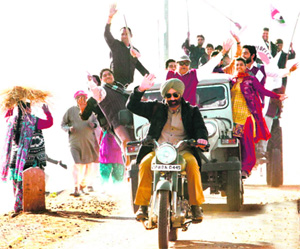 Anil Sharmaís Singh Saab ó The Great has been doing good business
Donít expect him to sweep you off your feet or bowl you over with quotable quotes. However, Punjab da puttar Sunny Deol grows on you as he offers no homilies, no candid cuts, only strikes a conversation that is easy-going and undramatic. Quite unlike the melodrama in many of his films, especially with Anil Sharma, director of his latest film Singh Saab ó The Great. Sunny quickly jumps to the defence of his director with whom he has acted in several superhit films like Gadar: Ek Prem Katha and says, "Give me one director who has got success in so many genres as Anil."
Talking of genres, especially action with which he has been associated, and he asserts, "It is erroneous to confuse action with acting for action is like sports." As this natural sportsperson continues to do his stunts, he qualifies, "Any stunt is dangerous. But over the years with greater safety precautions, these have increasingly become easier to execute."
Of course, he doesnít take his action-hero image seriously nor does he consciously seek roles where he will get to flex his muscles. He says he only does roles that he can relate to. He could completely understand the character of Singh Saab ó The Great.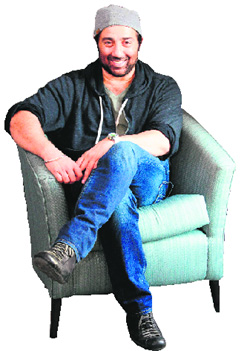 Honesty is a value that he upholds not only on screen but in real life too. No wonder fans may or may not give thumbs up to all of Deolsí movies but they certainly love the Deol khaandan. First things first, when their movies like Yamla Pagla Deewana 2 donít work, it certainly hurts but he doesnít mind being known as the good guy. Actually this immensely likeable actor owes his down-to-earth approach to his upbringing. He says, "What our grandparents and parents taught us has made us what we are." With daddy dearest Dharmendra, his relationship is one of deep respect. He smiles, "Dad isnít the first actor I grew up idolising, he is the only one. Satyakaam remains one of my favourite films."
Today as Sunnyís son Karan is ready to take on the tinseltown, what kind of father is he ó stern or indulgent? All he would say is, "If a father is a friend, then who would be the father." By the way, isnít his co-star 19 year-old Urvashi Rautela in Singh Saab... more suited to star opposite his son? He replies, "What is the fuss? I am not dating her in real life. We are actors who play a character, never mind the age."
But having said that he agrees that Indian actors need to act their age and recalls, "When I made my debut in 1983, many senior actors were still playing college students. At least, we are not doing that today." No he doesnít think Indian cinema is at a very interesting cusp today or better films are being made now. He reasons, "We love to say these things but forget yesterday was once today too. In each generation, filmmakers take a chance and go against the current." Like when Raj Kumar Santoshi came to him with Ghayal, a film nobody was ready to touch, the subject appealed to Sunny so much that he turned a co-producer.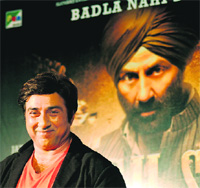 Sunny Deol poses in front of the poster of his latest film
Today he dreams of making his production house one of the best and the biggest. Whatever might be the genre of his cinema as a producer, entertainment is and would be an essential ingredient. He quips, "What is this undue emphasis on intelligent cinema. Donít intellectuals do stupid things and like to have fun?" Yet one stupidity he doesnít endorse is dancing around to promote films. Sure he has gone to the small screen to sell his film and willingly at that. However, he does question the manner in which cinema has become an industry and actors commodities. He further rues that unlike Hollywood bigwigs, who donít resort to gimmicks, Bollywood actors do a lot of monkeying around and are less deserving of their success. Does he feel he hasnít got his due? "No what I deserve, I will get." Besides several awards, he has received the love of millions of his fans. No wonder as he looks back at his journey the only regret is, "It seems like yesterday."
But, make no mistake Sunny doesnít belong to yesterday. Not only is Singh Saab doing decent business, on the anvil are films such as Mohalla Assi directed by Chandra Prakash Dwivedi in which he plays a Sanskrit professor. Then there is Bhaiyaji Superhit. As he excitedly shares the challenges of playing a double role, his first till date, we know what keeps him ticking. Itís not dhaai kilo ka haath but his childlike eagerness to learn and submit to the demands of acting that impels him to carry on. So Ghayal Returns. Be on the lookout.