Entertainment
Hollywood says no to nudity
The world's greatest dream factory has once again decided to move away from skin show and exposure
Ranjan Dasgupta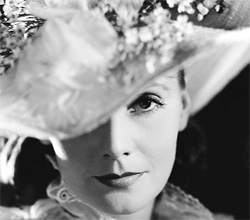 Greta Garbo in Anna Karenina
When Meryl Streep stood stark naked in Still of the Night smiling at Roy Scheider, she appeared similar to a painting from the renaissance era. Never did she appear vulgar or titillating. It was one of the rare occasions when Meryl Streep exposed herself in front of a movie camera in soft blue light.
As there is a lot of publicity and media hype about Hollywood moving away from exposure, nudity and crude sexuality, one wonders were these elements the prime concern for Hollywood in its golden era.
The first screen goddess of Hollywood in the true sense of the term was Greta Garbo. Her chiselled features, penetrating looks and reserved nature made her an icon of the 1930s with memorable films like Anna Karenina and Mata Hari to her credit. Her mystique charisma as well as her decision to keep away from the media also developed her personality cult. Greta Garbo never exposed herself in films unnecessarily. She was strictly against such gimmicks.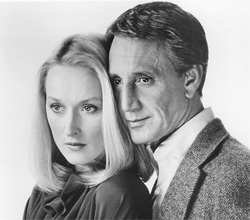 Meryl Streep and Roy Scheider in Still of the Night
Once Greta Garbo did confess to Sir Laurence Olivier that if she was compelled to expose, she would better quit acting. Indeed she did so but not because she was forced to expose. No other actress called it a day as timely as she did. After her, it was the era of Vivien Leigh, who stormed Hollywood with classics like Gone With The Wind, Waterloo Bridge and A Street Car Named Desire. Vivacious and highly gifted, she also never opted for nudity unnecessarily. The passions and emotions that Vivian Leigh conveyed through her eyes and lips were incomparable.
There is an interesting anecdote about Ingrid Bergman, who was the greatest star actor of her era. When asked humorously by her first husband Rossellini if she preferred to strip and set the silver screen on fire, her reply was straight in the negative. Even today, the 'Swedish Cow' as she was nicknamed, Ingrid Bergman has no peers in height, looks and histrionics. Ingrid Bergman conveyed a thousand words with the simple twitch of her eyebrow. She expressed sensuous feelings in the most dignified manner even when she was fully clothed. Gregory Peck her co-star of Spellbound was full of praise for Ingrid Bergman for sticking to her principles and not compromising with cheap popularity gimmicks.
Actresses like Katherine Hepburn were even stricter regarding the issue of nudity and exposure. The same was in the case of Ann Todd who stole countless hearts with The Paradine Case. When Audrey Hepburn appeared on the silver screen in Roman Holiday, she created an atmosphere of vivacity, spontaneity and romance without any desires of appearing in the nude. There were attempts by a number of directors to expose the cleavages of this multi-dimensional actress but in vain. No one till today remembers a single vulgar gesture by Audrey Hepburn.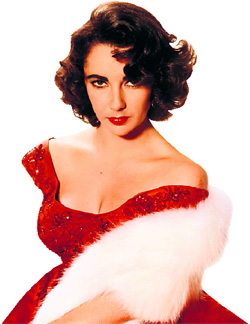 Sophia Loren is still considered to be the greatest sex symbol of the 1950s, 1960s and 1970s. Her curves, sensuous lips and looks full of desire did set countless hearts on fire. Yet Sophia Loren never gave priority to nude scenes and sexual behaviour on screen. The Sophia Loren of Two Women, Voyage, Sunflower and The Priest's Wife still remains a picture of poise, grace and feminine charm of the highest order. Till date not a single critic has dared to criticise Sophia Loren for trying to arouse the animal instincts in human beings.
Screen goddesses Ava Gardner and Elizabeth Taylor could have misused their beauties easily by opting for daring and baring. None of them had such mentalities. When Elizabeth Taylor was criticised for being afraid of not wanting to expose her physical assets, she just laughed away such comments as insipid. The only exception to these screen idols was Marilyn Monroe who dared, bared and exposed to the hilt. In all fairness, she was never considered an actress of the calibre of Ingrid Bergman, Sophia Loren or Elizabeth Taylor. The Pretty Woman, Julia Roberts exposed herself only to a certain extent in films like Sleeping With The Enemy. As she turned towards histrionic challenges with Erin Brockovich, she did opt out of unnecessary exposure.
The Sharon Stones and Hall Berrys did opt for a lot of bold exposure and nudity on screen. Of course, they cannot be entirely blamed. By the 1980s and 1990s, Hollywood lost a lot of its earlier sheen, substance and started to depend on crudity for quick boxoffice results. Except for a very few films, majority of the movies churned by the world's greatest dream factory restored to sophisticated vulgarity and gesticulations of the lowest grade.
As Hollywood again decides to move away from inane sexuality, exposure and crudity, a healthy sign is noticed in filmmaking. Liv Ullmann rightly pointed out that bold and meaningless nudity is the most shortlived.