M A I N N E W S
Rise of the 'aam aadmi'
KV Prasad
Tribune News Service
New Delhi, December 8
The victory sheen of the BJP in the Chhattisgarh, Delhi, Madhya Pradesh and Rajasthan Assemblies dimmed today in the spectacular triumph of the nascent Aam Aadmi Party (AAP) which relegated the ruling-Congress to a distant third in the National Capital.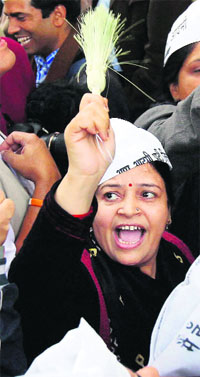 AAP supporters celebrate the party's excellent performance
in the Assembly elections in New Delhi on Sunday. PTI

The current round of elections will be remembered as yet another watershed in Indian political history that saw the emergence of a party from a movement against corruption and capturing the imagination of the denizens of Delhi across different strata and communities.

As an iconoclast, it shattered set theories propounded by political scientists and practiced by parties and in a way became the Indian equivalent of the 1992 Ross Perot factor in American Presidential elections.

A parallel can be drawn in the form of the inherent confidence that an independent third party can challenge two established parties - the Congress and the BJP - in the case of the AAP, just as Perot did to the Republicans and the Democrats. Perot got votes across the political spectrum. The Kejriwal-led AAP electoral victory in the Delhi Legislative Assembly was facilitated by sliced-across traditional Congress voters as also those gravitating towards

the BJP promising to inject freshness in the way politics is practiced. While the AAP experiment may be replicated in the months to come in the Lok Sabha elections, either by the party or similar organised arrangement by those disenchanted with the existing order, it will be simplistic to term the results of the current Assembly elections in these four states as a verdict of the semifinals.

While the BJP and its enthusiastic supporters may wish to project the verdict as an indication of the way wind is blowing, these states account for 72 Lok Sabha seats -- Delhi (7), Chhattisgarh (11), Madhya Pradesh (29) and Rajasthan (25) - and constitute a third of those in the Hindi heartland.

In 1998, the Congress won Delhi and Rajasthan but lost the Lok Sabha, while in 2003, the BJP swept Chhattisgarh, Madhya Pradesh and Rajasthan, prompting the Vajpayee government to call for early elections and yet the Congress-led UPA formed a government at the Centre in 2004.

The BJP has already begun crediting the victory to its prime ministerial candidate Narendra Modi's magic. Whether it is an enthusiastic claim or a close-to-reality assessment - the true picture will emerge when complete results are analysed by comparing the areas where Modi campaigned and the voting per cent in the backdrop of the 2008 results.

The results also tripped the political theory that a high voter turnout spells danger for the government as Madhya Pradesh and Chhattisgarh go against it as does the fact that development and delivery alone matter since both in Delhi and Rajasthan, the Congress boasted of these factors.