M A I N N E W S
Face-saver for Cong as it sweeps Mizoram
Tribune News Service
Guwahati, December 9
Mizoram finally provided some consolation to the battered Congress with veteran Lal Thanhawla leading the party to a three-fourths majority in the Assembly election, results of which were declared today. It is the second consecutive victory for the party in the state.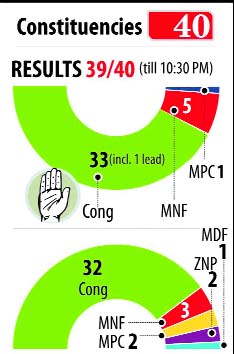 The ruling Congress swept the elections winning 32 out of 40 seats, leaving main Opposition Mizo National Front (MNF) with only a handful of seats in its kitty.
The BJP that put up a tremendous show in four other states - Madhya Pradesh, Rajasthan, Chhattishgarh and Delhi -managed to win just one seat in Mizoram. Congress leader and Chief Minister Lal Thanhawla (71) was elected to the Assembly for a record ninth time. He contested from two places - Serchhip and Hrangturzo - in central Mizoram and won both. His arch rival and MNF leader Zoramthanga was defeated by his Congress rival from East Tuipui seat by 798 votes. Zoramthanga had led the MNF government during 2003-2008.
Of the 11 ministers who contested, nine - R Lalzirliana (Home), JH Rothuama (Cooperation), PC Zoram Sangliana (Transport), H Rohluna (Forests), Lalrinliana Sailo (Health), Lalsawta (Education), Zodintluanga (Sports), PC Lalthanliana (Social Welfare), Veterinary Minister Nihar Kanti Chakma - won.