Opulent ties
Russian girls playing musical instruments, exotic cuisines, pre-wedding shoots, brides making grand entries, shopocations …the 'big fat' Punjabi wedding grows fatter by the day
We desperately need a replacement for the term that defines the extravagance of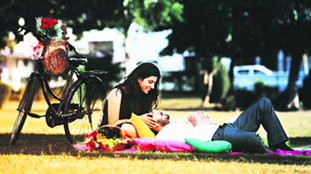 Punjabi weddings — 'big fat'. For that doesn't sum up the lavishness of weddings that boast of elaborate menus, comprising cuisines from Mediterranean to Mexican, exquisite designer wedding sets, exotic destinations, bespoke designer-wear and so much more that has conveniently added to the weight of wedding bills!
Picture perfect: Suhani and Sahil's pre-wedding shoot by Sunny Dhiman.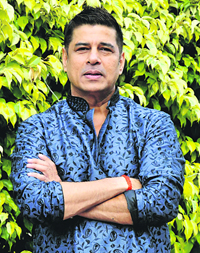 Berry special!
Actor Sudesh Berry has an interesting take on television and films. While he calls the former his wife, he considers the latter his girlfriend…
Three decades into the field, Sudesh Berry is a household name. His rich baritone in Agle Janam Mohe Bitiya Hi Kijo as Loha Singh or Mani-Malla in Devon Ke Dev Mahadev has equally garnered praise for the actor who doesn't shy from claiming what he has gained. "My competition is against myself," says Sudesh who claims that the Mani-Malla episode doubled the TRP for Devon Ke Dev Mahadev and that he has the invite from the Prime Minister of Mauritius, as the character of Loha Singh has found a way into every home out there! PHOTO: Pradeep Tewari
Par Excellence
Gripping it right
…The grip should match the swing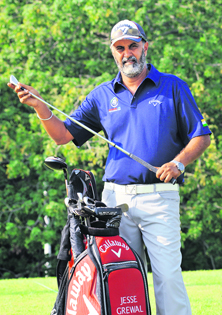 There is a relationship between the swing and the grip. Most swing faults are a reaction to an incorrect grip and some golfers change their grip to their swings to achieve a straight shot. There are two ways to hit a perfectly straight shot, a perfect swing or a perfect compensation. If a golfer has a strong grip, more than two knuckles visible of the left hand are visible or the 'v' of either hand is pointing to the right of the right shoulder (for right handed golfers) the ball would tend to hook. As a reaction to this the golfer would either flatten the swing to come from an inside path to start the ball to the right or not release the club to fight the hook. Not releasing is called 'hold off'. The opposite would happen if the grip is weak. The ball would tend to slice and the golfer would create an out to in swing to make the ball start to the left or flip the hands over to fight the slice. An out to in swing is called 'coming over the top'.
Astro turf
ARIES: This is an important day for any job that you can tackle away from public scrutiny. An unexpected guest can arrive. A romantic mood can colour even the toughest of situations.
Chatter box
Novel inspiration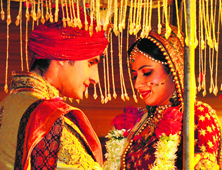 While television serials are inspired by films and real-life instances, there are some producers who take ideas from literature. We take a look at some shows that are based on popular novels.
Taraak Mehta Ka Ooltah Chashmah: Running successfully for years, this show is based on columns written by Taraak Mehta in a Gujarati weekly magazine called Chitralekha. Producer Asit Kumar Modi has said time and again that the show works because it connects with the audiences.
WEDDING BELLS: Ravi Dubey & Sargun Mehta
Pooja under pressure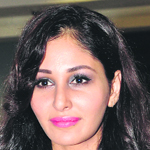 Pooja Chopra, who was last seen in Vipul Shah's Commando, has been repeated again by the filmmaker in his next film Roop Nagar Ke Cheeteh. The actress says she is extremely happy but is under pressure to prove herself again. "Yes, there is a lot of excitement and it also gives me a lot of encouragement that a filmmaker like Vipul Shah wants to repeat me. I will not lie but I am under pressure which comes with lot of happiness. He has given me a second opportunity and I will not let him down," Pooja said. The film is directed by Vihaan Suryavanshi and produced by Shah. Pooja Chopra
Theme for a dream
Vipul Mittra, a civil servant-cum-author, draws inspiration from the real world to connect better with his readers
The Dream Chasers is a story that borrows from Chandigarh. A tale of six friends pursuing MBA, their changing dreams and acts, is the latest offering by Vipul Mittra, an IAS officer, whose debut work Pyramid of Virgin Dreams was set in a world of democracy.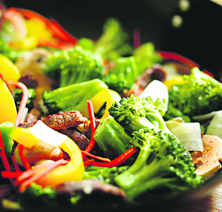 Master Chef
Stir-fried suppers
Nature is an artist, that loves a colourful palette. We have fruits and vegetables in a rainbow of hues, each appealing to the eye. What we often forget is that Mother Nature has placed a different set of nutrients in every offering for us to partake. Seek out all possible colours of vegetables and fruits to consume; there's a good chance you will have an extremely balanced intake of vitamins, minerals and trace elements. Another mantra to keep in mind is that the less we cook the vegetables the better. Stir-fried winter greens

Hair comes a new one
They say there are no ugly people in this world, only lazy ones. However, each time you visit your favourite salon for any kind of hair service, are you sure about the abilities of your stylist? That they would enhance your beauty? Indola, an international hair and tress specialists, opened the first of its kind Academy in India in collaboration with the unisex salon Tressed Up in Manimajra and while they provide salon services, they also train the professionals who are working at the salons.
Its' rocking
Well under control!
Are you in the mood to blow your speakers up with a song that will even make the cops dance to its tunes? Here's your pick this week. Holding No 1 rank on UK top 40 is a brand new single, Under Control, recorded by Scottish DJ Calvin Harris and Swedish DJ Alesso, featuring vocals from English duo Hurts. Under Control debuted at number one on the UK Singles Chart with first-week sales of 74,704 copies, becoming Harris's fifth number-one single, and the first for Alesso and Hurts.
Doc Talk
Dose of Sunshine
Dr Harinder Batth
Now when the winter is gradually nearing its peak and foggy weather conditions are round the corner, it is time to maintain your vitamin D level. The level can drop just when you need it the most. In fact, on an average, vitamin D level can drop well into the deficiency zone thus increasing the risk of illness, cancer, and a host of other health problems.
For a sweet home
Havells India Limited has organised Havells Galaxy Carnival in SELZ Business House, NAC Manimajra, Chandigarh and Himachal Pradesh. During the carnival, the company presented exclusive, limited period offers for its valued customers. Havells lighting consultants also offered free advice on how to light up your home and office.