Up, close & personal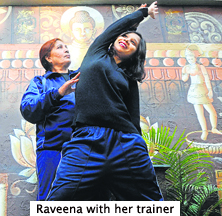 What if you don't want to go to the gym, but the gym walks up to you? Don't be confused, as the trend of hiring personal trainers is slowly picking up…
No pain no gain — a lesson that has been passed on to us from generations, a lesson our folks engraved on our minds when they wouldn't find us working hard enough for our exams. And of course, a lesson that you remind yourself of whenever you slip into your gymming gear! What if someone could mellow this pain a bit? What if the gains would be the same? If you share the same thought, probably you have viewed the prospects of hiring a personal trainer. The thought of hitting the gym everyday can make you curl-up in the bed a wee bit longer, but this is where a personal trainer can save you. Here's catching up with some people from the region who have hired personal trainers.
B-Town touch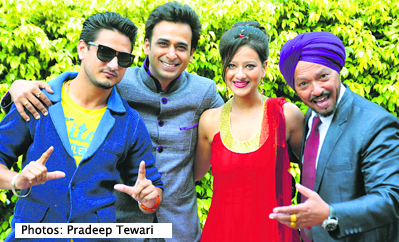 At the music launch of Patiala Dreamz , the cast and crew share how the movie is a sedate comedy and not slapstick
The Punjabi film industry is now setting a new benchmark — Bollywood. This was quite evident at the music launch of Patiala Dreams, an upcoming Punjabi film that will be released on January 10.
PUNJABI TURF: (L-R) Kulwinder Billa, Sarwar Ahuja, Madalasa Sharma and Sardar Sohi. Photos: Pradeep Tewari

With a smile
Television actor Gunn Kansara, who will be seen playing Chandani in Big Magic's upcoming show Naadaniyan, says comedy is a tougher genre as compared to others…
After working for a few years in the television industry, actors get used to slogging for fourteen hours a day. They crib about the unrealistic shoot schedules but then how many of them quit television for easier jobs? Isn't fame really addictive? At the most, actors will hop shows or shift to reality show genre but quitting doesn't feature in the scheme of things.
Green thumb
Plum share
It's time to plant saplings of deciduous fruit trees like peach, plum, pear, grapes and mulberry

In the previous column we had discussed about the fruit trees that can be planted in home garden. We will talk about various fruit trees but since this is winter time and this is the only time when deciduous fruit trees can be planted, let us talk about these first. The deciduous plants like peach, plum, pear, grapes, mulberry, fig etc are some of the fruit trees that shed leaves during the winter. This is the time when such tree samplings are planted. For the rest of the year, they are in active stage of growth. But probably you thought growing such plants, except for mulberry and fig, was the only privilege of those living in hills. It was, till a few years back. But such cultivars were found that had low chilling requirement and suited for growing in the plains of Punjab, Haryana and lower hills of Himachal Pradesh.
TRENDSETTER
Classy & quirky
Karina Bedi, 18, a fashion stylist and a fashion choreographer, likes being different…always. "For some people, fashion is about comfort, but for me it is about self expression and it should always be based on what one finds interesting," she says.
Kashmir connection

Rituals connect one with the age-old tradition. For Tikoo family, celebrations revive the connect they with their land that they hardly get to visit. Kashmiri pandits, Tikoos had the wedding ceremony of their son Ujwal, the traditional way in Chandigarh this weekend. Kahnether and devgoan marked the pre-wedding ceremony.
Ujwal Tikoo with his bride Charu (in centre), parents Renuka & Ravinder Tikoo, Uday and Sharaddha Tikoo and their son Aaryan.

Rock 'n' roll
In yet another flavourful and innovative addition to its already delectable menu, Domino's Pizza, brings to its consumers in India, deliciously exotic Lebanese rolls. These mouth-watering delights consist of a spicy vegetarian or juicy chicken roll wrapped into a soft crust with a flavourful Lebanese seasoning-making each bite a delicious fusion of tantalising tastes.
Doc Talk
Lock the moisture


Since the cold weather tends to dry your hair, it takes a special effort to keep your hair healthy in winter
The winter brings along cold and fog as well as dry and luster-less hair too. Hair is an important part of who we are and how we are perceived by others. Winter is the time to change your hair-care routine. The cold winter robs the hair of its bounce often leaving it limp and lifeless. The scalp constantly flakes, leading to itching, scratching and aggravated hair loss.
Astro turf
ARIES: Keep in mind that situations change and lucky breaks can be just around the corner. Try to increase your knowledge in new spheres. Health will need more care in the evening.
The year ahead
If your birthday is December 11...
Astrologers and people dealing with occult sciences will find this year exceptionally good for them. You'll be very rational and far-sighted. You'll come across new opportunities and this will help combat your boredom of daily life. However, your loved one can criticise you for incorrect behaviour.
Chatter box
Barkha's big step
Barkha Bisht, who was seen as Ranveer Singh's sister-in-law Kesar in Ram Leela, is getting a lot of praise for her performance in the movie. We catch up with her for more.
How was it working with Sanjay Leela Bhansali?
Sanjay sir is not a very easy director to work with. He is extremely strict as far as performance is concerned. Whatever you see me doing in the film is what he has extracted out of me. He literally held me by my finger and led me throughout the film.
Disney's Khoobsurat offer!
The Walt Disney Studio is all set to produce Khoobsurat, a wholesome family entertainer in association with actor-producer Anil Kapoor and producer Rhea Kapoor. The film has just gone on the floors in Bikaner, Rajasthan and will hit the screens in mid-2014. Khubsoorat' is being directed by Shashank Ghosh a writer, an ace Ad-film director and a creative head for a popular youth music channel. The great ensemble cast includes Sonam Kapoor, Kirron Kher, Ratna Pathak Shah and Amir Raza Hussain.
Inching towards the Oscar
A 25-minute-film, Kush, which stars Sonika Chopra, Shayaan Sameer and Anil Sharma, has been short-listed by the Academy for 10 live-action short films. Three or five films out of these 10 films will be selected for Oscar nomination by the Short Films and Feature Animation Branch members.