SP, TDP stall debate as RS takes up Lokpal Bill
New Delhi, December 13
The much-delayed Bill to provide an institutional mechanism to tackle graft by setting up a Lokpal (ombudsman) was moved today by the Manmohan Singh government for consideration and passage in the Rajya Sabha where it has been lying for the last two years.
Delhi twist: Cong, BJP offer support to AAP to form govt
New Delhi, December 13
A day before Aam Aadmi Party (AAP) chief Arvind Kejriwal's crucial meeting with Delhi Lt Governor Najeeb Jung, both the Congress and the BJP on Friday offered support to the fledgling party to form government.
Bomb falls off IAF jet at Ambala base, explodes
Ambala, December 13
A bomb mounted on a fighter jet got hooked off during an official drill and went off at the Ambala Air Force Station around 10.30 am here today.

OTHER PAGES

HIMACHAL: Winter session may be stormy affair


CHANDIGARH: 4-yr-old hit by MUV, dies


DELHI: DUTA to take stock of FYUP as semester end

BUSINESS: Torrent Pharma buys Elder's formulation biz for Rs 2,000 cr

OPINIONS: Withdrawal of terror cases

SPORTS:Pujara ICC's emerging cricketer

WORLD: Violence grips B'desh as Jamaat leader buried


Lahore Log

The tribune guide to best colleges

Budget
2013-14

INDIA CHINA WAR 50 YEAR LATER

EARLIER FEATURES
'Aam aadmi' to spice up Cong manifesto
New Delhi, December 13
Close on the heels of Rahul Gandhi's post poll drubbing remarks that the Congress would now engage commoners in ways no one can imagine; the party today did what it has never done before-got "aam aadmi" to discuss its Lok Sabha election manifesto. (Details on Nation page)
Crisis at PIMS, Punjab's flagship institution - I
Without salary for 5 months, docs leave; patients follow suit
Jalandhar, December 13
While the Punjab Government is trying to woo more big-ticket investors into the health sector, its earlier experiment to privatise the Punjab Institute of Medical Sciences (PIMS), Jalandhar, with much fanfare has been anything but a success.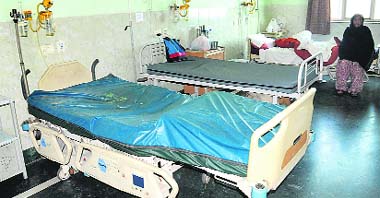 Unoccupied beds at Punjab Institute of Medical Sciences in Jalandhar say it all. Tribune photo Malkiat Singh
A day after, govt weighs options to de-criminalise homosexuality
December 13, 2013
Gay sex illegal, rules SC
December 12, 2013
Lt Gen Brar's attackers get 10 to 14 years in jail
December 11, 2013
Cong faces ally fire over poll debacle
December 10, 2013
BJP 4-0, Cong wiped out; AAP makes dream debut
December 9, 2013
WTO clinches historic deal at Bali
December 8, 2013
Nelson 'Gandhi' Mandela passes away
December 7, 2013
Justice Ganguly's conduct of sexual nature: SC panel
December 6, 2013
Pak can't win war against India: PM
December 5, 2013
PM promises Telangana, but Bill not part of LS agenda yet
December 4, 2013