M A I N N E W S
Drop case against Devyani: India
Tribune News Service

New Delhi, December 19
With the ugly stand-off between India and the US over inhuman treatment meted out to India's Deputy Consul General in New York Devyani Khobragade continuing for a week now, Prime Minister Manmohan Singh is understood to have asked his key aides to ensure that the alleged visa fraud case against the diplomat is withdrawn.


MEA posers to US


Why did the US authorities "evacuate" the family of Devyani's maid from India while cases were pending against them in Indian courts?


Why was the legal process in a friendly and democratic country interfered with in this manner?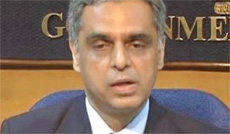 Syed Akbaruddin, MEA spokesperson
Sherman calls Foreign Secy to end stand-off
US Undersecretary for Political Affairs Wendy Sherman on Thursday called Foreign Secretary Sujatha Singh in an attempt to arrive at a settlement of the diplomatic stand-off over Devyani Khobragade episode. They discussed specific steps that could be taken to resolve the issue, sources said. The controversial statement by US attorney Preet Bharara defending his department's action against Devyani also came up during the talks. Sherman distanced herself from Bharara's statement.
Manmohan Singh is believed to have been briefed by National Security Adviser Shivshankar Menon on the latter's talks with US Secretary of State John Kerry last night in which the American leader expressed "regret" over the incident involving the diplomat. Sources said External Affairs Minister Salman Khurshid also yesterday discussed the issue with the PM, who has been upset over the manner in which the Indian diplomat was treated by the US authorities. Talking to reporters this afternoon, Khurshid also demanded that the American authorities unconditionally drop all charges against Devyani. Observing the case against Devyani did not "deserve to be pursued", he said: "Our relationship has a lot of investment...it is an irreversible matter and we have to deal with it sensibly."
Even as the minister drew attention to strong retaliatory steps taken by India against US diplomats, he stopped short of demanding an apology from Washington. New Delhi also reacted sharply to the statement made by US federal prosecutor Preet Bharara, defending the arrest and strip-search of the Indian diplomat and saying she was treated very well, even given coffee and offered food while detained. "There were no courtesies in the treatment that was meted out to the diplomat," MEA spokesperson Syed Akbaruddin said. The only victim in the case was Devyani and the action taken against her violated the Vienna Convention.