Have gizmos, will travel
The past few years have seen a remarkable change in the way we travel. Comfort, safety and connectivity are the key words for the travel industry
Subodh Samuel
Two decades ago when he left his home in Delhi to study at the Indian Institute of Technology in Mumbai, Salil Gandhi had his hands literally full. He carried with him two suitcases, a holdall and a backpack in which he kept his toiletries and other knick-knacks. His mother stitched a zip-up pocket in his vest to secure the cash he was carrying. She reminded him to call up from a public booth once he reached Mumbai safely.
Today, this 40-year-old is a software professional with a leading multinational company. His job requires him to travel in India and abroad. What has changed dramatically is the way he travels.
When going abroad, he takes with him a wheeler that has a folding chair attached to it so that he can sit comfortably during long hauls at airports. He carries a backpack that is fitted with a charging dock for his mobile and tablet and his compact suitcase is ergonomically designed to fit in all the clothes and accessories he needs while on a long tour.


Travel gizmos
Gandhi's travelling attire, too, is special. He has a jacket which is a made like a wearable luggage carrier. On the outside, the jacket's clean lines reveal nothing — it appears as any other travel jacket. However, the inside features multiple pockets for storing a mobile phone, wallet, keys, passport, water bottle, iPad, iPod, headphones, camera, magazines and much more without any of these showing as a bulge on the outside.
He no longer requires a stitched pocket in his inner vest to carry his cash. Instead he wears a special moneybelt secured to his waist in which he carries cash and credit cards. And unlike days of old, he doesn't need to search for a public booth in a new city. His smartphone keeps him connected in real time to his office and family via Skype or Facetime.
The past few years have seen a remarkable change in the way we travel. Comfort, safety and connectivity are the keywords for the travel industry. In the age of portable media, mobile phones take hi-res pictures and do internet searches replacing bulky still and video cameras and laptops. Disposable smart kits take care of all your toiletries. There are wheels attached to the cabin bags to lug them — and you — from one part of the airport/station to another much like a roller skate.
Special kits
There are special first-aid travel kits with the basic medical essentials, including sleeping-pad patches, buckle-replacement clips, cable ties, seam-sealing adhesive, sewing implements and other gear. For adventurers and hikers, there are walkie-talkies that allow two-way communications over a distance of up to three kilometres. Water-resistant radios come fitted with a powerful torch and some advanced ones also have binoculars.
Those travelling to countries where language is a barrier can take the help of digital translators like the Franklin Speaking Translators costing upwards of Rs 10,000 that translate English sentences in a number of different languages. There is a plethora of portable entertainment that will provide you hours of reading or viewing fun.
Book reading during travelling has come in for a revolutionary change. E-book readers like Kindle and Nook costing around Rs 18,000 and above help you carry a virtual library of reading material, portable music players like the iPod, JBL Micro and Philips goGear ranging between Rs 2,000 and Rs 25,000 will make sure your music travels with you. Pocket-sized personal cinema systems like Headplay and Sony PSP costing between Rs 6,000 and Rs 30,000 help you take your favourite movies with you.
However, if you don't like watching movies on small mobile screens or even on your iPad, you can opt for the Vuzix line of high-end video eyewear, which is changing the way we see movies while travelling in a plane or a train. Believe it or not, the company's new Wrap 1200 eyewear costing around Rs 25,000 when worn like a pair of sunglasses will give you the experience of watching a movie on a huge widescreen cinema hall, as seen from a distance of 10 feet.
Digital companions
A basic kit like the Swiss army knife has become a digital travel companion. It has re-invented itself to the Swiss army USB flash drive. Apart from the traditional scissors, pen, knife, nail file, screwdriver and torch light, it also has a pen drive which can store your documents, music and movies. In case, you are travelling by plane and are not allowed to carry the Swiss knife in person you can just detach the pen drive and keep it in your pocket.
A vacation no longer means that you leave technology at home. There are travel gizmos like a special pen made for mountaineers and trekkers that can start a bonfire , a torchlight that doubles up as a compass, the handheld Philips PowerStation Pebble costing around Rs 2,500 will ensure that your phone will never again run out of power while you're navigating back to your hotel using your mobile phone as a GPS.
Indeed, computers, internet, digitalisation and miniaturisation have changed the very concept of travelling for leisure or work. From lugging heavy bags and equipment to online reservations, entertainment gizmos and information portals nothing has been as influenced more than the way we travel.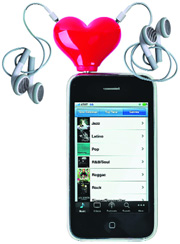 HEADPHONE SPLITTER
Share your love for music with your loved one or best friend with Kikkerland 2-Way Head Phone Splitter. The Kikkerland Headphone Splitter attaches two pairs of earphones to your mobile/laptop enabling you to share your music/videos with someone else without any distortion in the sound quality.
Price: Rs 900 ($15)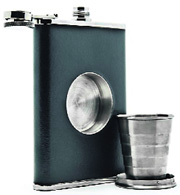 SHOT FLASK
The Shot Flask by alcohol accessory brand Stone Cask is a flask with a twist. It has a built-in collapsible steel glass that will let you have your 60/30 ml shot in style. The flask has a compressed shot glass which expands with the flick of the wrist. Once you've had your fill, fit the glass back for compact storage.
Price: Rs 2,400 ($40)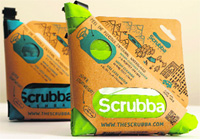 WASH BAG
A great travel companion, Scrubba wash bag does your laundry as efficiently as a washing machine. Just put detergent, water and dirty clothes and seal the bag. Then rub the clothes from the outside for around three minutes. Empty dirty water and rinse with clean water. Lo and behold you have clean clothes!
Price: Rs 3,900 ($65)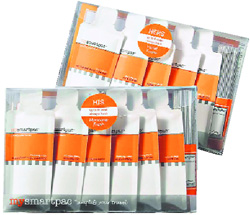 DISPOSABLE KIT
If you like to travel light, then this is just what the doctor ordered. US-based MySmartPack's personal care products kit will take care of all your travel needs. The pack includes toothbrush and toothpaste, face cleanser, cream, deodorant, body lotion, razor, hair and shaving gels and lotions and perfumes.
Price: Rs 1,200 ($20)

TRAVEL JOURNAL
The heavy-duty Poketo travel journal will keep you organised from start to finish on your vacation or business travel. It has printed important tips on how to prepare for a trip, a section to chalk your itineraries and a memento envelope. It also has space for notes, phone numbers and a pocket for loose papers.
Price: Rs 1,440 ($24)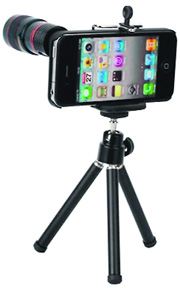 TELESCOPE MOBILE LENS
When you see some stunning natural sights on your vacation, do you miss a 'real' camera with a powerful lens? Most of us have had that feeling. The new Photojojo 8X optical zoom telescope lens with tripod will solve that problem. It fits snugly onto the Apple iPhone and helps you take some great pictures.
Price: Rs 900 ($15)
MICRO-BEADS TRAVEL NECK PILLOW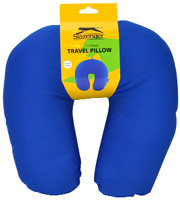 The ergonomic, U-shaped Slazenger travel pillow with super-soft micro-beads fits perfectly around your head and neck. It's great for a quick doze-off or full night's sleep on a long flight or train journey. At home, it can be used to watch TV or for a quick afternoon power nap. It provides great comfort and support.
Price: Rs 900 ($15)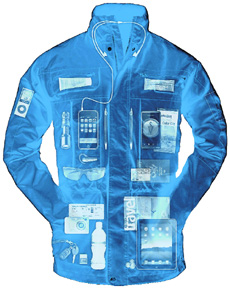 TRAVEL JACKET
This is one of the most innovative and ideal travelling jacket. Scottevest by American company Technology-Enabled Clothing has 11 zippered interior pockets for travel documents, magazines, smartphone, tablet, bottle, sunglasses, keys, pens and stationery. Its unique design ensures there are no ugly bulges.
Price: Rs 8,100 onwards ($135 onwards)
THE HENK SUITCASE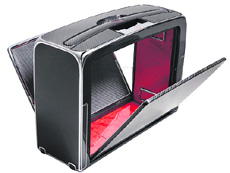 The Henk suitcase by Dutch designer and tycoon Henk van de Meene cost more than $10 million to develop. Materials like carbon fibre, titanium, aluminium, wood, leather and parachute fabric have gone into its construction. It has 500 parts that include 22 moving parts and is said to be the ultimate work of 'travelling' art.
Price: Rs 12 lakh ($ 20,000)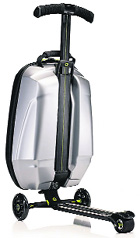 BAG ON WHEELS
This cabin bag is a result of a collaboration between UK-based Micro Scooter company and luggage giant Samsonite. You can ride the bag from one part of the airport/ station to another as it is attached to a running board with handlebars. When finished, it folds up and into a normal cabin bag again.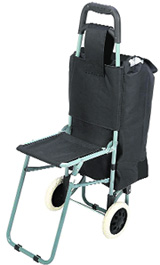 Price: Rs 24,000 ($400)
TROLLEY BAG WITH FOLDING CHAIR
Taking multitasking to a whole new level, the Maxam trolley bag with attached padded fold-out chair will make your wait in queues at airports and railway stations comfortable. It will have you sitting pretty on this chair when you need to take a load off. The chair can take a weight of up to 110 kg.
Price: Rs 5,400 ($90)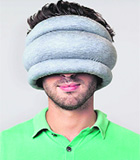 OSTRICH PILLOW
This is a must-have accessory for those who travel frequently. The Ostrich Pillow by American design house 'Studio Banana Things' offers a micro environment for a comfortable power nap. Its soothing cave-like interior isolates you from your surroundings and sends you into the dream world.
Price: Rs 6,600 ($110)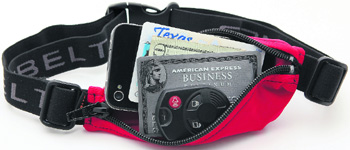 TRAVEL MONEY BELT
This is a great way to secure your money and travel documents during a vacation or an official tour. The Spibelt travel money belt by travel accessories brand 'Going in Style' is sleek and expandable. Ideal for money, passport, phone and other documents that you want to keep to hold on to while travelling.
Price: Rs 1,200 ($20)
RE-TIMER TO BEAT JET LAG

Long haul jet lag or a change in the surroundings during travel can negatively effect sleep. That's where the Re-Timer will come in very handy. The device by Australian company Re-Time worn like a pair of glasses produces green light which is proven to naturally help you sleep by re-setting your body clock.
Price: Rs 16,500 ($275)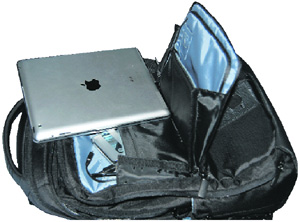 POWERBAG WITH CHARGING STATION
The Powerbag by electronics company Ho Medics is a heavy duty backpack for weekend travel that doubles up as a portable charging station for all your small electronic needs. The battery pack has three built-in connectors — an Apple connector, a combo mini/micro-USB connector and also a full size USB port.
Price: Rs 10,550