Lucid scholarship on the Muslim world
Reviewed by B. L. Chakoo

In the Whirlwind of Jihad
by Martha
Brill Olcott. KW Publishers.
Pages 414. Rs 820.
the title of this book, In the Whirlwind of Jihad, comes from the struggle that the Quran enjoins believers to engage in if they are to live lives that are in accordance with the will of Allah. While most of the social science literature about jihad focuses on jihad bil saif — when believers engage in an armed struggle in defence of Islam – the Quran terms this "a lesser jihad," as it is the product of the circumstances in which a believer finds himself. But every Muslim believer must engage in jihad al-nafs, 'the greater jihad', as it is a struggle to rid evil from within oneself."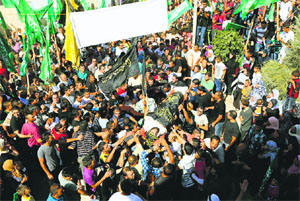 Palestinians hold Hamas and jehad flags during Mohammed Assi' funeral in the West Bank village of Beit Liqiya near Ramallah in October Photo: Reuters
This is what Martha Brill Olcott writes in a brief but thoughtful "Preface" to her In the Whirlwind of Jihad, which courageously examines the role of Islamic jihad, and the intertwined nature of religion, the state, and society in Uzbekistan, and "evolving relationships among them." By probing the religious revival in Uzbekistan over 20 years of independence – introducing readers to the varied cast of clergymen and government officials as well as to the different interpretations of Islam, including the region's "traditional Hanafi school of Sunni Islam, Salafi fundamentalist critics," and the teachings of Sufi saints – Brill Olcott's judicious analysis illuminates and demystifies Islam and asks the big questions about what makes a true Islam. The result is a celebration of "pure Islam," which — when studied more deeply and more seriously — will spread toleration and brotherhood, and eradicate religious illiteracy and put a stop to "our contradictions and splits and purge our fanaticism, and our sinful affairs."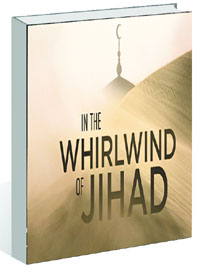 However, the book also curiously looks at the battles over ideas in Islamic thinking in Central Asia and combines its sharpness of insight in showing "a trajectory of development" that crosses national boundaries within the region, including the various forms in which "the area's Islamic community responds to global Islamic influences. In fact, as this volume, laudable, radical, pragmatic proceeds, it seems to grow more and more interesting, not only because of additional information on the role Islam has played in Uzbekistan in the recent past and "what role it might play in the near future, but because a certain conformity to deep and religious patterns in Muslim life is made more evident. Written in lucid and unaffected style, almost all the eleven chapters of the book objectively focus on the history of Islam in Central Asia, or Islam in Uzbekistan. These chapters, however, aim not so much at making Islam more accessible — one needs a little help in that regard — as at providing contexts that will enhance the understanding and appreciation of true Islamic Jihad and Islam as "a dynamic faith and a global one." The volume opens with an account of Islam in Uzbekistan which experienced an Islamic revival in the 1980s, especially during the early years of "independence when Uzbek state was weak." The five chapters that follow address Central Asia's Sufi leaders who made a unique contribution to "the religious debate" on state-society relations. Subsequent chapters not only register efficiently the collapse of the Soviet Union that transformed Islam from a minority religion to the majority religion of "newly independent populations," but also take up important Islamic themes: Jihad, Shahid, Faith, Grace and the exploitation of Muslims' pervasive ignorance of Sharia. They argue that a religion that comes from "the heads and ideas of some people" is not "the religion sent by Allah." The concluding chapters insistently warn us that religion as a major force in Central Asian society has now grown to "such proportions"that it has begun to have political dimensions, raising "the risk that the proponents of fundamentalist, Wahabist, radical or extremist Islam would seek control of the state," which would ultimately emerge with implications beyond the state's borders. In each chapter, Olcott proves to be an investigator of insight and originality. Lucid and profound, dazzling in its scrupulous scholarship, this book is the indispensible and authoritative guide for anyone who has ever wondered what is going on in the Muslim world today.