TRAVEL
Relics of the colonial past
Digboi in Assam presents a glimpse of the bygone era
Kavita Kanan Chandra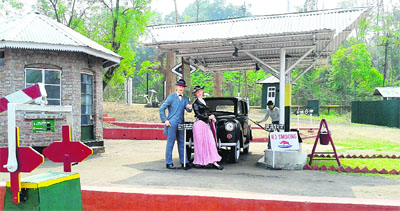 Model of a British couple and a petrol pump of British era at the museum
You would get a colonial hangover in Digboi, the oldest 'Oil City' of India in Assam, located in the far eastern corner of our country's Northeast. The huge British bungalows scattered on hillocks, the small pretty church, war cemetery dating from the World War II, the historical Stillwell road at Ledo, oldest oil refinery in the country and an expansive golf course would transport you back in the days of the 'Raj'. Even if the time machine is a figment of imagination, those who have history fixation and wish to get a glimpse of the British era would love the Digboi experience, albeit with all modern comforts.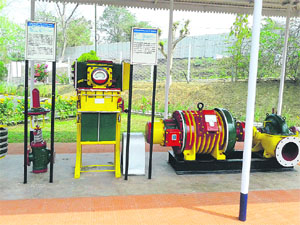 Models of earlier machines at centenary museum

IOC's centenary museum at Digboi Photos by the writer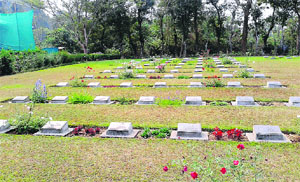 Old graves at the Digboi War cemetry
Digboi is most famous for its oil refinery that is considered to be one of the oldest oil refineries in the world that is still operational. The history of oil, Digboi and the town's nomenclature dates back to 1869 and has an interesting story. As some of the men from Assam Railway and Trading Company found traces of oil on elephant's feet and followed the pachyderms and discovered oil seeping from the earth's surface. People love to say that a Canadian Engineer (W L Lake) was so excited to see elephants coming from dense forest with oil stains on their feet that he shouted to his workers, "Dig boy, dig" — hence the name Digboi. The British established a small oil installation in 1889, formed Assam Oil Company in 1889 and a refinery in 1901. India's first oil refinery at Digboi is now a part of Indian Oil Corporation and is known as Assam Oil Division.
The IOC's Centenary museum is a must visit for anyone visiting Digboi for it is a storehouse of information regarding oil industry. The Well No. 1 is well preserved and this is the exact place where oil first struck in 1889 and commercial production started in November 1890. It had a depth of 202 metres and rate of production was 909 litres/day.
One could see the remnants of pipelines that was buried in the ground and retrieved from the forest near Ledo. This is a part of three pipelines that was laid by the American forces during the World War II to transport gasoline and diesel fuel from Ledo to Kunming in China. These pipelines lay parallel to the historic 1079 miles Stillwell road that is the best known legacy of WW II that connected Burma with China passing through Ledo. It was built during 1942-1944 under General Joseph W Stillwell, the Deputy Supreme Commander of the project. The Japanese occupied China and cut all road communication so the road was built to continue supply lines to China and recover Burma.
At least 60 km of the road lay in India but most parts have now disappeared due to landslides and lack of maintenance. Any aerial view of the road, one could see it running zigzag through difficult mountainous terrain. In 1939 when the WW II broke out, it soon became a global conflict. The Burma-India-China theatre of operations was fought near Digboi. A military hospital and a war cemetery were built here. Today, visitors visit there to pay their respect to the valiant soldiers who laid their lives far away from their homes.
History buff or not, Digboi also beckons all nature lovers. Surrounded by dense forest or rolling tea gardens in the vicinity, greenery abounds and so does some unique and interesting wildlife. Whether you are teeing off in its famous 18-hole golf course or just exploring the township, chances are the wilderness of the place would spook you as you happen to meet a wild elephant, wild boar, leopards and varieties of unique snakes slithering around unperturbed.
For city-slickers in need for some solitude, there is enough time to reflect and retrospect. As you stroll the narrow lonely roads tearing its way through deep dark woods in this quaint and charming town the time appears to stand still. Wake up to the quiet misty mornings at the crack of dawn at a time earlier than rest of the country for you are in the extreme northeast. Welcome the sun as its rays pierce through the leafy boughs. As you are all set to enjoy your morning walk in a peaceful ambience; be ready to be 'disturbed' by some musical sound; that of the twittering birds and those of the scurrying insects. All in all — a rewarding experience to be in perfect harmony with nature uninterrupted.
However there is no escaping the hint of the British culture and traditions over the lifestyle of Digboi. It still retains an old-world charm what with its British era huge golf grounds and beautiful colonial bungalows. The clipped hedges, manicured lawns and flowers blooming in dainty rows are a delight to watch.
In the midst of forest and lush tea gardens is the town's world famous 18-hole golf course that was built in 1888. It retains the British era grandeur. A number of reputed golf tournaments are held here.
FACT FILE
By air: Nearest airport is Dibrugarh, 65 km from Digboi. It has daily flights from Guwahati and few major cities of India.
By rail: Nearest Railway station is Tinsukia, 40 km from Digboi.Well connected to Guwahati, Delhi and Kolkata. From Delhi there is Rajdhani and Brahmaputra Mail.
By road: NH 38 connects Digboi to Guwahati. The Assam State Transport Corporation runs several buses on the route.
Best season to visit
October to March. Winters are pleasant with sunny afternoons and misty mornings but carry woollens to beat the chill after evening. In monsoons there is greenery all around (June end –September).
Excursions from Digboi
1.Margherita-In the foothills of Patkoi hills is Margherita at Indo-Mayanmar border. 14 km from Digboi, it is known for its coal industry, plywood and tea gardens.
2. Duliajan, HQ of Oil India and home to lush tea gardens.
3. Saikhowa National Park, 60 km from Digboi, the park has some rare and endangered species like Royal Bengal Tiger and Gangetic Dolphin.
4. Namdapha National Park (Arunachal Pradesh), one of the biggest wildlife protected area in the country is 100 km from Digboi.