Indian diplomat gets UN accreditation
Exempted from personal appearance in NY court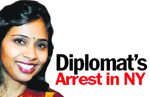 New Delhi, December 23
Senior Indian diplomat Devyani Khobragade, facing a visa fraud case, has been granted accreditation to the UN headquarters and the process to get a separate State Department identity card which would give her full diplomatic immunity is underway.
Devyani builds solid defence to counter Preet Bharara
New Delhi, December 23
After having been granted UN accreditation today that exempts her from personal appearance in the US court hearing the case of visa fraud against her, Devyani Khobragade, the embattled Indian diplomat, is reportedly working on building a solid defence to disprove the charges.
Who killed Jyoti? Father turns hostile in case against MLA
Panchkula, December 23
Buti Ram, complainant and key witness in the Jyoti murder case and father of the victim Jyoti, gave up his battle against Doon MLA Ram Kumar Chaudhary by turning hostile in the district and sessions court here today.
OTHER PAGES

HARYANA: Five months on, no headway in Geetanjali murder case


HIMACHAL: Sonia, PM photos on ration card forms draw BJP's ire


CHANDIGARH: All-woman probe team set up


LUDHIANA: Project inaugurated twice


DELHI: Fulfil promises now, Dikshit tells AAP

OPINIONS: Deliver now

SPORTS: India scared and scarred? Not any more

WORLD: Thai protesters gun for PM's head, try to block election sign-up



Lahore Log

The tribune guide to best colleges

Budget
2013-14

INDIA CHINA WAR 50 YEAR LATER

EARLIER FEATURES

Snow leaves 4 dead in HP; 9 missing
Shimla, December 23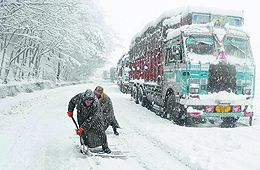 Four persons have died and nine others are reported missing following heavy snowfall in Himachal Pradesh during the past 24 hours.
J-K highway remains shut: Trucks stranded on the national highway near Qazigund. The highway was closed for vehicular traffic for the second consecutive day on Monday due to snowfall. Tribune photo: Amin war

Include Jat Sikhs in OBC list: Akalis to Centre
Chandigarh, December 23
The core committee of the Shiromani Akali Dal today demanded that Jat Sikhs be included in the Centre's list of Other Backward Classes.


AAP all set to form govt in Delhi with Cong support
December 23, 2013

Kishenganga: India's right upheld
December 22, 2013
US adamant, not to drop charges against Devyani
December 21, 2013
Drop case against Devyani: India
December 20, 2013
Parliament clears historic Lokpal Bill
December 19, 2013
India downgrades US diplomats' privileges
December 18, 2013
Lt Governor recommends President's Rule in Delhi
December 17, 2013
Cong open to compromise on passage of Lokpal Bill
December 16, 2013
Delhi tussle: AAP raises 18 points for Congress, BJP
December 15, 2013
Indian diplomat's arrest in US upsets Delhi
December 14, 2013