M A I N N E W S
Modi promises to reform taxation system
Vibha Sharma
Tribune News Service
New Delhi, January 5
Those waiting to see BJP's PM candidate Narendra Modi give a "befitting reply" to PM Manmohan Singh's scathing observation that the Gujarat CM as the PM would be "disastrous for the nation" were not disappointed. Though he tactically refrained from naming either Singh or any other Congress leader in his speech, when he referred to the people who speak "annap shannap" (nonsense), it was clear to who he was referring to.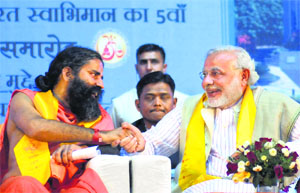 Narendra Modi and Yog guru Ramdev at the 5th foundation day celebrations of 'Bharat Swabhiman' in New Delhi on Sunday. Tribune photo: Manas Ranjan Bhui
While sharing the stage with Yoga guru Ramdev at the Talkatora Grounds, he said 2014 polls will be historic and that they will change all past patterns.
So while Modi spoke of development and promised to review and reform the taxation system in the country, calling the existing structure a burden on common man, he spoke of his humble background to build a contrast with his "pessimistic" detractors in the Congress. The job of directly attacking the PM he left to Leader of Opposition in Rajya Sabha Arun Jaitley.
The yoga guru had been demanding abolition of all kinds of taxes, pitching for a single tax in the form of "banking transaction tax" and the Gujarat CM did not disappoint him. "The present taxation system is a burden on common man. There is a need to reform it and introduce a new system. It is the need of the time," Modi said.
Modi's remarks assume significance as the BJP has been talking about abolition of taxes in its internal meetings and may include some proposal in its soon-to-be released vision document.
While catering to Ramdev's audience, Modi played up his achievements, weaving in details of his humble background, his own past as a tea vendor and his mother working in other people's homes. "I am not pessimist and the word 'disappointment' is not there in my life," Modi said
"My mother used to wash utensils and fill water in other people's homes but she raised her children with good values," he added.
"We as a family used to sit through the nights to take out cotton from cotton buds and sell it the next day to earn some money," he said
"I am an optimistic and have lived my life that way. When people speak "anaap shannap" (nonsense) I am thankful to those who have given so much respect to a tea vendor. I cannot be a pessimist because the kind of life I have lived there was no room for negative thoughts. One who was born and brought up in suffering does not need to undertake journeys to understand the pain of others," he said.
Modi also congratulated ISRO scientists for the successful launch of the Geosynchronous Satellite Launch Vehicle (GSLV D5). This, he said, proved the potential of Indian scientists.
He also cautioned Ramdev against people who first "receive you at the airport and then torture you". "Go by track record and not by promises," he said.
Earlier, claiming that Congress's "anti- people policies" had "destroyed the country", Ramdev came out in firm support of Modi's bid for New Delhi.
Outlining a list of proposals for the Gujarat CM to consider, he said: "On behalf of the 1.25 billion Indians, we want you to announce 'economic freedom' in the country. We expect that once you come to power, you will abolish all taxes and implement 1 to 2 per cent banking transaction tax".
Ramdev also asked Modi to announce a National Farmer Income Commission for the 60 crore farmers in the country and declare the black money being held by Indians in foreign banks as national wealth. Modi, BJP president Rajnath Singh and Leader of Opposition in Rajya Sabha Arun Jaitley expressed support for the proposals saying the party would examine them in all seriousness.