M A I N N E W S
Diplomat's Arrest in NY

India 'expels' US diplomat after Devyani indicted in NY
Tit for tat: New Delhi takes tough stance after Khobragade flies home
Ashok Tuteja, Ashish Kumar Sen and Agenies
Tribune News Service
New Delhi/Washington, Jan 10
Nearly a month after Indian diplomat Devyani Khobragade was arrested and strip-searched in a visa fraud case involving her nanny, the diplomat today left New York after a jury indicted her, triggering a swift response from New Delhi that asked a senior unnamed US embassy official of a similar rank to leave the country.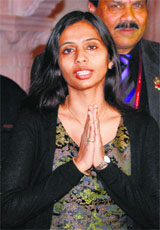 Devyani Khobragade at Maharashtra Sadan in New Delhi on Friday. PTI
The unnamed director-rank American diplomat based in New Delhi was given "a little more than 48 hours" to leave India. Khobragade was on her way home from New York, where the US government finally approved her accreditation to the UN giving her full diplomatic immunity as against partial immunity at the time of her arrest on December 12 when she was Deputy Consul General there.
On whether the latest developments would affect Indo-US relations, a senior government source said: "This is not a one-issue relationship."
New Delhi's tit-for-tat is the second such instance in which it has expelled an American diplomat. In September 1981, George C B Griffin, then Political Counsellor, was asked to leave the country after the US asked Indian diplomat Prabhakar Menon to leave that country.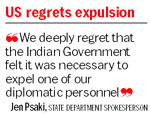 Official sources in Delhi refrained from using the term "expulsion", saying the US Embassy has been asked to "withdraw" one of its diplomats of a similar rank as that of Khobragade. The government "has reasons to believe, the diplomat is closely involved in the processes relating to this case and subsequent unilateral action by the US." However, the sources did not divulge the name of the American diplomat.
The diplomat was understood to be closely involved in the "evacuation" of the family of Khobragade's absconding maid Sangeeta Richard.
The State Department on Thursday ordered Khobragade to leave the US after she was indicted and New Delhi refused to waive her diplomatic immunity.
US district judge Shira A. Scheindlin said Khobragade "is permitted to obey the order of the State Department (to leave the US) without any adverse consequence to her and her sureties." But, she added, Khobragade could be arrested to face the indictment if she returned to the US without diplomatic immunity. Khobragade, who served as India's consul general in New York, is married to a US citizen. Her husband and children are still in that country. At the time of her arrest, US officials said Khobragade did not have diplomatic immunity as she was a consular official and under the Vienna Convention, only immune from prosecution for crimes related to her official work.
In an attempt to provide her with full diplomatic cover, New Delhi transferred Khobragade to its permanent mission at the United Nations. The State Department agreed on Wednesday to the re-accreditation, which provides full diplomatic immunity to Khobragade. It would have been unprecedented for the US to deny the re-accreditation request, which would only happen in the case of a risk to national security.
A low in Indo-US ties
Dec 12, 2013: Arrested by the Diplomatic Security Service (DSS) when she went to drop her daughter to school in New York. Bail was posted for $250,000
Dec 13: The next date of hearing fixed as January 13, 2014. A pre-trial process began on Dec 16 where a urine sample was taken by US authorities for testing for drugs.
December 16: External Affairs Minister Salman Khurshid meets visiting US Congressional team and registered strong protest
Dec 17: India curtails privileges enjoyed by American diplomats
Jan 4: American Center told not to screen movies
Jan 9, 2014: Govt gives American Embassy a week's time to close down a multi-purpose club on its premises
Jan10: India refuses to withdraw Devyani diplomatic immunity after a US court frames charges. The diplomat heads home

Emotional reunion after legal ordeal
TNS & Agencies

New Delhi/Washington, Jan 10
Devyani Khobragade returned here tonight to an emotional reunion with her family. The United Airlines flight carrying Khobragade landed at the Indira Gandhi International Airport at around 9.40 pm and she came out of the terminal at 10.40 pm, her father Uttam Khobragade said.

"She is not depressed. She is fine," Devyani's father told PTI as she received her 39-year-old daughter at the airport along with officials of External Affairs Ministry.

Devyani had a tough day since early Thursday when the State Department

agreed on Wednesday to the re-accreditation, which provides full diplomatic immunity to her. It would have been unprecedented for the US to deny the re-accreditation request, which would only happen in the case of a risk to national security.

Khobragade's lawyer, Daniel Arshack, said his client is "pleased to be returning to her country."

"Her head is held high. She knows she has done no wrong and she looks forward to assuring that the truth is known," Arshack said. Preet Bharara, the Punjab-born US attorney for the Southern District of New York, alleged that Khobragade had lied on her maid's visa application to the State Department when she promised to pay her $9.75 an hour, but instead paid her $3.31 an hour, well below the US minimum wage.

Arshack said Khobragade did not make any false statements, and that she paid her domestic worker "what she was entitled to." He said Khobragade denied the charges against her and "looks forward to providing the proof that over and over the investigators and prosecutors in this case have been sloppy and wrong."

The legal proceedings against Khobragade took an unusual turn on Thursday when Bharara's office informed the court that she had left the country.

Later in the day, James Margolin, Bharara's spokesman, said his office had been "advised by the State Department that, pursuant to their request, Devyani Khobragade was to have left the United States this afternoon."

"In a letter sent to the Court upon the filing of the Indictment of Ms. Khobragade, we stated our understanding that she had left the country," Margolin said. "Subsequent to the filing of the letter, Ms. Khobragade's lawyer advised that she has not, in fact, departed the US."

Meanwhile, Khobragade's maid, Sangeeta Richard, on whose complaint Bharara filed the case, said in her first public statement that she had decided to come to the US to work for a few years to support her family and then return to India

.