M A I N N E W S

sexual harassment


Moily wants SC's ex-judge probed
R Sedhuraman
Legal Correspondent

New Delhi, January 11
The chairman of a national tribunal, accused of sexually harassing a female law student in May 2011 while he was a judge of the Supreme Court and she was his intern, today sent legal notices to media organisations for "harming his reputation and lowering his dignity" by naming him as the culprit even as Petroleum and Environment Minister M Veerappa Moily said the "charges are quite serious" and there was a need for an immediate inquiry.

Moily said the allegations against the ex-judge could be referred for an inquiry under the provisions of the tribunal. Nevertheless, it was the duty of the judiciary to decide on whether to order an inquiry, he added. On being approached on telephone, the chairman's office said he had no comments to offer either on the minister's statement or on his reported move to send a legal notice to the media organisations that had named him as the person facing the sexual harassment charge made by the intern, who was a student of the National University of Juridical Sciences in Kolkata.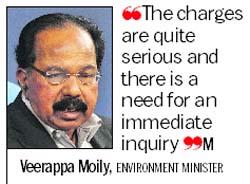 However, late in the evening, The Tribune accessed a copy of the legal notice that described the media reports as "scandalous and false allegations" inspired by malice and aimed at defaming and harming the reputation of the ex-judge who had vast experience, spanning over 23 years of experience as a lawyer and 20 years as a judge, both in high courts and the Supreme Court. The ex-judge sought, within 24 hours, a "regret" published or telecast by the media organisations with the same prominence as the defamatory news items were carried, or face the consequences.
The notice also made it clear that no intern had any individual access to the judge while he was in his chamber and such persons were always accompanied by a law clerk. Further the chamber at the residence had a door opening into the residential apartment and as such there was no scope for any sexual harassment, as alleged by the intern.
Notice served on media houses
* The former SC judge on Saturday sent legal notices to media organisations for "harming his reputation and lowering his dignity" by naming him as the culprit
* He has asked these media organisations to publish or telecast a "regret" (within 24 hours) with the same prominence as the defamatory news items were carried, or face the consequences