Ready for the big role, hints Rahul


New Delhi, January 14
Ahead of the January 17 AICC session where a decision is expected to be taken on the elevation of Rahul Gandhi as the Congressí prime ministerial candidate, the party vice-president has said he will do whatever the party asks him to, but has not quite understood this national fixation about the post of the Prime Minister.
Parties use Maghi stage to target rivals
Chandigarh, January 14
The Congress rally at the Maghi Mela came as a big morale booster for the Punjab Pradesh Congress Committee (PPCC) president Partap Singh Bajwa, who got unflinching support from the All-India Congress Committee (AICC) on his demand for a CBI inquiry into the alleged association of Akali leaders with drug lord Jagdish Bhola. (Detailed coverage on Punjab page)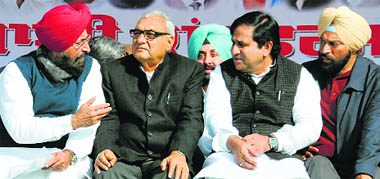 (From left) PPCC chief Partap Singh Bajwa, Haryana CM Bhupinder Singh Hooda, AICC general secy Shakeel Ahmed and MLA Rana Gurmeet Sodhi at Maghi Mela in Muktsar on Tuesday. A Tribune photo
OTHER PAGES

J&K: Bhartiya Gujjar Mahasabha alleges embezzlement of funds


HIMACHAL: Mango trees being reduced to fuel wood


CHANDIGARH: Gagandeep Singh tops CAT in tricity


LUDHIANA: Lawyers block road, stage dharna


DELHI: DJB steps to check flow of pollutants into Yamuna

OPINIONS: Shopping for aam aadmi

BUSINESS: Industry Minister slams AAP govtís decision on FDI in retail

SPORTS: Top seeds sizzle in the heat

WORLD: Thai protesters lay siege to ministries


The tribune yearender 2013 : year of corrosion

Lahore Log

The tribune guide to best colleges

Budget
2013-14

INDIA CHINA WAR 50 YEAR LATER

EARLIER FEATURES
8 Punjab cops get life term for murder
Bathinda, January 14
The court of Additional Sessions Judge today sentenced eight policemen, who were found guilty of killing a city resident 22 years ago, to life imprisonment. The body has not been recovered till date. The victim's relatives had accused the eight policemen of arresting Paramjit Singh, killing him and disposing of the body.
Expelled diplomatís comments his own: US
Washington, January 14
The US has distanced itself from the alleged offensive comments made by its diplomat, who was expelled by India in a tit-for-tat action following the arrest of a senior Indian diplomat in New York last month.
(Details on Nation page)



Devyani arrives in Mumbai
Bathinda-Srinagar gas pipeline via Haryana hits hurdle
Hooda govt yet to clear project; Omar writes to Haryana CM, seeks speedy action
Jammu, January 14
The ambitious Bathinda-Srinagar gas pipeline project that promises round-the-clock LPG supply in the Valley has hit a roadblock as it hasnít got a clearance from the Haryana Government yet. The 750-km proposed pipeline would originate from Bathinda and after passing through Haryana, cover eight districts of Jammu and Kashmir up to its tail end in Srinagar.
Revoking AFSPA will not help Kashmir: Army Chief
January 14, 2014
India offers DGMO-level talks with China
January 13, 2014
Moily wants SCís ex-judge probed
January 12, 2014
India Ďexpelsí US diplomat after Devyani indicted in NY
January 11, 2014
US court rejects Devyaniís plea
January 10, 2014
Better times ahead, PM assures diaspora
January 9, 2014
Priyanka chairs key Cong election meet
January 8, 2014
Canít be business as usual, India tells US
January 7, 2014
GSLV propels India into exclusive club
January 6, 2014
AAPís grand plan: To contest most LS seats
January 5, 2014