Management psychologist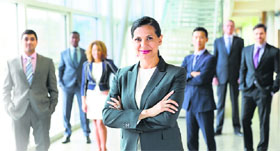 Mind business
The competitive corporate world nowadays is defined by mergers and acquisitions, companies that entered into a joint venture yesterday are divorcing their partners, people are being churned in and out of jobs at a very fast pace, departments within the same organisation are pitted against one another.
Career Hotline


What is the job profile of a Flight Engineer?


Am I eligible to take the Civil Services exam?


What do customer service jobs involve?
on boards maths
Practice holds the key
Maths is a subject that is often feared because it requires a logical approach and comprehension of several formulas. This eventually leads to a lack of confidence while dealing with the subject. Many students see it as a never-ending challenge; this occurs because of the limitation and fear of overcoming cramming.
course chat: fashion marketing & management
When business acumen meets creative urge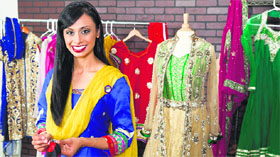 One can be the best designer, and may have the best product but if one can't sell it or make it look appealing to the target audience, then no one is going to know you. Just as making a good product or design is important, marketing it well is also equally important. This makes a degree in Fashion Marketing and Management a much sought after qualification in the current scenario.
campus notes
Ophthalmology conference
The Regional Institute of Ophthalmology at the Pt B.D.Sharma University of Health Sciences, Rohtak, organised a medical education conference on 'Recent Trends in Ophthalmology' under the aegis of Haryana Ophthalmological Society on the university campus recently. Presiding over the valedictory function, UHS Vice-chancellor Prof S.S.Sangwan, stressed on the need of modifying the rules for issuing visual handicap certificate to the eligible persons.
testing times: mba gd/pi
Brush up personality traits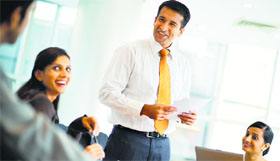 While CAT is all about one's aptitude, GD/PI focuses on the interpersonal skills of the aspirants. Presenting oneself in the right way during GD/ PI is the key to getting into a top league institute. After getting a good score in CAT by now many of you would have become ardent readers of newspapers and magazines, poring over every written word you can come across! Many of you may also be looking into the mirror and questioning who you are and what you want from life.
Harness the right poject management skills
Life is a project. As we lead our daily lives, we are constantly planning for the future, learning from the past and firefighting for the present. The people who are able to best handle their project are those who are determined, ready to take risks yet committed to plan wisely, those who know their constraints and optimise available resources to the best possible.


CareerCature
SANDEEP JOSHI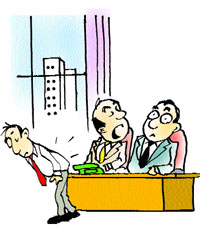 No, he is not overworked. He is just a shammer.
Getting the most out of Gen-Z
How i-Generation's will affect the talent management process?
Born after 1995, fully exposed to the internet environment and making the largest representation on the online platform, this is Gen-Z — the i-Generation. It is said that members of this generation, on their arrival, do not knock at the doors. They in fact communicate through SMS and WhatsApp.
USA's 10 most hated companies
24/7 Wall St. has come out with a list of 10 most hated companies in America. The list is based on a number of points, including angry employees with unpleasant working conditions or low pay, and fail shareholders with poor returns. According to the Huffington Post, many of the most-hated companies have millions of customers and hundreds of thousands of workers.