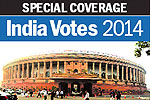 Nod to one rank-one pension
New Delhi, February 17
In election mode, the Congress-led UPA Government today formally announced the much-awaited one rank-one pension (OROP) scheme for retired soldiers, benefiting some 46 lakh families of retired and serving servicemen in the Army, the Navy and the Indian Air Force.

Consensus on Pratibha's name for Mandi LS seat
New Delhi, February 17
Himachal Chief Minister Virbhadra Singh's wife and sitting Lok Sabha MP from Mandi Pratibha Singh is almost certain to be the party's candidate from Mandi segment in the forthcoming Lok Sabha poll.
Goa Police charge Tejpal with rape
Panaji, February 17
The Goa crime branch on Monday formally charged Tehelka editor-in-chief Tarun Tejpal with raping a junior colleague after a two-and-half-month-long investigation. Tejpal was also charged with sexual harassment and other Sections of the new Criminal Law (Amendment) Act, 2013, in the 2,846-page chargesheet.
| | |
| --- | --- |
| | Police officials take the 2,846-page chargesheet to a Panaji court on Monday. PTI |

OTHER PAGES

PUNJAB: Anti-Sikh riots: Apex court asks for Nanavati report


HIMACHAL: In BJP's absence, Budget session a sheer formality


CHANDIGARH: UT's share in Budget slashed


LUDHIANA: Meat shops run illegally


DELHI: Delhi police gets Rs 4,630 cr allocation in interim budget


OPINIONS: Not too populist


BUSINESS: India Inc welcomes Interim Budget


SPORTS: McCullum came, saw and never left

WORLD: Pak Taliban claim on troops' beheading jolts peace plan


The tribune yearender 2013 : year of corrosion

Lahore Log

The tribune guide to best colleges

Budget
2013-14

INDIA CHINA WAR 50 YEAR LATER

EARLIER FEATURES

Rs 80-m facelift for Bhagat Singh's house, school in Pak Punjab
Lahore, February 17
Freedom fighter Bhagat Singh's ancestral house, school and his village in Punjab Province of Pakistan will be restored under a Rs 80-million project. "We have allocated Rs 80 million for restoration of the house and school of Independence war hero Bhagat Singh.
| | |
| --- | --- |
| | The facade of Bhagat Singh's house in Chak No. 105, Bangay, Lyallpur (now Faisalabad), where he was born. |
special to the tribune
Rahul first in three generations with a world university degree
Rahul Gandhi has emerged as the first in the Nehru-Gandhi dynasty in three generations to obtain a degree from a respected world university. Unlike his father Rajiv Gandhi who failed to obtain a degree from Cambridge, and his grandmother Indira Gandhi who failed to complete her course at Oxford, Rahul can be proud of his academic credentials.

At Mohali agri-summit, Third Front woos Badal with PM post
February 17, 2014
Union Cabinet gives nod to President's Rule in Delhi
February 16, 2014
Kejriwal quits as Jan Lokpal hits House wall
February 15, 2014
Fisticuffs & pepper spray: House hits new low
February 14, 2014
UPA-II spares fares, offers 72 new trains
February 13, 2014
Free-for-all in J&K House; MLA hurt
February 12, 2014
SC panel indicts BCCI chief's son-in-law over IPL betting
February 11, 2014
Foodgrain output set for new high: Pawar
February 10, 2014
AAP refuses to yield on Jan Lokpal Bill, slams Centre
February 9, 2014
Booked for molestation, J&K minister steps down
February 8, 2014