The Magical Indian Carpet
For sheer versatility of design and excellence of workmanship, Indian carpets can be counted among the best in the world
Nutan Sehgal
The Indian carpet is a rags-to-riches story. Earlier known as a poor man's mattress, it has now become a prized commodity in foreign markets. Just a decade and a half ago, most Indian carpet makers were inspired by Persian designs. But the American trade embargo on Iran changed all that and Indian craftsmen, seizing the opportunity have started creating carpets and rugs that are far superior in quality and the demand is leapfrogging. So much so that today many Persian carpet makers are finding it difficult to match Indian design techniques and are simply replicating them. It is the case of the pupil upstaging the teacher. The carpet is a gift from Mughal rulers to Indian craftsmen. Its history dates back to the 16th century when Emperor Akbar brought weavers from Persia and set up a royal workshop in his palace.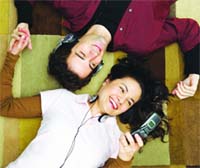 Majestic weaves
Carpet weaving has come a long way since the Mughal era. Apart from Kashmir, the trade has spread to other important centres like Amritsar and Ludhiana in Punjab, Mirzapur, Bhadoi, Agra and Varanasi in Uttar Pradesh, Bikaner, Jaipur and Ajmer in Rajasthan and Kullu, Kinnaur and Chamba in Himachal Pradesh. The carpets of Warangal and Elluru and the famous pile carpets made at Pondicherry, too, are exported widely. However, one of the biggest carpet belts is the Mirzapur Bhadohi region in Uttar Pradesh that employs 22 lakh craftsmen in its 100 per cent export-oriented factories, which accounts for about 75 per cent of the Rs 4,400 crore total carpet exports from India.
With Indian carpets occupying such a pride of place, it is not surprising that these have made ideal gifts for visiting kings and dignitaries. Some years ago, during their visit to India, former US President Bill Clinton and daughter Chelsea were so impressed with Indian carpets that they went to a leading outlet where the two spent almost an hour admiring the intricate craftmanships.
It was a difficult choice as both father and daughter seemed to fall in love with every carpet shown to them. In the end, with some help from his entourage and carpet experts, the choice fell on three designs for silk carpets which were then specially woven for him.
Versatile designs
The modern Indian carpets and rugs being produced in the country are seeing a surge of interest. According to industry sources, the reason for this is that the quality of handmade and machine-made Indian carpets has improved considerably. Experts say that for sheer versatility of design and excellence of workmanship, Indian carpet weavers can be counted among the best in the world. Besides, the Indian wool is of high quality.
The quality of a carpet is judged from the number of knots it has per unit area. The mid-range in India now is between 120 and 320 knots a square inch. Fine silk carpets have between 400 and 500 knots a square inch. But rare museum variety in small sizes made in silk have a far higher knot count. While the quality of a carpet depends on the number of knots a square inch, there is also the quality of wool to be considered. Connoisseurs say that if there are doubts about the knots, these must be cleared immediately. The supplier should be asked to count the knots, preferably in two or three parts of the carpet.
Carpets are manufactured in many sizes but the most preferred ones are four feet by six feet, three feet by five feet and two feet by three feet in India. In European countries, where people prefer wall-to-wall carpeting, the size is 9 feet by12 feet and 9 feet by 6 feet.
Silk splendour
Like wool, silk carpets, too, are in great demand. The price of a silk carpet varies on factors like the quality of silk, number of knots, detailing, colouring and skill of craftsman. The price range for 3 feet by 5 feet carpet is usually between Rs 20,000 and Rs 3 lakh. The price of a woollen carpet will be half than that of silk, or even lesser.
Says Iqbal Mehmood Khan, a Kashmiri carpet dealer who has set up shop in Delhi, "When you buy a carpet, make sure the back is sturdy and evenly woven. Also check the design at the back of the carpet. The border lines should not be crooked."
He adds that a buyer must also be able to distinguish between genuine faults and inevitable variations that are bound to occur in any handmade design. If the design is repeated, it must be checked. The binding should be strong and well-finished and the fringe should be clean, not torn. But more than craftsmanship, one should know how to distinguish between real and fake when buying a silk carpet. Artificial silk shines more. Unfortunately, for the layman, the other shortcomings can be discovered only later.
In real silk carpets, the colours stay good for decades. A quality silk carpet will look better after long use as its colours become more subdued and mellow. But experts say, carpet buying is as much an art as carpet weaving, and a good customer can almost see the magic hands of a weaver in the carpet he is buying.
Tips to keep the carpet clean
* Remove stain by smearing lemon juice over a carpet.
* Never soak carpet in water as it will damage the lustre.
* Avoid walking over the carpet with shoes, it damages the fabric.
* Don't expose carpet directly to sun. This will dull the sheen.
* The fur of pets sticks on a carpet. Don't let them sit on it.
* Never broom a carpet. Dry clean the carpet once in a year.
* For cleaning at home, put detergent on wet cloth and scrub it over the carpet. Then scrub gently with a dry cloth.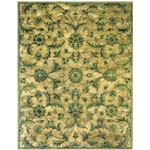 ANTIQUITIES WOOL RUG
Made by the ancient pot-dying technique, this hand-spun Antiquities Rug offered on www.overstock.com is made of premium wool with a lustre wash finish and a cotton canvas backing for a soft silky feel. The luxurious oriental rug has an olive green background and displays stunning panel colours.
Price: Rs 40,000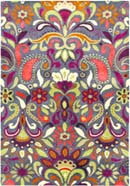 DESTINY TRADITIONAL HAND-TUFTED RUG
This rug exudes an old-world charm with a touch of contemporary flair. A part of the Destiny collection of leading American carpet manufacturer Rizzy Rugs, the rich colour palette of the rug will complement any traditional or modern interior. The hand-twisted wool fibres give the rug a great textural quality.
Price: Rs 11,400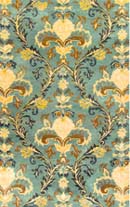 TRADITIONAL HAND-TUFTED WOOL RUG
This traditional hand-tufted wool rug is made of hard-twisted wool by leading Indian carpet designer Rizwan Ansari at his expansive factory in Bhadohi. These rugs are today known the world over for their intricate floral patterns and meticulous embroidery by traditional Indian artisans.
Price: Rs 12,000
TRANSITIONAL PAISLEY RUG
This transitional paisley rug is available on www.ruglots.com and has been handmade in India. It is a sophisticated and fashion forward rug with an old-world charm that is combined with modern design aesthetic. The thick pile is plush and gives the rug a substantial and luxurious textural quality.
Price: Rs 60,000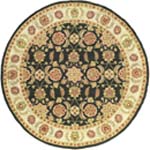 OLIVE GREEN ROUND AGRA RUG
Agra is known for its round rugs that have elegant traditional designs and beautiful transitional motifs. The hand-hooked construction makes these rugs very sturdy and outdoor-friendly. Made of 100 per cent polypropylene, this olive green ivory and red rug on sale at www.overstock.com is an exquisite piece.
Price: Rs 39,600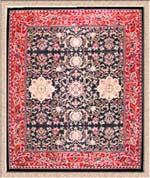 INDIAN PALACE RUG
This attractive 12 feet by 10 feet Indian Palace Rug with high quality wool and an intricate pattern truly has royal bearings. On offer at www.rugfirm.com, the woollen rug has a strong influence of the Persian design with the warp and weft is in cotton. Palace rugs are in great demand because of their fine workmanship.
Price: Rs 1.60 lakh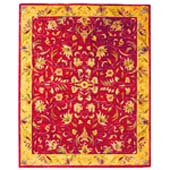 HANDMADE FLORA WOOL RUG
This hand-tufted rug features a transitional design and derives its sheen from an ancient pot-dying technique. Available on www.ebay.com, it is made from hand-spun wool with a cotton canvas backing and displays rich shades of gold, red, burgundy and green. The fringeless borders give a clean, elegant look and feel.
Price: Rs 18,000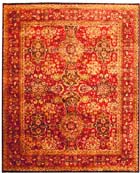 OBETEE MASHAD CARPET
This 8 feet by 10 feet Mashad Design carpet is manufactured by Obetee Carpets, one of India's leading exporters based in Mirzapur. Mashad carpets are usually bright and beautifully coloured and literally give life to a dull room. Their colour schemes are decorative and in tones of red, orange or blue.
Price: Rs 1.68 lakh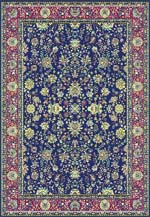 SAROUK KASHMIR STYLE RUG
The Sarouk style rugs have been bestsellers for a long time. Sarouk rugs are made of blue and black weft thread in the inner rectangle and red colour mixed with ivory on the broad border. These rugs traditionally have a floral style design which emanated from the carpet-making town of Arak in Iran.
Price: Rs 39,600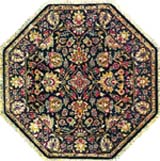 ESFAHAN PERSIAN RUG
This eight-sided octagon Esfahan Persian rug measures three feet seven inches by two feet three inches. Esfahan has been one of the Iranian cities famous for hand-knotted Persian rugs. Made of wool with a foundation of silk, the carpet is on sale at www.persiancarpetwarehouse.com.
Price: Rs 7.20 lakh