In Muktsar hinterland, it's Punjab CM's native village that glitters
Archit Watts
Tribune News Service


Badal boasts of
Education: 5 schools, 2 colleges, a polyclinic, a nursing and paramedical sciences institute

Health: Civil Hospital, Red Cross training & production centre

Sports: State-of-the-art stadium, SAI training centre, shooting range

Govt centres: IFFCO's Kissan Sewa Kendra, Markfed's office, Forest Range Officer's office, Verka milk chilling centre, PSPCL's rest house

Other amenities: 3 banks with ATM booths, BSNL telephone exchange, 132 KV power sub-station, 2 fuel stations, an RO plant, 3 overhead water tanks, an LPG agency, bus stop with two rooms
Badal (Muktsar), January 19
Driving through a four-laned road dotted by date palm trees, solar light poles and an impressive array of buildings — one can easily mistake the setting for a plush modern township. Make no mistake. You are entering Badal village, the native place of five-time Chief Minister of Punjab Parkash Singh Badal.
While a number of Punjab villages lack even basic facilities such as a primary school, Badal's village in Muktsar district boasts of five schools, two colleges, a civil hospital, a district-level polyclinic, a nursing and paramedical sciences institute, a state-of-the-art sports stadium, a Sports Authority of India training centre, a shooting range and a host of other facilities.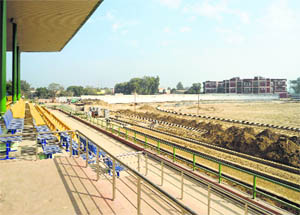 Badal residents ascribe the extraordinary progress of the village to the Chief Minister's affection for them. The village was awaiting the official nod to be declared a township, they said.
But residents of the nearby villages allege bias, which, they say, has kept their villages from developing.
They point out that even the historic town of Muktsar, which is now the district headquarters, looks like a poor cousin of Badal village.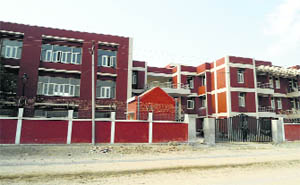 (Top) An ultra-modern stadium coming up in the Punjab CM's village; The sports department building at Badal village in Muktsar district. Photos by writer
"Not only are Muktsar roads in poor condition, even the garbage lifting system has almost failed. As for our villages, the less said the better," said Shivcharan Singh, a resident of a nearby village.
The list of amenities showered on this village includes a state-of-the art sports stadium. The village with a population of 5,000 has a Milkfed Verka's milk chilling centre, BSNL telephone exchange, a reverse osmosis (RO) water treatment plant, three overhead water tanks, a government ITI building, three banks with ATM booths, 132 KV power sub-station, PSPCL's rest house with a meeting hall, village community centre, gram suwidha kendra, government flats and a new building of panchayat ghar.
The village has a newly built bus stop with two rooms, Markfed's office, IFFCO's kissan sewa kendra, office of the Forest Range Officer, LPG agency, two fuel stations and Red Cross's training and production centre.
A boundary wall rings the two village ponds and the MGNREGA workers regularly clean them.
The Chief Minister has done some charitable work in the village.
He has opened two schools up to class X in the memory of his mother Jaswant Kaur.
These schools, managed by Chaudhary Devi Lal Memorial Trust, provide free education, including school uniforms to students.
As chairman of the Chaudhary Devi Lal Memorial Trust, Parkash Singh Badal has opened an ultra-modern 24-room old-age home and a gurdwara with dispensary.
The Chief Minister has also opened two girls' colleges - Dasmesh Girls' College of Education, offering BEd and MEd courses, and Dasmesh Girls College, offering courses such as BCA, BSc and MA - besides Dasmesh Girls' Senior Secondary School.
The village also has a government primary school and a senior secondary school.
Residents say both Parkash Singh Badal and his son Deputy Chief Minister Sukhbir Badal often interact with them to get their feedback.
The Deputy Chief Minister is reportedly planning to reclaim the village pond land and convert it into a marketplace.
Local resident Raju said: "Most of the development works in the village were carried out way back in 2001."
Among the beneficiaries of the facilities at the village include Olympian shooter Avneet Kaur Sidhu, now a Deputy Superintendent of Police. She graduated from Dasmesh College where she also learnt shooting.
Others prominent figures from the village include Chief Minister's brother Gurdas Badal and his son, Punjab People's Party chief Manpreet Singh Badal besides Chief Minister's estranged cousin Maheshinder Singh Badal of the Congress.