Apex court grants life to 15 death row convicts
Cites delay in disposing mercy pleas; frames norms
New Delhi, January 21
The Supreme Court on Tuesday commuted to life term the death sentence of 15 convicts, mostly citing delays in the disposal of their mercy petitions, and laid down 12 guidelines for protecting the Fundamental Rights of prisoners on death row.



Rejection of Bhullar's plea wrong: SC
India summons Pak envoy after cross-LoC trade suspended
New Delhi/Srinagar/Jammu/Poonch, January 21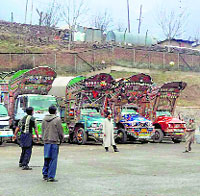 India today summoned Pakistan Acting High Commissioner Mansoor after the cross-LoC trade on the Salamabad-Chakoti and Chakan-da-Bagh-Rawlakote routes, a prized confidence-building measure between the two countries, was suspended today as the tense standoff at the Line of Control (LoC) worsened on its fifth day.

Stranded Pakistani drivers play volleyball in front of their trucks after they were stopped by authorities at Salamabad Trade Center in Uri on Tuesday. PTI

Haryana buses back, but other services hit
Chandigarh, January 21
Essential services of power and water supply were partially disrupted in Haryana as members of 128 employees unions began a 72-hour strike to press for their demands today. The state government has decided to enforce "no work no pay" rule to force employees report back on duty.
Advt


OTHER PAGES

HIMACHAL: Sonia to select 4 nominees out of 21 for Lok Sabha seats


CHANDIGARH: Kidnapped boy rescued


LUDHIANA: 2 held with heroin worth Rs 1.35 cr


DELHI: 26 cops, 15 AAP supporters injured in clashes

OPINIONS: Back to life

BUSINESS: India Ratings maintains dim outlook for realty sector

SPORTS: Wawrinka beards the lion in his den

WORLD: Pak jets pound militant camps, 40 killed


The tribune yearender 2013 : year of corrosion

Lahore Log

The tribune guide to best colleges

Budget
2013-14

INDIA CHINA WAR 50 YEAR LATER

EARLIER FEATURES
Chill back in North after rain
New Delhi, January 21
Rains lashed most parts of north India today as icy winds swept the region, though minimum temperatures hovered slightly above normal in several areas. Delhiites witnessed a chilly morning with 4.8 millimetres of rains lashing the city causing a sudden decline in temperatures, throwing traffic out of gear. The maximum was recorded at 14.6 degree Celsius, seven notches below the normal and minimum temperature was recorded at 10.2 degree Celsius, three notches above normal.
N-sub Arihant ready for trial in a few weeks
New Delhi, January 21
Weeks ahead of its slated sea trials, the Indian Navy today announced that a miniature version of the indigenously-built nuclear-powered submarine, Arihant, shall be showcased on Republic Day on January 26. A model of the submarine will be placed on an open truck and will form a part of the Republic Day parade. The model will give fair idea of the strategic depth the submarine will provide to the Navy.
Lokayukta indicts Haryana CPS Fauji in graft case
Jolt to Hooda govt as registration of criminal case recommended against him in cash-for-CLU scam
Chandigarh, January 21


The Haryana Lokayukta has recommended the registration of a criminal case against Chief Parliamentary Secretary Ram Kishan Fauji in a case relating to his alleged video footage allegedly demanding Rs 5 crore bribe from a person for change of land use (CLU) for a plot along NH-8 in Gurgaon.
Kejriwal fights Centre on streets
January 21, 2014
Pak detains 27 Indian truckers at LoC
January 20, 2014
India, Pak to open Wagah border 24x7 for trade
January 19, 2014
Tharoor's wife found dead in Delhi hotel
January 18, 2014
Rahul won't be PM nominee, but will lead campaign 2014
January 17, 2014
Intern's plea: SC notice to Justice Swatanter Kumar
January 16, 2014
Cameron orders probe into Thatcher link
January 15, 2014
Revoking AFSPA will not help Kashmir: Army Chief
January 14, 2014
India offers DGMO-level talks with China
January 13, 2014
Moily wants SC's ex-judge probed
January 12, 2014
India 'expels' US diplomat after Devyani indicted in NY
January 11, 2014