A look at what's on celebsí minds
Reviewed by Nonika Singh
Freeze Frame
by Anupama Chopra Om Books International. Pages 358. Rs 395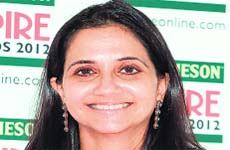 Can transcripts of television interviews make a book? The answer surprisingly is a resounding "yes," provided the writer/ interviewer happens to be India's best-known film critic, Anupama Chopra, and her subjects even more popular men and women, the rich and famous glitterati of Bollywood and Hollywood. Why Anupama decided to reproduce her interviews by way of a book is dealt with in a well-written introduction by the author. Without a doubt, though most interviews were taken back in time, however there is a universality that rings true even today.
Certain interviews are dated, like that of Sanjay Leela Bhansali, which has him gushing over his film Sanwariya that turned out to be a disaster. It is followed up by another one with him taken a year after in which he shares his disgust over the way the film was lampooned by the very actor (read SRK at an awards function), he had worked with, the limitations of topicality are addressed.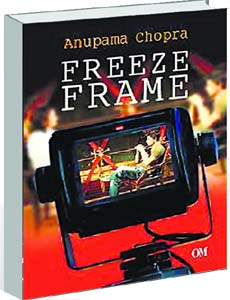 Among the many interviews, this reviewer's favourite are those of Naseeruddin Shah and Shah Rukh Khan. Farah Khan's candid cuts come close. But it's Naseer and Khan who have been truly caught in reflective moods. So you have Naseer confessing how he still needs a director to tell him how to enact a particular shot. SRK's famous quote: "I never thought about why people love me so much. I won't think about why people hate me now" is printed at the back of the book. However, what makes the interface interesting is his take on his brawl with Salman as well as how he is in real life not the cool guy he often portrays on screen. Bollywood, predictably, is the toast of the book but interspersed in between are many bigwigs from Hollywood too. Since many international personalities, especially those not from Hollywood, are not household names in India a brief introduction or a footnote was perhaps in order. Anupama's first question for many an interviewee points out what the person is famous for. However, not all interviews are in-depth. Some like with Swedish actress Noomi Rapace are rather sketchy. She manages to bring out the flavour of each celeb. One can sniff Freida's irritation when questioned whether her striking looks are an obstacle in the film world. But for this strange query, Anupama's style is not intrusive. The reason why she gets the best out of them as she herself says is she enjoys listening to others. No wonder it's the voices of her subjects that you hear in the book. Her questions, even when long, never eclipse what the stars want to say. The most engaging part are the essays in which she talks of her disdain with IFFI Goa, the disconnect critics have with popular choice of viewers. These essays written in an eminently readable and conversational style, are more interesting, perhaps since they were originally published in the print media.
Anupama has proved her mettle in both mediums and straddles the two with remarkable ease. The book stands as a testimony to her journalistic and writing capabilities, both of which neither hang heavy nor are flippant, as much of the matter connected with stars and films tends to be.